This fascinating collection of over 160 photographs and postcards illustrating old Cookham has been assembled with the help of many local residents. Treasured family snaps are combined with selections taken from large collections and many of the images have never been published before.
These pictures will appeal to all those who feel nostalgia for buildings, views and customs now long gone, as well as to those of a younger generation who are interested to see how Cookham used to be. The importance of the River Thames to Cookham is fully portrayed, as is the influence of the railway in Cookham Rise and the cherry orchards of Cookham Dean.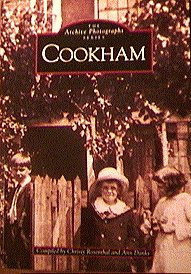 Among the artists and writers who have found inspiration in Cookham are Sir Stanley Spencer, who set many of his masterpieces in the village, and Kenneth Grahame, who used the woods and river as the setting for the Wind in the Willows. A similar inspiration awaits readers of this book, as it charts the changes in people, professions and buildings.
Money raised from this edition will help to support Elizabeth House, the local day centre for the elderly. It has brought together people of all generations from the three villages who have worked together to product this book of universal appeal.