Come and Take a Fresh Look
Elizabeth House, Cookham, is delighted to be showing the vibrant watercolours of Polish artist Agata Szymaniec from 11th June - 13th July.
Agata Szymaniec is a watercolour artist based in Wallingford and born in 1978 in Katowice, Poland. An inveterate traveller, her inspiration comes from the movement of light. "The moment when paper absorbs the water with every touch of the brush - from a strong feeling translated into light, from a straight line into a mysterious wash - it is so powerful and magical. I present the dynamic of life in the city where I try to capture atmosphere, mood, light, colour and obviously people who are in the middle of my artwork. Painting with watercolour is an illusion, a spectacle where I create the story, catch the feelings and stop the audience for a moment to convey emotion, optimism, warm atmosphere or even mysterious moments."
Do come and see Agata's work during the usual opening hours of Elizabeth House i.e weekdays from 9am to 3pm with a one hour break from noon. The Gallery is on Station Hill, Cookham Rise, SL6 6PE
All welcome - FREE Entry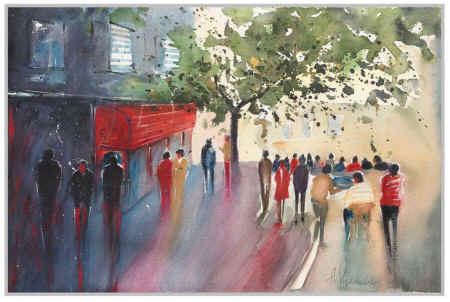 Opening Weekdays
9.00 am - 12.00 pm and
1.00 pm - 3.00 pm

The Gallery at Elizabeth House is at

Elizabeth House, Station Hill, Cookham SL6 9BS
(100 yards from the railway crossing in Cookham Rise towards the village High Street). 
For more information
01628 819224 or email
The Gallery at Elizabeth House presents the work of the best of our local artists.  A programme of exhibitions during the year allows local artists to present their own work or to come together for joint exhibitions.

All paintings are for sale with a commission going to Elizabeth House, the local club for Cookham's older people.