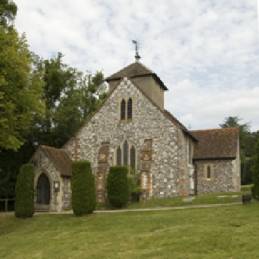 At a diminutive 5ft 1in tall, renowned painter Stanley Spencer was, in reality, larger than life in every way. His extraordinary and mystical way of thinking and his unceasing desire to give full expression to his ideas, ensured that he was always exciting, interesting and conspicuous in person, despite his small stature.
A talk on Saturday August 23rd, organised by the Stanley Spencer Gallery, Cookham, at the beautiful hilltop church of St Nicholas, Hedsor, allowed Stanley, however, to be viewed in rather a novel way. An imposing banner containing his image added more than a foot to his height as he gazed piercingly into the audience from behind his famous pram, laden with artist's materials.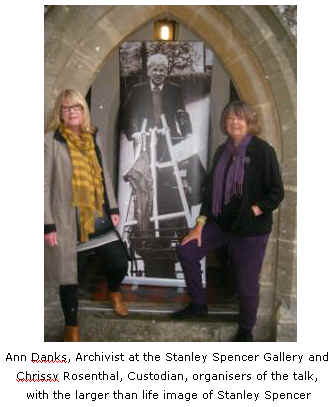 Sir Stanley Spencer was one of the most brilliant of a generation of talented artists in the early years of the 20th century. The story of Stanley's connection with the Church at Hedsor has uncovered a remarkable twist of fate, which was announced by the Gallery's Archivist, Ann Danks, to an intrigued audience as part of her talk.
Stanley's father, William, was choir master and organist St Nicholas Church from the 1880s onwards. It is known that the whole family were involved with Pa's activities at the Church. They joined in choir outings and took part in the charity concerts that Pa organized. Stanley and his brother, Gilbert, would at times be called upon to blow the bellows for their father during a particularly loud piece of organ music, when otherwise the hydraulic powered organ would fail without extra help.
Stanley would frequently take a footpath up to the church on weekday evenings with his brother Sydney. In a quote from one of Stanley's notebooks, now held in the Tate, Stanley, always sensitive to place, stated, 'I loved going to the church where for 40 years my father was organist, at Hedsor….and sitting in the dark empty choir on some winter Tuesday evening and thinking, my eyes sometimes wandering into the darkness of the church.' He added, 'I thought it a ghostly kind of church.' (733.3.21) (AD).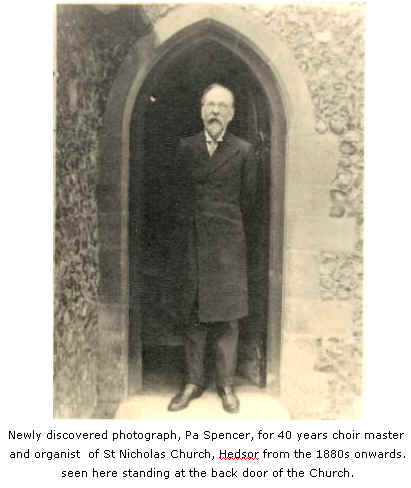 Perhaps because of this important association, when planning his First World War Memorial Chapel in 1923, Spencer suggested Hedsor as a place where such a memorial might be constructed. In the event, the village of Burghclere, tucked away in a quiet corner of Hampshire, became the location for the treasure that Spencer ultimately created, an epic series of large scale murals to honour the 'forgotten dead' of the First Word War.
Stanley however did not forget Hedsor and included two images of its church amongst the photographs pinned to the wall in one of the paintings, named 'Bedmaking'. One such image shows the interior view of the chancel ceiling and arch at Hedsor, and the other shows Pa Spencer standing at the back door of the church. Quite remarkably, what appears to be this very photograph has just been discovered amongst a batch of miscellaneous Spencer memorabilia recently bought at auction for the Stanley Spencer Gallery archives.
Archivist, Ann Danks said, "This photograph came from the estate of Pamela Spencer, the daughter of one of Stanley's older brothers, Percy. As far I can ascertain, it is the original photograph, whose image is re-created in 'Bedmaking', so it seems that it had been kept in the family until we acquired it."
The Stanley Spencer Gallery in Cookham High Street is dedicated to the life and work of Sir Stanley Spencer. The Gallery provides the largest collection of his works on display anywhere in the world. It was named by ArtFund this year as being one the UK's five most 'unmissable' small Art Galleries and has also been awarded a coveted Michelin Green Star. The Gallery also holds a fascinating archive of material relating to Spencer's life and works, to which the photograph of Pa Spencer, standing at the back door of St Nicolas Church, Hedsor, has now been proudly added.
In the village of Burghclere, the Sandham Memorial Chapel, housing Spencer's 19 large scale canvas memorial panels, has just re-opened after a major refurbishment. Extensive conservation work has been undertaken to preserve the chapel for future generations, with a new exhibition space and a garden of reflection.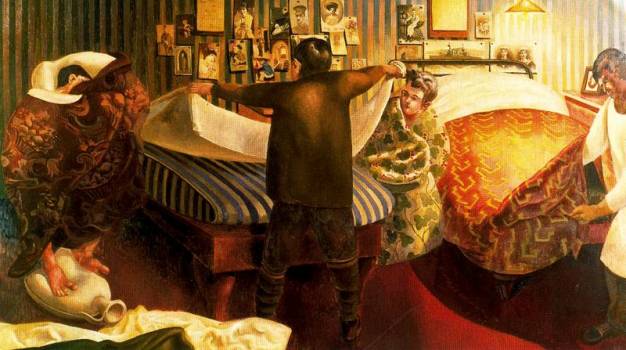 Bedmaking,(1927- 1932),on display at the Sandham Memorial Chapel, Burghclere, Hampshire.
© Copyright The Estate of Stanley Spencer, All Rights Reserved, 2104 / Bridgeman Art Library
What the National Trust say about this painting:
"This seems a quintessentially English scene, with the mismatched fabrics, stripy wallpaper, and pin-ups above the bed (both Hilda and Spencer's father are shown). It has been suggested that the scene shows a hospital ward in a requisitioned house in Salonika, but it is more likely to be a fusion of memories of Beaufort and Macedonia, where Spencer had been a patient.
A figure – perhaps Spencer himself – is cocooned inside his blankets, but unlike his companions in Frostbite, he is upright, his expressive, oversized toes dancing on the urn-like form of the hot water bottle."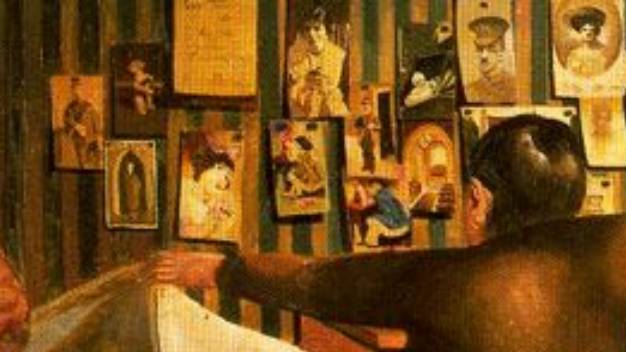 An enlarged section of 'Bedmaking', showing the image of a photograph
of Stanley Spencer's Pa at St Nicholas Church, Hedsor.
Stanley Spencer Gallery, High Street, Cookham SL6 9SJ