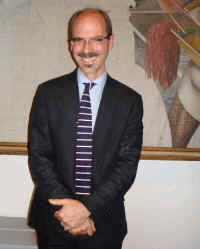 Summer has officially arrived in Cookham! The Summer exhibition, ' Stanley Spencer and the River Thames' was opened on Saturday 16 May by Dr Stephen Deuchar, Director Tate Britain. Calling Spencer 'One of the most important figures in British art' he said it was high time the Tate revisited his work and that he would be considering staging a major exhibition in the future. Asked recently to name his top ten paintings in the world he chose Swan Upping as one of them – the painting currently hangs in the gallery as one of four paintings on loan from the Tate. Calling the Gallery a 'small but perfect' shrine to Spencer's works he said Spencer was important not only to Cookham but to England and the wider world, that we should cherish his ability to see miracles all around.
Dr Deuchar brought his young daughter Faith with him to Cookham, and they spent the morning walking round the village looking at the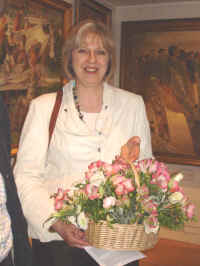 places which inspired the artist. Growing up in a small village herself Dr Deucher hoped that she too would understand that sense of place that was so important to Spencer.
Among the other guests were Lord Astor, whose father was Spencer's patron, Unity Spencer his younger daughter, Theresa May MP and the Mayor of Maidenhead Councillor Dorothy Kemp. Also present were Friends of the Gallery and owners of many of the paintings on loan to the gallery collection.
Stuart Conlin, chair of the trustees welcomed everyone and underlined how successful the refurbishment of the gallery had been, and that more visitors than ever were now coming in to the gallery. The Mayor and our local MP were then presented with baskets of flowers made by Molly Hurley, one of the custodians.