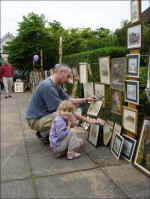 The transformation of Cookham's Station Parade last Saturday into a temporary Paris Left Bank proved to be an artistic triumph for over 60s club Elizabeth House. The call for local residents to donate unwanted paintings, prints and drawings produced well over 200 items and, helped along by authentic French music, resulted in £1250 in sales by the end of the day.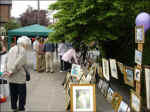 "We were really delighted by the response of people across the Cookhams" said Gill Townend, who came up with the idea for Art Transplant! "People brought an amazing range of items, and there were some really good quality pieces. And there was a good flow of locals and visitors through the day interested in buying."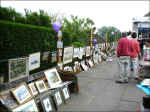 Works by Cookham artists, past and present, were on sale but no original Stanley Spencers, Gill said, adding that "people said they were pleased to be able to find homes for surplus items and to be able to give the proceeds to a good cause".
Some of the unsold items will still be available through Elizabeth House. There are no plans for an early re-run of the event but Reg Willsher, Elizabeth House chairman, commented: "the interest shown does mean that we shall be considering holding it again when people feel a need for another art transplant".