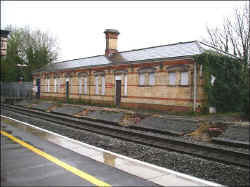 It dates from the 1870s and now Maidenhead Station is undergoing major refurbishment.
The waiting room on platform is being gutted - you can see where the old fireplace used to be, and by the end of summer will be a greatly extended new waiting area.
Over on the platform One they are reinstating the platform - last used some 35 years ago. Longer express trains are expected to be scheduled to stop at Maidenhead after massive lobbying by commuters.
All we need now is for Network rail to do something about upgrading the line from Furze Platt to Marlow. The change from continuous welded rail is so noticeable everyone comments on it.