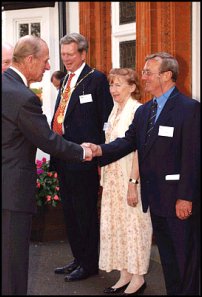 HRH The Prince Philip celebrated his own Golden Jubilee in Cookham this week, as 50 years as Patron of The Chartered Institute of Marketing (CIM) on Monday, July 15th, with a visit to the Institute's headquarters at Moor Hall for the
Marketing profession this was a very important jubilee celebration.
There were several local dignitaries there including Mr Philip Wroughton, Lord Lieutenant of Berkshire, and Councillor Leo Walters and Mrs Walters, The Mayor and Mayoress of Windsor and Maidenhead who welcomed The Duke of Edinburgh to CIM Moor Hall. Tony Prichard, who has just stood down as Chairman of Cookham Parish Council was introduced to the Prince.

The Prince Philip unveiled a plaque to commemorate his visit and then CIM
President Dianne Thompson, who is also CEO of Camelot plc and Mike
Johnston, International Chairman of CIM escorted Prince Philip on a
walkabout.
The Prince Philip enjoyed an exhibition on loan from The History of Advertising Trust showing how the image of women has changed significantly in the past 50 years. Staff, CIM officers and guests were present for speeches and an informal tea.
CIM President Dianne Thompson highlighted how the marketing profession has changed beyond recognition over the past 50 years. CIM's International Chairman Mike Johnston cited the Chartered status and the extension of this to the individual Chartered Marketer as the key turning point that now places Marketing alongside the more traditional professions such as accounting.

Marketing VIPs included Past Chairman Professor Michael Baker, Richard
Bradley CIM e-VP and Operations Director Cisco, Past Chairman Jim Beale OBE, Professor John Saunders, Dean of Academic Senate, and Dr Peter Tomkins, Tess Harris, Paul Gostick, Dr Phil Harris, and Howard Wilkinson of CIM's International Board of Trustees.

HRH The Prince Philip is welcomed by Dianne Thompson, President of The Chartered Institute of Marketing (and CEO of Camelot)

HRH The Prince Philip meets CIM staff at Moor Hall


"It is a pleasure to be associated with a success story and there is no question that this institute is a success story,"
said Prince Philip.


HRH Prince Philip prepares to cut the celebration cake, which was baked by Head Chef Graham Howarth.