Adrian and Lesley Doble were invited to record their company "Touch" in London this week.
The Worshipful Company of Pewterers has been regulating the quality of pewter items made in Britain since 1451. Earlier this the year they acknowledged the high standard of the products designed and made by Partners in Pewter and invited them to add their mark to the official plate at a ceremony in Pewterers' Hall. The touchmark is the pewter equivalent to the hallmark used on gold and silver items.
"To record our mark we had to strike a metal die bearing our company badge so that it made a good impression on the special pewter sheet" said Adrian. "We feel very pleased that our work has been recognised in this way. It should help us to spread the word far beyond our discerning customer base in the Thames Valley."
Three years ago, a pair of bookends made in the Cookham Dean studio was chosen to be part of the exclusive Millennium Collection assembled by the Pewterers Company in London.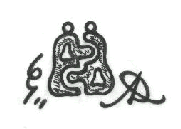 The interlocking partnership motif represents the combined inputs of the designer and the customer. To the left is the first name of Lesley Doble as written in shorthand. To the right is the monogram of Adrian Doble. Both are designers and makers within the company.