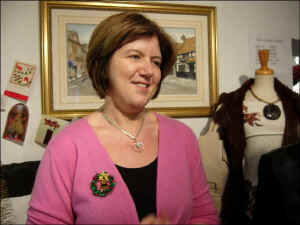 The shops of Cookham Village were again open on Sunday afternoon 12 December for their special Christmas Charity afternoon to help raise money for local good causes. Jayne from Seconds Out in the High Street had done an amazing job at organising the afternoon with help from many, many people in the village, including Alison Mellon who used to run Kid2Kid and was the organiser for many years.
There was also lots to eat, hot chestnuts were on sale, the 1st Cookham Scouts had a barbecue and there was mulled wine and mince pies at the Bay Tree, Manzano's were selling a tasty paella, plus some very interesting cold meats, Maliks had various Indian foods and so did the Cookham Tandoori. The Peking Inn were offering spare ribs and many of the shops were offering glasses of wine, nibbles and mince pies.
Also there was street entertainment with rides for the children, candy floss, lots of flashing lights, throw the ball in the bucket and street entertainers, not to mention the train.
Also several of the Cookham charities were there, the Cookham Society, Noah's Ark, the RNLI and CASH. There were raffles and tombolas and there was music from the Fabulous Shirtlifters and the Zephyr Band. All in all it was a fantastic afternoon and it was enjoyed by young and old. Well done to all those who gave everyone such a good time.