Sunday 10th December was the annual Charity Shopping Afternoon in Cookham High Street. The morning had been cold and sunny, however, Richard Manzano of Manzano's restaurant in the Parade said 'As soon as we had got the van filled up it started to rain'. Will Young was there to open the afternoon and was seen wandering around in the crowd. Manzano was selling his famous paella and tapas. Alison Melon had a large supply of hot chestnuts stationed outside Maliks restaurant. Outside the Forge Garage the big wheel was there for the younger generation who were clammering to get on it.

In spite of the rain the High Street was packed with people. The Air Ambulance had a genuine helicopter showing how people can be transported to hospital. Apparently it was an old one which no longer worked so was used for display now.
CThere were lots of stalls for the children which were popular in spite of the rain and the cold. The Cookham Society were selling their Christmas cards of two Cookham scenes and Margaret Plemming was wrapped up against the rain and the cold carrying a top hat and selling tombola tickets for C.A.S.H. Brian Clews was there with his new book about the birds of Cookham which looks at how birdlife has changed over the last one hundred years.



Macmillan Cancer Relief were outside the Kings Arms with an old barrel organ and the children's roundabout at the end of the High Street proved popular. There was music from the Zephyr Band (click here to hear them), although the children's miniature train had to give up due to the rain.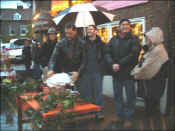 The organisation this year had been organised by Adam of the Rose Boutique which was selling mulled wine which was very popular and helped to warm people up a little. In spite of the rain everyone seemed to be enjoying themselves and getting into the Christmas mood.