Water was quite the theme last week! As the River Thames threatened to burst its banks, 30 or so people assembled at the Library's community room to find out more about Cookham's water project in the Kedida region of Ethiopia. The event was a reception on Thursday evening (26 July) hosted by our MP, Theresa May, to promote the project which aims to bring a clean, sustainable and readily accessible water supply to 60,000 people.
At the moment water is a problem in Kedida. The changing climate, accelerated by activities in the Global North, means that the lush wooded hills of the region have become dry, barren landscapes. Underground water is difficult to get hold of and the rain, when it comes, simply runs off the ground and causes further land degradation. For women and children, the precious time which would once have been spent tending crops and animals, or running small businesses – income-generating activities which could pay for education and healthcare – is now spent in the daily grind of walking to fetch water for essential needs.
But the Cookham-Kedida project is going to change all that. Brokered by relief and development agency Christian Aid, the project will involve the the Cookhams raising some £25,000 over the next 12 months or so. With the benefiting communities in Kedida providing voluntary labour, these funds will be put towards installing spot springs, wells, boreholes and a pump and gravity fed water system, the planting of 450,000 tree seedlings, and the construction of rock-fill dams, check-dams and stone-faced trenches to save water. The result will be 15 litres of clean water per person per day – and no-one will have to walk more than 500 metres to fetch it. The project will also give most of the population access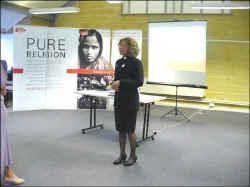 to basic sanitation and hygiene facilities - just 1% of people have that access today!
Churches in Cookham, Terrie Robinson welcomed to the reception a wide range of representatives from the local community - councillors, teachers, leaders of voluntary and social organisations, business people and church leaders - and explained that the Kedida project provided an opportunity for our community to connect in positive and tangible ways with a community experiencing life very differently. Matthew Reed, Associate Director of Christian Aid, went on to describe the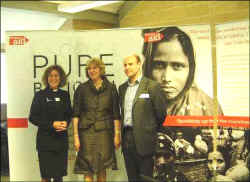 nature of the challenge and the progress already made in Kedida because of Cookham's involvement.
Theresa May commended the Kedida project as something to be taken on as a community to community endeavour. She emphasised that this was not an example of 'those who have' telling 'those who have not' what they need and imposing something upon them, but a genuine listening to the people of Kedida and an appropriate response to their needs.
The project has already received over £12,000 of financial support from the people of Cookham. £4000 of that came from the very successful Christian Aid Week in May this year. And in this ground-breaking scheme the EU is matching every £1 raised in Cookham with another £3! Cookham's involvement has already therefore generated £48,000 of long term sustainable development for the people of Ethiopia.
But there is much more to be done! The reception generated all sorts of plans and ideas. If you would like to contribute in some way and be part of this exciting project, please call Matthew Reed 07814 752422 or email Chris Harris chris.harris10@btopenworld.com.