The Kedida Project has been supported by Cookham over the last year and the project is nearing completion. To let people know about the progress Anne Phipps of Christian Aid gave a talk at the Parish Centre on Sunday 6th April 2008.
The project involves the Cookhams raising some £25,000. With the benefiting communities in Kedida providing voluntary labour, these funds are being put towards installing spot springs, wells, boreholes and a pump and gravity fed water system, the planting of 450,000 tree seedlings, and the construction of rock-fill dams, check-dams and stone-faced trenches to save water. The result will be 15 litres of clean water per person per day – and no-one will have to walk more than 500 metres to fetch it. The project will also give most of the population access to basic sanitation and hygiene facilities - just 1% of people have that access today!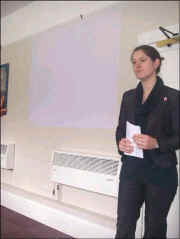 Water is a problem in Kedida. The changing climate, accelerated by activities in the Global North, means that the lush wooded hills of the region have become dry, barren landscapes. Underground water is difficult to get hold of and the rain, when it comes, simply runs off the ground and causes further land degradation. For women and children, the precious time which would once have been spent tending crops and animals, or running small businesses – income-generating activities which could pay for education and healthcare – is now spent in the daily grind of walking to fetch water for essential needs.
There will be a quiz on 20th April to help towards the fundraising. Click here for more information