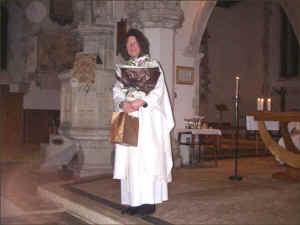 After many years as Cookham's assistant curate, Terrie Robinson has her final farewell service at Holy Trinity church on Sunday night 27th January.
Terrie is not leaving her home in Cookham Dean though and will now be serving at St. Luke's church in Maidenhead where she hopes to find new and different challenges. The vicar of St Lukes, Richard Holroyd, is extremely happy to have Terrie's help and is looking forward to her arrival, as St Luke's is a large parish and he will really appreciate an extra pair of hands.
It was an emotional evening and Terrie will be missed by her friends and congregation.