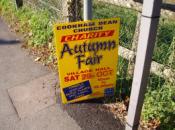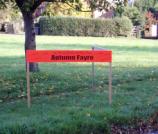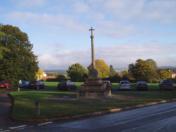 Well done to everyone concerned at the Autumn Fayre, we had a lovely morning.
With tombolas for cuddly toys to all sorts of lovely items; the main raffle for hampers and spirits (congratulations to Lynda Mallett who won first prize) and a Christmas cake (won by Anne Copping); stalls for Spring bulbs; all different flavours of fudge (I forgot Weightwatchers momentarily as the fudge was delicious); lovely cards for various occasions and Christmas wrapping paper, tags and Advent calendars; jewellery; cakes and pastries; 'Trash with Panache', videos and books; jackets and scarves - and refreshments were served throughout. There was even a children's corner, where they could make Christmas decorations, and Reverend John Copping leant a hand in this department.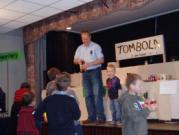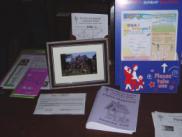 Nick Billinghurst had a wonderful sales technique (I told you I'd give you a mention). The tombola prizes which were left over were not left long for Nick stepped in and soon everything had been auctioned off. I bought the photo of St John The Baptist Church which I'd given with others to the Fayre and have placed it inside the Church where I thought it should go.
It was lovely to meet so many people we know in Cookham too at the Fayre.
In a nutshell, the Church Hall was packed, everyone did very well indeed, people left with full baskets, bags and arms … and lots of fudge (shhhhh!).