Daily Telegraph journalist Tim Richardson talks to Cookham and Cookham Dean Horticultural Society about this year's Chelsea Fringe
A new David Beckham hairstyle was the thought that popped into my mind when I first heard of The Chelsea Fringe.

I wasn't completely wide of the mark because edgy and fashion forward this hugely inspirational festival of gardening most certainly is.

The vision of Daily Telegraph journalist Tim Richardson, who also writes 'about theatre, food and art and is an irreverent commentator on all matters pertaining to gardens.'
In his smartly pressed chinos and appropriately-aged brogues, Tim looks as if he is someone more at home enjoying a Chelsea show garden rather than in a Portabello Road pothole but first impressions can be very deceiving.
For The Chelsea Fringe is the garden enthusiast's Salon des Refusés, exhibition of rejects, to Chelsea Flower Show's Paris Salon as Tim explained at the outset.
Just as Édouard Manet's Déjeuner sur l'herbe was rejected in 1863 by the French Academy of Fine Arts, so our own Royal Horticultural Society might find some of Tim's Chelsea Fringe exhibits similarly difficult to accept with open arms.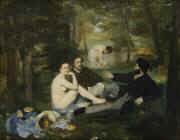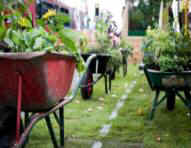 But there is much to inspire and celebrate in the wonderful, wacky world of the The Chelsea Fringe.
Events from previous years that particularly caught my imagination included the first Edible Bus Stop where 40 people from the local community got together to transform a bombed end of terrace site from a dog lavatory to a delightful landscape. Google Edible Bus Stop now and you will see them dotted all over London.
Pocket parks, pothole planting and Cake Sunday Seed Swap are just a few of the other ideas that originated with the Fringe and have continued to grow and grow.
The 2015 festival runs from 16th May until 7th June, before, during and after the Chelsea Flower Show with around 190 gardening events planned.
From guided tours of Covent Garden Flower Market, to a Practical Pharmacy workshop on preparing medicinal herbs in Tower Hamlets Cemetery; from a wild food guided walk, sustained en route by a nibble on leaves, berries and roots, to the tranquillity of a Floating Garden in Regents Park; there really is something for everyone, including those wishing to celebrate the 100th anniversary of the Battle of Waterloo!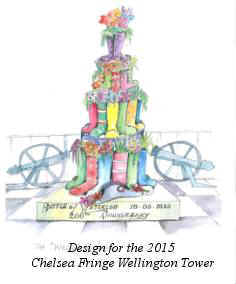 Events are concentrated mainly in London but can be found scattered throughout the UK, including Brighton, Aberdeen and Cambridge. Closer to home, there will be a Floral Flotilla and Floral Couture evening to enjoy in Henley-on-Thames.
If you are travelling abroad this summer Italy, Ljubljana, Australia and Japan are also hosting events. Visit www.chelseafringe.com for all the information on what there is to see, where and when.
As a lover of the arts, the Van Gogh Walk, retracing the artist's steps from his lodgings in Brixton to work at the art dealer Goupil & Cie in Covent Garden, is top of my 'to do' list.
The thought of planting up a pothole or two around the lanes of Cookham Dean is tempting too. It would be a fitting tribute to what was a wonderfully inspiring evening.