Cookham Dean Prepares For Jubilee Flotilla
Her Majesty the Queen is set to give the booming sport of gravity-carting the Royal Seal of Approval by competing in this year's Gravity Grand Prix in Cookham Dean.
The organisers have issued a formal invitation inviting Her Majesty to mark her Diamond Jubilee by leading a flotilla of go-carts through the village at the start of the annual event, which takes place this year on Sunday, September 9th.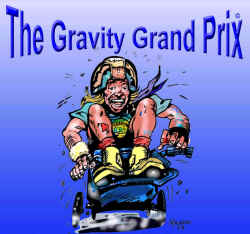 Peter Bartlett, chairman of the organising committee, says: "We've been on the Internet and had a good look at the drawings of Royal Barge that will carry the Queen down the Thames in the Diamond Jubilee Pageant in June.
"We believe the design can be adapted to create a suitably regal go-cart. We have a team scouring charity shops and car boot sales across the county for suitable pram wheels, and we're told there's half a can of gold paint in the storeroom at the Village Hall.
"We haven't had a response from the Palace to our invitation as yet, but we're pretty confident that the Queen will want to make the Gravity Grand Prix a highlight of her Diamond Jubilee celebrations. I know that Tom Copas is kindly hosting a big charity do for the Village on the 4th June and I am sure that will still be the hottest ticket in town, but the Queen is bored of beacon lighting and after the disappointment of failing to get the sport included in the London Olympics, this is just the boost gravity go-carting needs."
Her Majesty will be invited to lead a sedate parade of go-carts around the village before the race itself. Bartlett added: "If she wants to then hurtle around Cookham Dean in a tea chest on wheels, that's great - but if for the sake of the Empire she wants to delegate the race itself to one of the lesser Royals, we'll be quite happy with any fairly well-known Duke or Countess to pilot the Royal Cart, we're not fussed."
As at Royal Ascot, the Gravity Grand Prix organisers have had to take the difficult decision to ban spectators from wearing fascinators this year. "If Beatrice and Eugenie want to come along, we'd advise them to wear proper safety headgear. Not only do fascinators stop the children from seeing the race, they provide very little protection from lumps of debris thrown off by a disintegrating go-cart."
Now in its sixth year, the Gravity Grand Prix has become an established village event. This year's Grand Prix is expected to see more than 2000 spectators cheer on 30 teams racing hand-built carts. This year we hope to raise more than £10,000 for the Thames Valley & Chiltern Air Ambulance.