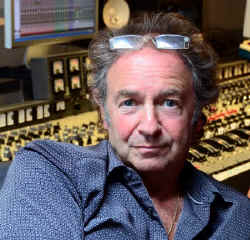 He has worked with some of the biggest names in the industry and helped put Cookham on the map – and on Thursday evening, award-winning music producer Stuart Epps shared some enlightening showbiz stories at the Media Hub.!
The networking group, set up by Parfitt Media and MumsaboutCookham.com to bring media types together, met at the Bel & the Dragon in Cookham. And the two hosts and Cookham-based journalists, myself and my good friend Sarah Parfitt, were delighted to have Stuart as our special guest.!
During his 45-year career, Stuart has worked with iconic artists such as Led Zeppelin, Bill Wyman, Chris Rea, Elton John, Oasis, Robbie Williams, Paul Weller and Chris de Burgh. And Media Hub members and new attendees listened, engrossed, to Stuart's anecdotes about his life; the world-famous Mill Studios that put Cookham village on the map; and enjoyed a glimpse into the lives of some of their pop idols.!
Stuart says: 'Is was very nice to connect with the Media Hub and I thoroughly enjoyed the evening. I have always felt privileged to have a career that I'm passionate about and was happy to share my stories. I've been making music in Cookham since 1976 and to experience an album or a song taking shape from the demo version to the final master is a great feeling.'!