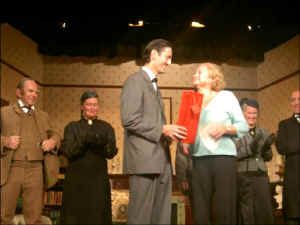 Sherlock Holmes by the Tarrystone Players opened at the Pinder hall for three nights on 29 September.
The play is written by Cookham actor Richard James who plays the larger than life Sherlock. It's a brilliant whodunnit where the audience have to guess the murderer!
And did they guess correctly?
On the opening night only 4 people got it right - there's nothing like a good twist to keep the audience on their toes! - and the winner was presented onstage with a bottle from Stratfords wines by the cast.
The Tarrystone players are celebrating their 40th anniversary and have pulled out all the stops with this production. Good set, costumes and props and new comfortable seats in the Hall made it a very enjoyable evening.