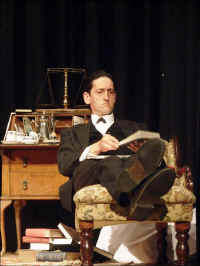 The reviews are in for Cookham's Cloak & Dagger Theatre Company's 'The Mystery of Sherlock Holmes' which played to a packed house at the Town Hall Theatre, Wycombe Swan in May.

The Slough Express said 'The roles of Sherlock Holmes and Dr Watson could have been created for Richard James and Jonathan Yates. James 'is every inch the archetypal detective' and Jonathan Yates 'the perfect foil' as Doctor Watson.

The Maidenhead Advertiser said it was a production 'of great energy... the audience were made to engage quickly and there was a nice atmosphere created... this production deserves wider exposure'.