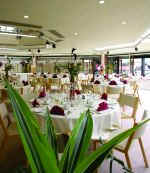 A glamorous and very glitzy Gala Dinner planned for September is hoping to raise significant and essential funds for Thames Hospicecare. The very special black tie event will take place on Saturday 13th September at 7:00pm at Moor Hall, Cookham.
Guests will enjoy a champagne reception followed by a magnificent five course dinner. The evening's fine dining will be complemented by dancing to the small hours, courtesy of the music and voices of Straight Eight.
The evening will also see the final stages of the Maidenhead Advertiser's Wedding Competition. The three finalists will be attending the dinner and the judges will select the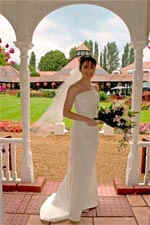 winning bride and groom during the evening, the announcement itself will then be made to the couples at Moor Hall' s Wedding Fair the very next day. The Wedding Fair will be held from 11am - 4pm on Sunday 14 September at Moor Hall with free admission. The show takes on a completely new format, with a spectacular and luxurious grand marquee as the show centerpiece. It will be possible to see live fashion, hair, beauty and make up demonstrations by leading wedding experts.
The prize for the winning bridge and groom includes a 3 course wedding breakfast with wine, a ceremony suite at Moor Hall, a £1,000 wedding dress and groom's outfit provided by Domenique's and Domenico's, and a wedding planner service, bridal make up, wedding cake and flowers by Devine Weddings.
Funds will be raised for the Hospice from the Gala Dinner through ticket sales and an auction that takes place during the evening.
The Gala Dinner has been planned and organised by the Hospice's Cookham Dean Fundraising Group. Val Hewett and her colleagues have spent weeks arranging the evening, making sure the dinner is both a wonderful and a memorable evening out for all who attend.
"We still have some tables left, and would love to sell those so that we can raise as much funds as possible for the Hospice." explained Val
"Thames Hospicecare does some quite remarkable work for our community and I hope, that if you have not already booked tickets, you will show your support by coming along and basically having a jolly good evening and at the same time making a valuable contribution to a very worthy cause."
The Cookham Dean Group are especially grateful to the sponsors of the Gala Dinner; Moor Hall, the Maidenhead Advertiser and Devine Florists of Cookham.
If you would like tickets or need more information phone 01628 483364 or 478818