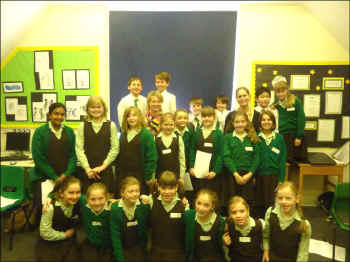 On Monday, Year 5 and 6 pupils at Herries Preparatory School in Cookham Dean took part in a special media workshop led by Sarah Parfiit, freelance BBC journalist and media consultant, and Séverine Dieudonné, the founder of the charity, Africa Turns Green. The pupils, some of whom have already been interviewed on local radio-stations, were given an insight into how to write a news story and what makes an effective radio interview.

"The pupils were incredibly enthusiastic, and got a lot out of the session," said Sarah Parfitt. "Some of them showed a real talent for interviewing other pupils – perhaps they are going to be the next John Humphrys or Sarah Montague! They were all completely fearless which is amazing given that they are only 10 or 11 years old."

At the end of the media session, the Herries pupils were invited to use their newly acquired journalistic skills to write an article or poem, conduct an interview or a design a poster around the theme of Africa Turns Green. The closing date for the competition is Friday, 15th March, and the judges will be Liz Kwantes, the editor of Cookham.com, Séverine Dieudonné and Sarah Parfitt. The winners will be announced at Green Day at Herries on Wednesday, 27th March.

Earlier in the morning, Séverine Dieudonné gave the Herries pupils an update on what her charity, Africa Turns Green had been doing in morning assembly. Her team will be going to Kenya, Tanzania and Ethiopia in June to make a documentary on the impacts of climate change in Africa.

Nigel Watts, a school governor at Herries said: "The Africa Turns Green project provides the pupils of Herries with an opportunity to gain a valuable insight into the social , ecological and economic development of a continent through a unique and inspiring programme, promoting green entrepreneurs and their ideas to the rest of the world. Herries is a partner of the project and as such the children of the school receive regular updates from the Africa Turns Green team as to the progress being made. It is a great way to introduce the children to the green initiative and provide exposure to one of the world's most vibrant continents".

For further information, please phone Séverine Dieudonné; 0751 580 7766