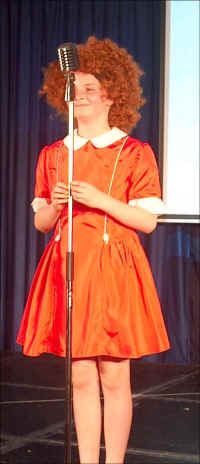 Broadway came to Cookham Dean this week as pupils from Herries Preparatory School performed the much loved musical, "Annie". Based upon the popular Harold Gray comic strip, "Little Orphan Annie" with music by Charles Strouse, the musical turns the clocks back to 1933 and tells the moving story of eleven-year-old Annie at the Municipal Girls Orphanage.
"We knew that it was a brave choice but it definitely paid off, " said Herries Headmistress, Sophie Green. "The children have really risen to the challenge and I am really proud of them."
Singing favourites like "The sun will come out tomorrow" (oh, how we all wish that were true with it being the wettest June since records began!) and "Hard Knock Life", around forty pupils ( from Years 3, 4, 5 and 6) were involved in the production.
"We are very fortunate in that we have a lot of very talented pupils in Key Stage 2 this year, and our drama teacher, Mrs Castell, has devoted a lot of time and energy into making this work."
The lead role of Annie was played by 11 year old Mila, who has been taking singing lessons on a regular basis and will start Sir William Borlase School in Marlow in September. Another very talented Year 6 pupil, Lilli, played the alcoholic orphanage matron, Miss Hannigan.
"It's been a roller coaster ride putting all the scenes together but we got there in the end," said Herries drama teacher, Mrs Castell, who has been working with the pupils for the last 3 months to ensure that the production is of the highest possible standard.
For further information or interviews, please contact Headmistress, Sophie Green, through the School Office: 01628 483 350 during school hours.