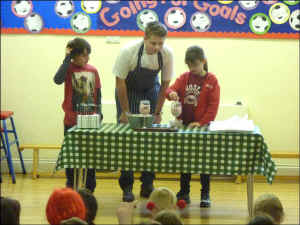 Celebrity chef, Luke Thomas delighted pupils at Herries Preparatory School in Cookham Dean on Red Nose Day by giving them a very special morning assembly. 19 year old Luke, is Britainís youngest head chef and is currently battling it out with 23 of the nationís other finest chefs on the Great British Menu on BBC 2.
"I started cooking at the age of three, and have always been passionate about food," said Luke, who launched the eponymous Lukeís Dining Room at Sanctum on the Green less than a mile from the school a year ago and is about to open his second restaurant in the Cotswolds. "Itís great to share some of my passion and experience with local pupils. "
With a red theme f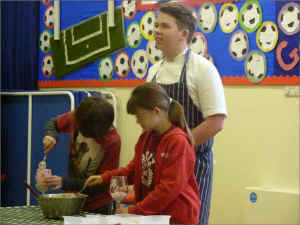 or Red Nose Day, Luke demonstrated how to make a "quick and easy" white chocolate and raspberry cheesecake. When Luke asked for two volunteers to mix the ingredients, there was an enthusiastic sea of hands, and two lucky pupils, Lily and George, were chosen to help him. The chef revealed to the pupils that he hadnít enjoyed "sitting behind a desk" at school and had always excelled at the creative subjects, such as art, music and cookery.
During a question and answer session afterwards, Luke revealed that his grandmother and fellow chef, Jamie Oliver had been the greatest influences in his life, and that his favourite dishes were scallops and mackerel. He encouraged children to pursue their dreams, whatever they were.
Herries' Head Teacher, Sophie Green said that Lukeís visit had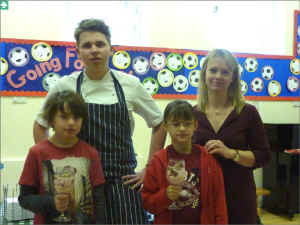 been a fantastic experience for the children: "The children were so excited to have a celebrity chef giving them a cookery demonstration in assembly on Comic Relief Day. Many of our children take part in the after-school Cookery Club and have developed a real interest in nutrition and food preparation. I know that the children have really enjoyed having this live show right here in our school hall."
If you would like to see Luke in action, watch the Great British Menu on BBC 2 at 7.30pm every day this week. Along with Michelin star chef, Richard Davies and fellow chef, Mary Ann Gilchrist, he has been asked to devise dishes which are gastromic, witty and fun. The overall winner of the competition will be invited to cook a dish at a special banquet at the Royal Albert Hall celebrating 25 years of Comic Reliefís Red Nose Day appeals.
click here for an interview with Marlow FM
with thanks to Paul Mansell of Marlow FM