Holly Mason writes :
In the parlour there was dressing up, playing with Victorian toys and making athaumatrope, making a lavender bag and writing with a Victorian pen that you dip in ink. A thaumatrope is a thing that you spin and then two pictures turn into one.
After we did all of those activities we went to Benjamin Disraeli's house. We went into the dining room. We saw Queen Victoria's seat. We know it was hers because she was quite small so her seat is small. We also went into a room where the ladies would go after they ate. As well as that we went into the library.
A Victorian Thaumatrope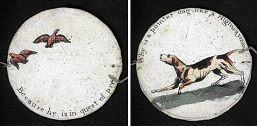 A thaumatrope is a small disc, held on opposite sides of its circumference by pieces of string. An image is drawn on each side of the disc, and is selected in such a way that when the disc is spun, the two images appear to become superimposed. To spin the disc, one string is held in a hand, and the disc is rotated to wind the string. Then, both strings are held, and the disc is allowed to rotate. Gently stretching the strings will ensure that they continue to unwind and rewind. This motion causes the disc to rotate, first in one direction and then in the opposite. The faster the disc rotates, the greater the clarity of the illusion.