Problems with Flooding? Why don't you join TUG, click here

January's floods caught many unawares and caused unprecedented damage to many riverside properties, a number of which are still uninhabitable. Local houses and roads were flooded for the first time ever, major roads were closed, communities isolated: this, just as the Jubilee River was opened, ostensibly to relieve pressure above Maidenhead. These issues have often been debated locally, sometimes with great emotion, but so far nothing conclusive has emerged in terms of why this situation came about, who was accountable or indeed will it happen again.
On July 1st TUG (The Upstream Group) held a public meeting at Pinder Hall. Attended by around 50 local residents with a range of concerns, plus the local press, the meeting was held to attract new members to provide much needed funds for research into the flooding problem.
TUG has been formed directly as a result of the flooding to represent householders from Cookham, Bourne End, Marlow and Hurley. Via the recently created Flood Risk Action Group (FRAG), which has been initiated and sponsored by the Environment Agency, the group will form a working relationship with the appropriate public bodies and will provide the vital link between its members and the appropriate authorities and intends to lobby for improvements in river management and maintenance procedures.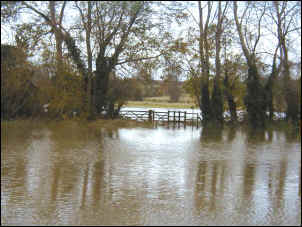 TUG will draw together the principal issues concerning the local community and with the advice of independently commissioned experts, will seek to influence the authorities' plans in the following ways:
§ Flood Prevention – seek to influence the Environment Agency's strategy for future river and flood plain management in order to prevent the sudden surge in water levels that contributed to the floods during 3rd/4th Jan 2003.
§ Insurance – obtain evidence from the Environment Agency to show the 2003 rainfalls were exceptional and seek to ensure that the Environment Agency's Environmental Risk Assessments (used by home insurers and purchasers' solicitors) will substantiate improved flood controls and a low risk of reoccurrence.
§ Flood Risk Information – identify the Environment Agency's trigger thresholds for rainfall and water levels upon which the EA will raise easily accessible and accurate 24hr information forecasts and alert warnings specific to TUG's area.
§ Maintenance – encourage the authorities to act jointly to ensure that all watercourses are properly maintained.
§ Improvement Works – identify and promote the need for capital improvement schemes to minimise the frequency of floods.
§ Planning Controls – persuade the authorities to exercise greater powers to prevent development on the flood plains.
An extensive recruitment program is underway with the aim of achieving a membership of at least 400 households, each providing donations, to enable TUG to fund its professional engineering appointments.
Over 80% of donations received from membership subscriptions will be committed to research and analysis. TUG have already appointed a local firm of engineers to obtain research data from the Environment Agency and TUG is now in the process of appointing a firm of expert hydrologists to analyse this data and examine various river management strategies. With a seat on the local Community Support Group (CSG) already confirmed, TUG intends to become the principal flood representative for our community.
For more information or membership queries please contact Clair Hunt on 01628 524789 or at clair.hunt@upstreamgroup.co.uk . Or see www.upstreamgroup.co.uk .