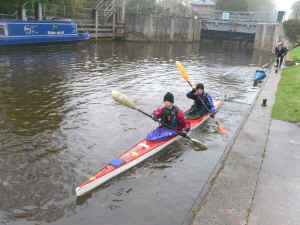 Did you know about a very special event. This Easter, hundreds of kayakers and canoeists are pitting their skills, physical and mental stamina and determination against one of the toughest endurance events in the world - the Devizes to Westminster International Canoe Marathon. The Good Friday Boat Race covers a distance of roughly 125 miles

Irene Killingback says "As children living in Great Bedwyn, a village beside the Kennet and Avon canal, my sister and I spent many a happy hour watching the canoes pass by along the river on Good Friday. Having lived in Cookham for 30 years I decided on this damp Easter morn for the first time to take a look at the boat race as it reaches our village."

The contestants , who come not just from this country, but from all over the world take part in the 24 hour race (this year the 125 mile stretch was completed in fourteen and a half hours ! ), there is also the 4 day race.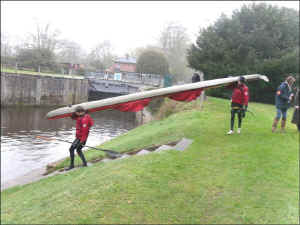 There are 3 overnight stops , the first at Newbury, second at Longridge , the last just 4 miles short of Westminster bridge. They have to wait for tides before the final 4 miles on Monday morning.

It's a grueling challenge, physically and mentally exhausting , and you need to have support teams who meet you as you clamber out of the locks run round and back in, to give you drink and food. It's done in all weathers, cold, wet etc. both young, and old take part.

Irene says "What surprised me the most however was the fact that every single person I have discussed this race with since have known nothing of this international event. The Oxford v Cambridge Boat race , oh yes , the Good Friday boat race ......what on earth's that!
You can see more about this race which has been going since 1948 at www.dwrace.org.uk