See the classic Animaland cartoons made in Cookham
(5 February 2004)
with thanks to Richard Poad
---
On Saturday 19th February at 10.30am at the Community Hall at Cookham Library
Cookham children of all ages are invited to enjoy the antics of Ginger Nutt the red squirrel, Dufty the mole, Loopy the hare, Corny the crow as they charm their way through the classic 'Animaland' cartoon films, which were made at Moor Hall by Gaumont British Animation between 1946 and 1950.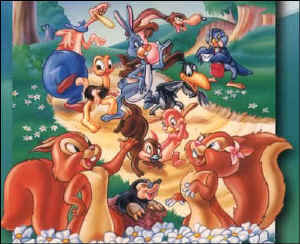 As part of Maidenhead Heritage Centre's exhibition 'Maidenhead and The Movies', the nine surviving 'Animaland' films are being shown FREE OF CHARGE at the Community Hall at Cookham Library at 10.30am on the second Saturday of the half term break (February 19th). Heritage Centre chairman Richard Poad says "The hand-drawn characters have a special charm which is not necessarily present in this age of computer images. I am sure that this special half term treat will appeal as much to grown-ups as to children."
In 1946, J Arthur Rank, the most powerful man in British cinema, started an imaginative scheme to establish a British cartoon industry to challenge the might of the Disney empire. He lured David Hand, chief assistant to Walt Disney, to Cookham, where an extremely talented team of artists and animators was assembled. Bob Monkhouse was one of the actors who provided the voices for the loveable cartoon characters, who cavorted and charmed their way through each 7 minute episode of 'Animaland'. Unfortunately the venture folded in 1950, but many of the animators went on to work on animated advertisements for ITV and on the Beatles' film Yellow Submarine'.
Cookham residents who miss Animaland on 19th February can also see the films by visiting the exhibition 'Maidenhead and The Movies' at the Heritage Centre in Moorbridge Road. Admission is free; the Heritage Centre is open from 10am to 4pm, Tuesday to Saturday. 'Maidenhead and The Movies' runs until Saturday 26th February.

For further information phone 01628 780555 or visit their website
Where can I find the Maidenhead Heritage Centre?
Just off the A4 between the town and the river, about 100 yards past Waitrose at the far end of Moorbridge Road. Free on-site parking, plus free on-street parking (1 hour).