A Museum for Cookham
(28 May 2006)
with thanks to Richard Poad
---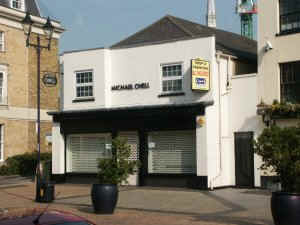 Here in the Cookhams, we have an extraordinary variety of local history, from Saxon parliaments to cartoon films at Moor Hall, from boat-building at Quarry Wood to aeroplanes landing on Cockmarsh in the 1930s. But realistically there is unlikely ever to be a Cookham Museum to explain all this; luckily Maidenhead Heritage Centre's area of interest includes the Cookhams and all the villages which surround the town.
For 13 years the Heritage Centre's volunteers have been serving the entire local community; there have been talks to Cookham cubs and brownies, reminiscence sessions at Elizabeth House and exhibitions with lots of Cookham content. But until now there has never been enough space to do full justice to local history. Out of the blue, 12 High Street, next to The Bear, has come onto the market and its location is absolutely perfect, the building itself almost ideal. Here we can preserve and celebrate local history for years to come.
The Maidenhead Heritage Centre appeal has been running for 3 weeks and has raised over £310,000, including donations from local celebrities including Michael Parkinson and from an increasing number of Cookham people. But the deadline for raising another £650,000 is June 21st, after which the owner will put the building on the open market.
If everybody who thinks that local history matters offers financial support, the appeal target can be reached. Don't delay! Please dig deep and make a pledge today – make a big enough one and the Heritage Centre could be renamed in your honour!
To make a pledge, just email your name and address and amount pledged to Heritage Centre chairman Richard Poad at richardpoad@aol.com. And remember that making a GIFT AID donation increases its value to the appeal by 28%! Please email Richard if you would like any further information about the project.

For further information phone 01628 780555 or visit their website
Where can I find the Maidenhead Heritage Centre?
At the High Street end of King Street, between the Methodist Church and the market. Nearest car parks: Broadway and West Street.