As you may have heard our National Trust Warden Mr Curly Carver is to retire this August after nearly 30 years of service to the Maidenhead and Cookham Commons.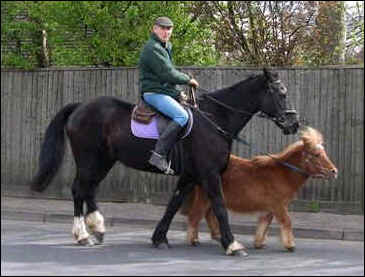 Curly's official job has been to maintain and monitor 735 acres of woodland and commons. He has also above and beyond his official duties got to know his community. He fights for our land….for your view, verge, hedgerow, pathway, for the wild animals and birds, for horse riders, ramblers, runners and dog walkers.
He knows who are the lonely and vulnerable, the bullies and abusers. He is shouted at by rude visitors (and sometimes villagers!) when he protects our patch – he is abused when commoners' cows chase the unwary, when litter strews the car parks, and when his employers levy charges to the locals.
But…. he is deeply appreciated by all those who love the area when he builds bonfires for the children, supports the Fete and the Gravity Grand prix, when he drags bails of hay onto the Common for the Boxing Day games, plants new trees, when he develops the derelict brick kilns into a wonderful amenity, cuts the verges, picks up litter, moves fallen trees, supplies logs, advises on tricky road building problems, clears out unwelcome visitors from car parks, or chases off unwelcome travellers.
It's now time for us to show our appreciation of the hard years he and Rita have invested in us. A gift fund has been set up and you can donate in the following ways:
Visit:

Nationwide Building Society

3 Station Hill

Cookham Rise, SL6 9BT

Sort code: 07-00-93

Bank account no: 33333334

Account no: 1246/704074417

or by Bank transfer: (Nationwide as above)

Write:

'The Maidenhead and Cookham Commons Advisory Committee'

Pippins

Popes Lane

Cookham Dean

SL6 9NY

Cheques please made out to: 'The Maidenhead and Cookham Commons Advisory Committee'