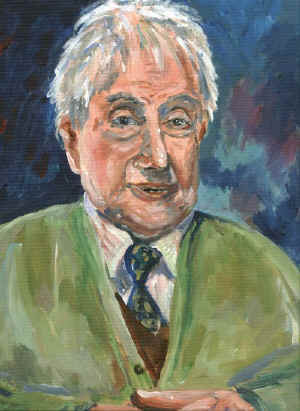 Eddie Smythe, one of Cookham's greatest characters and a model for one of Stanley Spencer's paintings, has passed away at the age of 98 after a short illness.
Eddie has been a central pillar of Cookham for over 70 years since his arrival here from deepest Devon where he was born in August 1909.
"I remember the day the First World War broke out" said Eddie. "The vicar called at our house for the bread for the communion and said - mark my words Mrs Smythe the last war (Boer War) won't be a patch on this one."
Eddie had a phenomenal memory and could recall a thousand events from his long and full life.
"The day the war ended in 1918 my dad went to ring the bells to let the whole village know the war was over and we killed a pig and roasted it to celebrate"
Stanley Spencer counted Eddie a great friend and asked if he could include the great man in his Crucifixion. As Eddie was a carpenter it was no surprise to see him with nails between clenched teeth and hammer in hand cheerfully hammering nails into Christ's palms on the cross.
"I was very proud to be in Stanley's painting, and it was only fitting because that was my job for all my life"
For many years he was Estates Manager at Courtaulds in Maidenhead (now Hitachi) and could turn his hands and tools to anything. He built the most exquisite furniture for many lucky friends and family. Sadly asbestos from those working days came back to haunt him earlier this year, but even when he was being cared for at St Marks hospital in Maidenhead, Eddie still found time to discuss the shelving, bookcases and cupboards around the wards.
"I love to see a dovetail and mortice joint" he would say...
Eddie Smythe was churchwarden for many years at Holy Trinity Church, and a governor at Holy Trinity School. No Cookham committee was complete without his energetic and comprehensive assistance. He was also a member of the Freemasons, but the church was dearest of all to Eddie. He was a bellringer, warden, and regular attendance right up to his granddaughter's wedding in March 2008.
"I met my beloved Tubby (Margaret Tubb) at Odney and married her at 8 o'clock in the morning before we went off to Devon for our honeymoon". They were together for over 50 years and raised a passionate and dedicated Cookham family.
Christmas was always Christmas when Eddie rang to sing carols down the phone to all his friends. The list was well over the 100 and it would take him several days to get through and speak to everyone. Last December he warmed up and practised before singing The Holly and the Ivy to the lucky recipients!
Eddie was one of Timmy Mallett's 50 portraits for the Jubilee in 2002 and Timmy said " Eddie was such a joy to paint. He would always sit with his hands together on his tummy, talking away and asking questions...In fact whenever I'd drop in for a cuppa and chat it was time well spent with a man who could tell great stories and was interested in everyone and everything."
Eddie's funeral is at Holy Trinity Church on Thursday May 29th at 2pm.