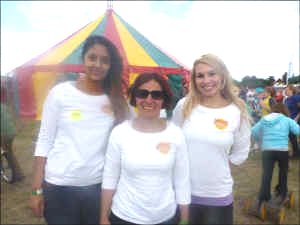 It wasn't just thousands of adults who had a fun day out at Let's Rock the Moor on Saturday – there really was music to get all ages bopping. With 80s' bands like Toyah on the main stage, Sima Stannage from Sima's Action Kids delighted tots with her high-energy music and dance entertainment in the children's area.
"Let's Rock the Moor is a fantastic family event, which brings the community together and raises lots of money for local charities, so it's a great privilege to be here," said Sima who has lived in Maidenhead for nearly 30 years. "I am also a big 80s' fan, so this is my perfect Saturday afternoon!"
The toddlers were treated to lots of lively dance-routines during Sima's one hour performance, and Beat It and the Hokey Cokey proved to be two of the favourites with toddlers and parents alike.
"Being at Let's Rock the Moor is also a great way of getting young children interested in exercise and showing them that it can and should be fun," she said. "I have always been very active and have encouraged my children Natasha (10) and Chloe (5) to stay healthy and do lots of sport too. Exercise is a very important part of my life and I want to spread that message."
Click here for a write up of the event from the Bracknell News
Click here for some videos of Let's Rock the Moor