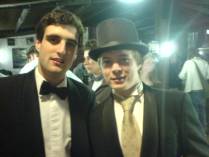 Chris Austen from Cookham and his friend Sam Payne are housemates and second year Geography students at Exeter University. Late one night (in a pub) they shook hands and decided that driving 10,000 miles East in a Citroen 2CV for charity would be a great way of spending a summer. Since then they have found a local 2CV specialist who has agreed to help them build a car that they will go in, they've paid the £387 entrance fee and the £796 for the visas needed to cross one third of the Earth's surface.
They are now looking for help from local businesses. They need to raise at least £1000 for their two charities (Information about our chosen Mongolian charities is below) and £3905 for costs needed to get them there (not including beer money!). They both work in local pubs as much as possible when at home but even with our student loan they need help to get to Mongolia.
They would be very grateful for money that went solely to the charities or to running costs or that will be spilt between the charities and running costs. Sponsors can have their logos placed on the car. The size of the logo will be proportional to the donation.
The event has become incredibly popular in the last few years. The two hundred team places went within 7 minutes of going online. The event is publicized nationally in local and national newspapers and magazines. The official web site is regularly updated and we are in discussion with BBC Look East.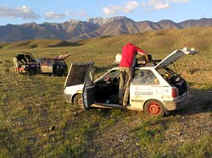 You can donate to one or both of the charities at:
Mercy Corps: http://www.justgiving.com/team-payne-train
CNCF: http://www.justgiving.com/team-payne-train-cncf
or fill in the attached .pdf form

You can contact Sam and Chris
Sam
07769 824803
Chris
07747 677205
From the organizers (www.mongolrally.com)
When is it?
The Mongol Rally 2007 starts on July 21st 2007 with two hundred teams leaving from Hyde Park in London. There is also a group of ten teams starting from Madrid.

What's the point?


The world is just a little bit too safe. Gone are the days where the edge of the map called you forth to discover what lay beyond - satellite maps and GPS have it laid out before you leave the armchair. What if you want things to go wrong? What if you want a bit of unknown in a world full health and safety measures? What if the words "adventure travel" conjure images of old ladies on a guided tour to Everest base camp with all the danger and real adventure neatly removed? What you need is the Mongol Rally.

Imagine yourself in the middle of the gargantuan Kazakh desert, your car slowly being shredded by the dirt track your map says is a motorway, completely lost hundreds of miles from civilisation with no back up crew to rescue you. Just you, your wits, your increasingly brown pants, a car that the laws of physics say shouldn't have got you past Peckham Rye and a slightly angry looking man with a gun.
If this all conspires to make you think, "my goodness that's a terribly silly idea" the Mongol Rally is probably not your cup of salted Mongolian tea. If, on the other hand, you think "hang on by gad, that's exactly what I need" you've found your calling, so read on to find out what you'll be doing this summer.
The charities
The Mongol Rally isn't just about adventure; it's also about raising huge sacks of cash for some great charities. Last year we topped £200,000 and we hope to smash that this year.

Each team coming on the Rally raises a minimum of £1000 for the Rally charities. You can find out more about them and the awesome work they do on the Charity page. http://mongolrally.instituteofadventureresearch.com/index.php?page=charities

The challenge
Travel a third of the way around the earth, from London to Mongolia via a plethora of countries most people haven't heard of in any crap car that has an engine with no more than 1 litre of power.

Starting from Hyde Park, London, the rally finishes in the Mongolian capital Ulaanbaatar around three weeks and a whole heap of adventure later. It's between about 8 and 10,000 miles depending on the route you choose to throw your crap-mobile at. We don't believe in telling you what to do or where to go as this is supposed to be an adventure not a cosy guided driving tour, so the world is pretty much your oyster. To get to the end teams have gone as far north as the Arctic Circle and as far south as Afghanistan on what can only really be described as somewhat circuitous routes. What happens to you between London, the deserts, mountains, bandits and wilderness is anyone's guess. In a normal year just over half the teams make the finish line in one piece.

If you want a full support crew (or any support crew) you're in the wrong place. If nothing goes wrong, then everything has gone wrong. You only start having fun when you break down in the desert with only a short stick and some chewing gum to fix your car. If your automobile completely lets you down and all else fails, e.g. the sky has fallen on your head, you may be able to get to Mongolia by scabbing a lift from other cars. However, you are supposed to be on an adventure not in a nursery class so if the sky does fall on your head, prop it up with a windscreen wiper and carry on. If you're worried, stay at home.

We can't guarantee your arrival at the finish line, or your safety.
The Charities:

Mercy Corps Mongolia has one overall strategic goal – to support rural communities to mobilize resources to meet their economic and social needs, and by extension, to provide a better quality of life for rural residents.
The objectives are:
- To develop, diversify and strengthen rural businesses critical to Mongolia's agriculture sector, helping individuals, families and communities to become more self-sufficient , diversified in their production, and better linked to both value-added processors and local, regional and national markets; and ,
- To enhance the ability of rural communities to make informed economic and social decisions and to act on those decisions; and to empower them to participate in public sector decision-making from the local to the national level.
Currently Mercy Corps implements the following projects in Mongolia: Gobi Regional Economic Growth Initiatives (Gobi Initiative), Rural Agribusines Support Program (RASP) and Training, Advocacy and Networking Program.
Christina Noble Foundation - www.cncf.org/mongolia/projects.asp

Christina Noble travelled to Mongolia in April 1997 and pledged to raise money internationally and return to help the plight of street children and children in poor families in this country. Christina designed projects around the specific Mongolian conditions and culture, while also building on her experience in Vietnam. Initial research discovered a complex street children problem, with children organised into gangs and surviving on petty crime, along with an alarming increase in children dropping out of school throughout the country.
The greatest challenge that the Foundation identified was to reach into families and try to help them escape this cycle of poverty by helping to keep the children in school and at home. It was from this need that the Sponsorship Project was born.
The Foundation also identified a need among children on the street who were not part of a gang and who were trying to fend for themselves by begging and scavenging. Some said that they dreamed of being put into prison "because it is warm there, and they feed you". Christina resolved to open a shelter or sanctuary for these children.
Because the Mongolians are so strongly traditional and so many (in the city as well as the country) live in gers, she decided to build a Ger Village where the children could be safe, attend local schools and grow up to be independent, healthy adults. The Ger Village opened at the beginning of November 1997, and the numbers of other CNCF projects have quickly increased since this time.
CNCF Mongolia has created a successful child sponsorship program based on the Foundation's original sponsorship program in Vietnam. The objective is to help families who are in danger of splitting up or where children may drop out of school due to poverty. The family receives sponsorship for a child as long as he/she is living with the family and is in full-time education or training. In general, only one child per family is sponsored but in some cases, where there are many children, two may be sponsored.
The sponsors are individuals or families in foreign countries who send money (monthly, quarterly or annually depending on the most practical method of banking) to the Foundation for the child, and in return receive a report about the child's progress each year. The sponsor is never given the address etc. of the child and the only communication between the sponsor and the sponsored family is through the CNCF office. The sponsors send US$24 per month to the Foundation for each child. US$20 is given directly to the child or their family in local currency, US$2 is set aside for emergency medical expenses, and the remaining US$2 is spent on administration costs.
The scheme is tightly controlled to ensure that money goes to the most needy families. CNCF social workers go to the families' homes on a regular basis in order to assess the children's progress at school and the families' living conditions.
In December 2002 Christina traveled into Bulgan Aimag (Province) to take relief supplies to families enduring a second successive harsh winter. The terrible poverty in the countryside immediately convinced Christina to expand the sponsorship programme into the countryside. Now children and families in two provinces west of Ulaanbaatar are being enrolled into the programme.
At present there are more than 1,000 children sponsored in Mongolia.
The Sunshine Ger Village Project
In September 1997, the Foundation established a shelter for street children and orphans in Ulaanbaatar. The shelter consists of six residential gers (the traditional felt tent of the Mongolian peoples), one guard ger, an office ger, two joined gers acting as cookhouse and dining room, and one large community ger. In addition, a 40-foot container, which was sent from Ireland full of clothes and medical supplies, has been transformed inside into a shower house with showers, toilets, hand basins and a laundry area.
Each residential ger is staffed by a Ger Mother, often a single parent herself, who creates a loving home for the children. Older children help to care for the younger, and assist their ger mother with simple domestic chores. At school age the children are enrolled alongside their peers at the local district school: learning within the community and gaining vital qualifications for later adult life.
Children below school age attend the Foundation's kindergarten, constructed in 2002 on land adjacent to the Ger Village with funds generously provided by CNCF Belgium and staunchly supported for many years by Wetherby School in London. The kindergarten also serves the wider community and provides invaluable pre-school education to children of local families.
The Ger Village is on the outskirts of Ulaanbaatar and is enclosed with a large 'Hasha' (fence), which helps create a small community atmosphere. CNCF doctors visit several times per week, and a team of two Managers, both themselves qualified doctors, are constantly on-hand to advise, protect and encourage the children. There are monthly outings, occasions of great excitement and joy.
Wherever possible the Foundation seeks to reunite children with their families and assist the family face the future together through mutual love and support.
In the course of our research into the plight of children in Mongolia, a major need became apparent. The prison system in Mongolia owes much to the Russian concepts of punishment, and largely ignores ideas of rehabilitation, even for children in prison. Many imprisoned children were not educated in any way. No help was given in terms of post-release adjustment, counseling, or suggestions on how to become independent. All this came to the attention of the Foundation when we met a 17-year old boy who had just been admitted to the prison, less than three months after he had been released. He said that prison was the only life he knew or understood and so he had committed a crime to get back in.
There is one Children's Prison in Mongolia and it accommodates boys only. Girls are held in a separate unit in the Women's Prison. CNCF provides full-time education at the Boys' Prison and Foundation teachers work three days a week at the Girls' Section of the Women's Prison. Most children incarcerated in prison arrive illiterate and so concentration is on reading, writing and mathematics. The children study hard and many feel that the classes help them to forget that they are in prison. Teaching literacy has a profound effect on the children. They feel proud of themselves and can, at last, communicate by letter with their families, relieving some of the loneliness common in prisoners. The number of children admitted to the CNCF project is now over 100 (numbers will always fluctuate depending on the number of children admitted or released from prison).
In 2002 CNCF established a small schoolhouse in Songino Kharkhin District of Ulaanbaatar. The school aims to help children who have dropped of, or never had the opportunity to enter school to pass the examinations required to rejoin their District School. The children are mainly aged between eight and ten years old, and in the first year of operations helped 67 children, who otherwise would not have had the opportunity to attend school, to re-enter State Education.
In 1998 CNCF completely renovated the pediatric wing of the Charity Hospital, the only hospital in Ulaanbaatar, which provides free healthcare to people without money or health insurance. The first child inpatients were admitted to the wing in April 1999, and CNCF operates a clinic there three days a week, to provide free health care and medication to the children in the sponsorship program and street children. The Foundation's medical practitioners, led by Dr. Undermaa conduct weekly medical examinations of the children at the Ger Village, and periodical checks of the children in prison.
In 2000 CNCF entered into a Memorandum of Understanding with the Mother and Child Research Center ('MCRC'), the country's largest pediatric facility, and began operating a second free-of-charge drop-in clinic there. To date CNCF has donated US$8900 of equipment and supplies to assist MCRC practitioners to provide care for sick children.
Through a generous donation of a Mercedes-Benz Unimog by Derek Ryan and supporters in Ireland, the Foundation is able to operate a mobile night clinic for street children. Dr. Undermaa and her team travel the city's streets, visiting manholes where children are known to congregate: bringing emergency medical treatment, medical advice and small treats to children otherwise abandoned to the ice and snow. Last winter 495 examinations took place with 414 children, only 52 of these examinations were categorized as healthy: the others suffered from respiratory sicknesses, cuts, STDs, tuberculosis and other poverty-related conditions.
Healthcare lectures are presented regularly to the children in prisons and the sponsorship parents. They cover a wide range of topics including general hygiene, first aid, treatment for exposure, infant care, and nutrition.
The Give a Ger fund is an emergency fund established to provide families in danger of becoming homeless, or otherwise inadequately or dangerously accommodated, with a family home. A Ger, with basic furniture, can be purchased in Mongolia for USD700. A Ger without furniture costs USD490. In 2003 the fund purchased gers for 51 families in Ulaanbaatar and in 2004 the campaign was extended to include the countryside, with a total of 53 families being assisted with ger housing. The gift of a ger does far more than simply remove children from squalid and unhealthy living conditions...