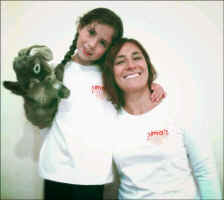 Sima Stannage set up Simaís Action Kids in 2005, and is now a household name in Berkshire and Buckinghamshire. In an exciting move, Sima has announced that she is going on tour next year. One of the highlights of 2014 for Sima will undoubtedly be performing at the UKís biggest dance event, Move It at Londonís Olympia in March. Around 20,000 dance fans are expected to flock to what is dubbed ďthe ultimate dance experienceĒ.
With her wild and energetic dance moves, Sima and her team have enchanted thousands of children at parties and events in the area, including at this yearís Letís Rock the Moor Festival in Cookham, which attracted a crowd of more than 6,000 people. Sima shared the childrenís stage with celebrity Dave Benson-Phillips and delighted the audience with her performance of Gangnam style. In this interview, Sima shares some of her thoughts about the festive season and her plans for next year:
What's the highlight of Christmas each year for you?
I love the weeks leading up to Christmas because itís so busy with parties for toddler groups, nurseries, playgroups and corporate family events. I find it very energising because the children are all so happy and I love counting down the days until Christmas Day with them. Their enthusiasm is incredibly infectious and itís a really special time of year.
Whatís been the best moment of 2013?
There have been lots of great moments at parties, but my personal highlight Ė an unforgettable moment- was performing at this year's Let's Rock The Moor festival. I remember looking around and watching all the families dancing and singing with us next to the Paddock Stage. The sun was shining and everyone was in really good spirits. You wouldnít have wanted to be anywhere else at that moment. It was truly life-affirming.
What's been the best and worst moment of 2013?
The worst moment of 2013 was definitely when my 7 year old daughter, Chloe broke her arm in the park at the very start of the school holidays and she had to have her arm in plaster for the entire summer. She is one of my Action Kids and loves dancing with us Ė as soon as the pain had stopped, she couldnít wait to get on the stage with me again. Chloe never sits still and is my little adventurer.
How will you celebrate New Year?
In short Ė I am not quite sure yet! Itís going to be an impromptu family celebration. Every New Year is different for us. We once went to Disneyland Paris, and a few years ago, we took the kids to see Matilda the musical in the West End. Last year, we had a big family fancy dress party in Maidenhead. I was a Hollywood tap-dancer which was hilarious.
Will you be making any New Year's resolutions? Are you normally good about keeping them?
I don't usually make a New Yearís resolution as I feel that some of lifeís events are beyond my control, but I am a goal setter and quite competitive. I prefer to work towards achieving different goals throughout the year to keep myself motivated. It is sometimes hard to plan because you never really know what is going to be around the corner.
What advice would you give families wanting to make 2014 a healthier year?
I think it is important to try to have a balanced lifestyle, so that you and your family can get the most out of life. You donít want to feel that you are missing out on social activities, and you definitely need to have one or two treats, but at the same time if you arenít healthy, you wonít feel good about yourself. I am talking about both a healthy body and a healthy mind Ė the two go hand in hand. I believe that everything is OK in moderation.
Sima's Action Kids is a children's favourite for many children in the area - what's the secret ingredient?
There is no real secret about why local children enjoy our sessions and parties. I think that it is just because my team of entertainers and I are passionate and the children sense our happiness and excitement. I honestly think I am incredibly lucky Ė I get paid to have fun and do the work I love. I actually wouldnít really call it ďworkĒ.
How difficult is it to combine motherhood with your job?
The problem with running your own business and being a mother is that both are full time jobs. I am lucky that I don't have to be out working 35 hours a week, although I do have to do a lot of planning. If there is a downside to my job, it is that most of my work is at the weekends, so itís hard juggling that with the kids. I still feel lucky because some of my friends have to do lots of overseas trips for business and donít see their kids for days or even weeks at a time.
Who has been the greatest influence in your life?
Definitely - my mother. She is the most wonderful mother ever and an even more amazing grandma to my children and my brother's children. I certainly would never have been able to run a business and have children if it has not been for my mum.
You are going on tour in 2014 -what are you most looking forward to and why?
I canít wait to take part in the Move It dance festival in London in the Spring - what a fabulous opportunity to do a session at the biggest dance and performing arts event in the UK! Last year I took my two daughters Natasha (aged 12) and Chloe together with my niece, Sarah ( a Sima's Action Kids team member!) to the event on Motherís Day. I was not sure what to expect but it was the best day out ever and we all had a ball.
There was something for everyone - fantastic dance performances, an unbelievable range of dance classes and also an indulgent shopping experience. It was a dance loverís dream. Simaís Action Kids will be doing sessions on the Sunday morning. I canít wait.
Do you have a motto which you live by in life? If so, what is it?
I always help others as much as possible and try to be kind to everyone whom I come into contact with. I also believe itís vital that you are passionate about the work you do as otherwise you wonít succeed. If you arenít excited about what you are doing, how can anyone else be?

If you would like Simaís Action Kids to perform at your venue as part of her tour, please phone: 079 56 993 439