St Benoit Visitors come to Cookham (20/07/2000)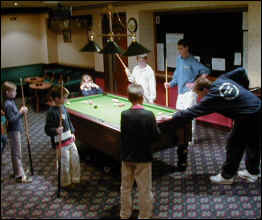 The younger members of Cookham Twinning try their hand at Pool

Cookham hosts French visitors from St Benoit for Millennium Celebrations
The French arrived precisely on time at Cookham station having taken the Eurostar from France to Waterloo. Those that had been over before were warmly welcomed by their Cookham friends and everyone was linked up with their hosts. It was then time to adjourn to the Social Club for a drink. It was then home with their hosts for dinner and a rest after a long day.
Saturday was the day of the Millennium Celebrations. Cookham Twinning had a French Café in the Food and Drink Zone. The French had brought over specialties of the area such as their goat's milk cheeses, shortbread type biscuits and also a round black cake which is yellow inside made of cheese but tasting sweet. These were all given away as samples from the café. In addition wine was served accompanied by typical French café music. Also cheeses, kindly donated by the French shop in the Parade, along with pâté 'tartines' were on sale for those needing a bite to eat.
Sunday there was a trip to Hampton Court. The coach was full with twenty five French visitors and their hosts and friends from Cookham. Everyone took a picnic and had a wonderful time.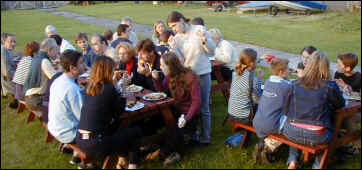 Pizzas, salad and wine

The weekend was nearly at an end, but there was still time to meet at the Sailing Club for a Farewell Party. The group was joined by Richard Symmonds, President of Cookham Twinning, who gave a very amusing talk in French, which really impressed the French visitors. It was then pizzas and salads with large quantities of wine. The French then asked where could they go dancing on a Sunday, the English all looked at each other and no one had any idea. However with the help of a ghetto blaster, the dancing came to the Sailing Club. Everyone joined in and the entente cordiale flowed.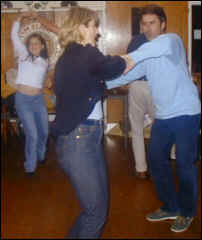 Where can we dance around here?

Monday morning it was time to say Au Revoir. Everyone gathered at Cookham Station to wave goodbye until the next time. As the French had some time before their train left from Waterloo, they had arranged to visit the London Eye, before their trip back to St Benoit.
If you would like to know more about Cookham Twinning or would like to join, contact us at twinning@cookham.com