Best Twinning Quiz yet! (14/04/2000)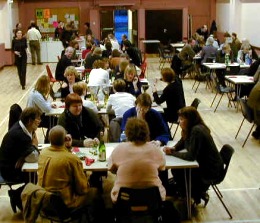 Supper time! Is everyone ready?
This years Cookham Twinning Quiz has been the biggest ever!
The Events Team led by Sue Stacey had been planning the Twinning quiz for weeks. It was the annual fun quiz that the Twinning Committee run every year, but this year there were two major changes, firstly it was being held at the Pinder Hall and not the Cookham Dean Village Hall and secondly Fish and Chips were not on the menu. Each year the committee have held a fish and chip tasting from all the fish and chip shops in the area and the winning chippy was awarded an order of fish and chips for the quiz. The Events Team decided on a healthier meal this time, baked potatoes, with a choice of chili con carne, tuna mayonnaise or grated cheese plus salad, but made up with an amazing choice of very squidgey puddings, which disappeared incredibly quickly. This was all washed down with ample quantities of wine from Threshers.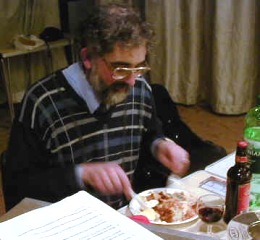 The Quiz Master takes a break


There were some slight worries at the beginning of the evening, Liz Kwantes, who had the questions, was in a meeting at Heathrow Airport at 6.00pm and everyone was very pleased to see her turn up in time. However, although Liz was there, there was no sign of the Quiz Master, Peter Bysshe. He finally turned up complaining that nobody had told him that the venue had changed!! This held things up for a time as some of the questions required sound and the equipment for this had to be checked.

The questions had been set by a variety of people, so they were very varied in their complexity and choice of subjects. Although the Quiz Master's decision was supposed to be final, there were some brave souls who decided to argue the toss and even won the argument.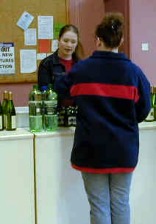 Just in case we get thirsty


The winning team was made up of the Runnacles, the Turners and the Inds all from Cookham Dean with over eighty points, no wonder they said that they were enjoying it very much.

Finally there was the raffle with fifteen prizes, three of which had been donated by Roy Gigg's French partners. This included a huge plate of charcuterie, a large plate of cheeses and cuisses de canard, luckily with cooking instructions.

Sue Stacey asked if anyone would like to join in a Petanque Challenge being run by several of the local Twinning Associations in the Thames Valley, which will be taking place at the Hand and Flowers in Marlow on 8 August. Cookham Twinning is planning to put in two teams of three people each. Cookham Twinning are also planning to show a French film again this autumn after the success of the one last year.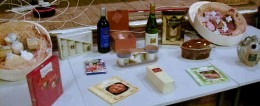 The Magnificent Raffle (15 prizes)


Everyone went home tired but happy, looking forward to the next Cookham Twinning Quiz in 2001.