Twang! Prepare to Battle (28/04/2000)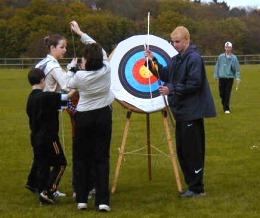 Pulling out the arrows - the ones that hit the target
Cookham youth prepare to take on our twin village in France!
Members of the Cookham Youth Project, who are visiting France on 28th April, were out practicing their archery techniques this week. Steve Ithurralde, from the West Windsor Archery Club came to give them some last minute lessons so that they are ready to take on the French over the Bank Holiday weekend. In spite of pouring rain to start with, the sun started to come out and the 'team' were ready to learn about archery. Firstly Steve showed them the different sort of bows, including the type used for Olympic competition and the original long bow. Things have come quite a way since Robin Hood's time. Then it was an offence not to practice archery on a Sunday. He then showed them the arrows which are coated in carbon fibre.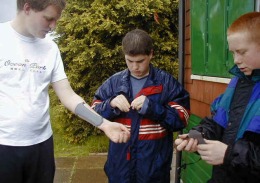 Putting on protection pads before starting


The rules of archery are very important the first one being not to point arrows anywhere except at the target and the second not to cross the shooting line until told to do so, as this could result in you being shot by an arrow. Lower arm protectors were then handed out, as the bow can give quite a 'prang' to unprotected arms. In spite of these, several people had bruises to show for their efforts. Everyone was then given three arrows each. The arrows were different lengths depending on the length of people's arms.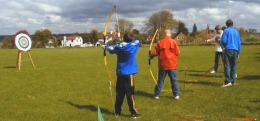 One hundred and Eighty!


It was now time to have a go. To start with everyone's arrows missed the targets, but slowly as people became more proficient more and more started hitting the spot. There were soon several bulls-eyes followed by tumultuous cheers. Within an hour people were hitting the target every time, while they had been missing virtually every time to start with. Although fingers and arms were becoming a bit sore everyone wanted to continue.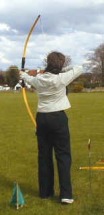 Natalie - a modern day Robin Hood


Later on in the day the group are practicing orienteering, another activity in which they will be competing against the French. Phil Brown, a Youth Leader in Maidenhead, will be coaching them at Braywick. They will also be competing in canoeing and abseiling off a bridge. Unfortunately the canoeing practice had to be called off due to the height of the river caused by all the rain we have recently, but hopefully everyone should be in good shape to compete against the French.

Chris Doyle one of the Youth Workers, who will be accompanying the group, was busy collecting passports, E111s, consent forms, medical certificates and swimming certificates, so that everything would be ready for the 6.00am departure on Friday 28th. It should be quite a weekend.