After nearly two years of hard work the Cookham Plan for the future of Cookham over the next twenty years is completed and was discussed by the Parish Council at their meeting on Tuesday 8 January. The Plan has involved an enormous amount of work and has been spearheaded by Richard Simmonds. A Plan Committee was set up with five sub groups looking at:
Business and Economy

Environment and Land

Housing and Development

People and Places

Traffic and Transport
Richard's presentation to the Parish Council was as follows: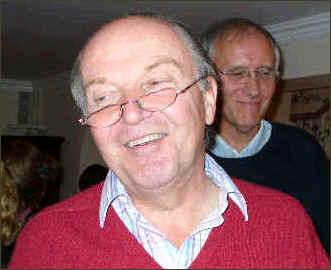 "I have great pleasure in making the formal presentation of The Cookham Plan 2008 to the Parish Council. It is some 21 months since you invited a group of villagers, acting independently of all local organisations and party politics, to research and produce a new Village Plan.
I am very proud of and grateful to the huge number of people who have contributed their ideas and comments, and most particularly to the large team of people who have worked so hard to prepare The Plan and the many supporting documents.
We have arranged for all our documents to be available on Cookham.com, and a copy of The Plan should be delivered to every house within the next week. Printed copies of supporting documents will be stored at the Parish Office and Library.
We have addressed what we believe to be the real challenges and opportunities for Cookham and its population for the next 20 years. If we have done our job properly, some of our recommendations are bound to be controversial: we know that what will be meat to one may well be poison to another. Everyone will want their individual favourite proposal carried out immediately, and their least favourite probably never.
I would just highlight two issues which I regard as time-bombs:
Firstly, our ageing population – the average age of the population of our village is older than the average within Windsor and Maidenhead, which in turn, I believe, is higher than the national average.
At present, (Elizabeth House statistics, Nov. 2007) we have approximately 800 people over the age of 75, 250 over 85 and 130 over 90. Within the life of The Plan, indeed by 2016, the over 75s are predicted to increase by 15%, and the over 90s by 40%. National statistics suggest an 87% increase in over 85s in the same period. These changes will inevitably put enormous pressure on Elizabeth House and our Medical Centre, and increase the demand for sheltered accommodation.
Secondly, parking and congestion: with the constant encouragement to make greater use of public transport, and the completion of CrossRail and its direct line to the City of London and beyond in 2015, we envisage greater demand for parking at our Station. There is already a problem with train users occupying shoppers' parking spaces. We have made a series of proposals to address this and the Station Parade, which was the subject of a great many comments by villagers.
We have highlighted other seriously-congested sites including the Pound. In the last Village Plan of 1972, this matter was considered to be the highest priority for action – and virtually nothing was done. The problem is much greater today.
We have also completed the Healthcheck – a long and arduous process of listing a vast range of information about the Village. This will be also be available on line and at the Parish Office and Library.
If our work has been difficult, the work of Councillors on the Plan is more so - to decide on priorities, seize opportunities, find scarce resources and implement your decisions.
We hope that you will revisit the Plan regularly. We believe that it is not a document just for today, but for every year up to 2028; then and only then, with the advantage of hindsight, will we be able to judge how useful our work has been.
I commend it to you."
Some interesting ideas have been put forward including a one way system for the Pound, a restyling of the Parade, a new road from Sutton Road to the back of Holy Trinity School and a car park on Marsh Meadow. There does seem to be a major interest in cars and parking which seems to crop up in most of the reports. Every home in the Cookhams received a questionnaire to gain feedback for the Plan also a launch was held at Pinder Hall in 2006. Other specialist questionnaires were undertaken for such groups as businesses.
It is extremely important that Cookham should have such a plan as this helps with funding for Cookham projects as well as the fact that villages all over the country now have plans as to their future.