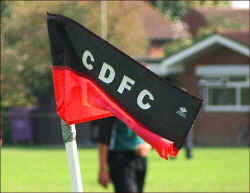 Cookham Dean Football Club is hosting a Special Veterans match against a Canadian team. Whitby Town Oldtimers are from Ontario Canada and will be arriving at Heathrow on Thursday 26 April. They are staying overnight in Slough before visiting Cookham to play a Special match with Cookham Dean on Saturday afternoon 28 April.
COOKHAM DEAN VETERANS V WHITBY OLDTIMERS.
Kick off is at 2.00pm
.
Cookham Dean are looking forward to hosting the event with a barbeque and Licenced Bar.
On Sunday after the match the Canadians will then travel on to North Yorkshire for another match against their namesakes Whitby Town whom they are named after. Whitby is situated on the shore of Lake Ontario to the east of Toronto. The town became established due to its natural harbour, making it an ideal shipping access to the surrounding area and was first surveyed in 1792 by an Englishman who, himself, originated from the north of England– (Well someone has too!) This is how the town got its name along with various other townships in the region – like York, Scarborough, and Darlington.
Along with football a lot of other sports are played in the region including Ice Hockey, Baseball & Lacrosse to name but a few. In fact the town actually boasts a team of Ice Hockey World Champions – "The Whitby Dunlops" - who won the World Championships in 1958 in Oslo.
The Whitby Town Vets Football Club were originally set up in an over 30s league back in the 1980s but their youth policy has not quite worked out forcing the team to later be placed as an over 35s, then an over 40s and eventually to their current standing as an over 45s side. But in fact their team for this trip will feature six players in their 50s, seven players in their 60s and amazingly two in their 70s! - All I can say to that is the air must be bloody good in Whitby!
They have travelled to numerous places over the years since they formed, playing various different teams & enjoying themselves immensely along the way & we now have the honour of welcoming them at Cookham on Saturday April 28th 2012.