Three nil down at half time the Wanderers treated their hosts to a dug out full of beers and asked that when the air horn goes off they join in the "dead fly"
"Quest que c'est le dead fly?"
so throughout the second half the air horn went off lots and both teams thrashed around with their legs in the air as the final score came in 5-4.
Cookham's goal came from Mad Mike Mather, Robin Trinder, Alan Day and Simon Davie.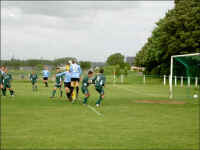 Linesman Timmy Mallett waved for off side as the French scored their 6th (Timmy was enjoying some refreshment by the dugout on the half way line at the time!) and the whole affair was a great success.
We even managed to get the entire squad into the dugout.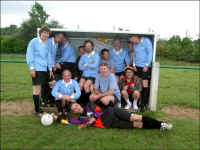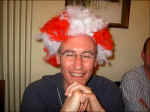 Prizes were awarded for great goals, exceptional play and the golden boot went to Andy Burroughs in goal who denied the French double figures!!!
Colin Jones won universal admiration for donning the England wig and flag and singing Eng-er-land at the top of this voice (he's a devout Scot!)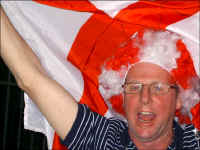 Other highlights came as the Wanderers each accepted ridiculous challenges on the referee's whistle - Keith Hillier had to dribble a basketball the length of the sporting hypermarket and Timmy beat David Tom at a marathon boules championship in the castle grounds of Anger (38).
Food is always important - last one in missed out on the pastries!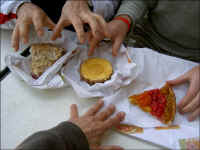 Had a good time?! You betcha!