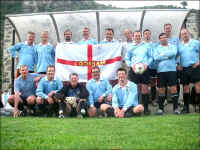 Cookham Wanderers celebrated their tenth year of weekly football in fine style this weekend with an historic 4-2 win against peak Italian opposition in front of an enthusiastic partisan crowd in Alassio, Northern Italy .
16 members of The Wanderers travelled to the beautiful Italian coastal resort of Alassio for the weekend and won a well fought game against the town of Colletta at their Liguria Stadium.
"It's the first time we've ever won an 11 a side match against foreign opposition" said veteran goal scorer Alan Day
"and to beat the World Champions in Italy is a sweet result!"
Cookham Wanderers meet to play 5 a side every Friday night at St Piran's school and afterwards to Spencer's pub in Cookham to discuss their game over a well earned pint.
They only ever play 11 a side once a year! So to win like this was amazing! Coach of Maidenhead juniors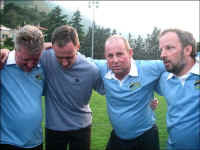 Steve Keenan gave the team some great training before the game and it paid off.
The Goal scorers were Geoff Arnott, Steve Smith, Colin Jones and Alan Day with the prize for best goal going to Geoff with his delightful shot that the keeper could only parry into the goal.
Tim Rose of Westwood Green won the Golden Boot award for his rock solid passing and defensive skills. "My kids can't believe it!" he said "in fact people have been stopping us in the streets of Cookham to congratulate us on our great success!"
The game was organised by David Tom, who challenged the Italians of Colletta to a match after they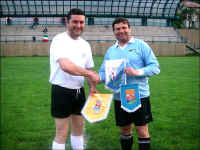 boasted that no English team could ever beat an Italian one!
"It was after a few bottles of delicious red and a glorious seafood meal that they made their reckless boast! Now they have to eat their words!" he said.
The average age of the Cookham Wanderers is 45.
At least 8 players came home nursing injuries. None of them felt the pain "It was just such a thrill to be victorious!" said one of the founder members and goal scorer Colin Jones.
Anyone wanting to join the Cookham Wanderers needs to have stamina… The weekly five a side games last an hour and half! If you're interested contact Simon Cooper on 0780 2222 089
And see the video of our historic win here.....