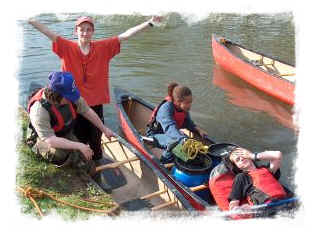 The last few months have been full of frantic activity and we are edging close to £300,000, so are confident that we will achieve our £500,000 deadline by Easter with your continued help and support. Please remember that I am based at Longridge full time, so please feel able to drop in for a natter and a chance to see our development plans and learn what amazing improvements and changes are being made and have been made behind the scenes to improve Longridge's facilities, systems and infrastructure. If you would like a copy of the Longridge business plan then send me an e-mail and I will reply with a copy.
To help Longridge further, please give your support to our forthcoming events either by attending or by making a suitably impressive contribution to our silent auction at our ball on March 3rd.
September 23rd 2006 – Longridge Regatta
Applications form available from Nicolette@friendsoflongridge.co.uk. We are looking for a suitably splendid trophy and want something unusual with a water/river theme. We were thinking a ship's wheel, an oar or????? Have you got anything suitably splendid you could donate?
October 20th 2006 – Blue Day
Blue Day. Schools and businesses are encouraging their pupils and employees to wear blue and donate £1 to the Longridge campaign. If you would like a Longridge representative to come and talk to your school or workplace e-mail amanda@friendsoflongridge.co.uk
November 11th 2006 – Cash In The Attic.
In association with Bonhams we are running a Antiques Roadshow & Craft Fair at Burnham Beeches Hotel
Bring along your heirlooms for a valuation by Bonhams or just come along and browse our craft stalls. Event starts at 11am and will finish at 4pm, refreshments will be available all day.
If you are interested in having a stall at this event or can display a poster promoting the event, email Julie Overall at: julieoverall_1@hotmail.com
March 3rd 2007 – Longridge Ball
Held at the Bell House in Gerrards Cross, this glittering event will include a band, casino and silent auction. Speakers include Sir Steve Redgrave and our full board of celebrity patrons will be there for you to meet. We need full support from everybody to make this event a real success and need some impressive auction items, if you can make a donation either personally or via your business please e-mail amanda@friendsoflongridge.co.uk
Thanking our Supporters
I am delighted to inform you that the Campaign Team have produced three ways of giving thanks to our supporters. Our friends who make donations of at least £100 will now not only have the opportunity to have their names on the website we will also have a board showing the names in the window of the campaign office. Our Benefactors who make a donation of at least £250 will have the opportunity to have their names engraved into a large wooden board sited on the site and our Patrons who make a donation of at least £5,000 will be offered the chance to have a permanent plaque engraved with their name positioned on the bank of the river bank. Applications to make a donation will shortly be downloadable from our website but in the meantime e-mail amanda@friendsoflongridge.co.uk to receive details
I and all the members of our Campaign Team really hope to see you again at one of our events and thank you for your support of Longridge – together we will make Longridge a truly inspirational place for young people of which we can be justifiably very proud.