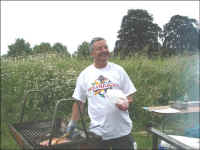 The annual Cookham fete was "hailed" a tremendous success despite at times monsoon conditions!
Many local charities participated with their own fund-raising stalls and there were old favourites such as the coconut shy and some new ones. A near vertical bouncy slide proved very popular with the youngsters as did the ferret in a hole game.
The turn out was fantastic considering the weather and we were thrilled to have Timmy Mallett there to open the proceedings. During the downpours there were plenty of cakes provided by cubs, scouts and beavers ( though most likely their mums) to eat and Pimms to drink and the scouts kept their BBQ sizzling through it all.
This was one of the first outings for 1st Cookham scout group to show off their gateway which is being painted to celebrate Scouting's centenary this year. The funds raised will be used to provide equipment for the group, additional activity costs and of course the refurbishment of the Scout HQ which is being brought into the 21st century.
Sadly we have to apologise that some of the arena events were non starters which was out of our control. ( They did not turn up!) But on the whole we can count the day a great success thanks to all of you who came along to support us. The good news is after adding up the takings £5,000 was raised.