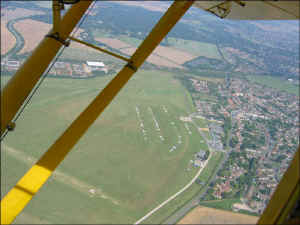 17th August 2005 was a special day for ten lucky young people who had entered the Flying Competition organised by the Cookham Youth Project. The winners had a day at White Waltham airport and were able to go up in small planes which were flown by instructors at White Waltham. The day was the brainchild of Bob McLachlan who works for British Airways at Heathrow. Everyone was welcomed by the West London Aero Club, who had gone out of their way to make it a good day for everyone.
The sequence that people went up was drawn out of a hat, some went by themselves and others went in twos. It was even possible for them to try out the controls, although there were stories after of terrible flying ability.
There was also the opportunity for the Youth Helpers to go up in a small two seater. The pilot Dave is one of the top aerobatic pilots in the country.
It was a lovely day with fantastic weather, although it was surprisingly hazy. The flights went up over the Chilterns and the Windmill where Chitty Chitty Bang Bang was filmed could be seen. Fingest church was recognised and the A404. Kathy Rickman one of the Youth helpers said that when she came back in for landing, there were lots of hares around the field, who did not seem to be frightened by the planes or the noise at all. The just ambled out of the way when the airoplanes came into land.
John Mellor another of the Youth workers was particularly interested in the planes as he is a keen model plane flyer.
Everyone agreed that this was a great opportunity to make Cookham less boring and hoped that perhaps it might be repeated next year.