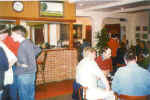 Cookham Dean Cricket Club is available for private functions. It offers a fully manned bar and is an excellent venue for anniversaries and family celebrations. Bar games such as darts and pool are available and there are barbecue facilities in the front of the Club. Discos can also be held for the over 25s. It offers a relaxed comfortable atmosphere. There is a fully equipped kitchen. In the summer there are also Petanque pistes with lighting than can be used.
An ideal secluded venue."
The Cricket Club is available for hire most mornings and evenings. There is excellent parking, room for up to 100 people with good snack and bar facilities if required. Charges vary from £25 during the day to £80 for weekend evening with staffed bar. Speak to John Bibby on 527165 or John Mellor on 526369."