Mid-somer Murder Update-July 2008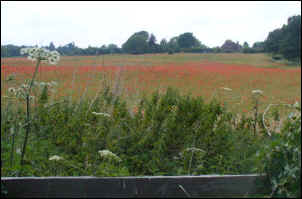 Well, the schools have broken up, many of us are making holiday plans, and for those departing by air for locations far and wide, you may well be followed shortly by hordes of summer migrants on their way back to southern climes.
Millions of birds visit us for these few short weeks to breed, murdering multi-millions of our insects before escaping via every available port before being tracked down for their crimes. The first to escape will be the Swifts, the majority of whom do not breed for the first 4 years of their lives so spend the entire time with us swooping around gobbling up untold numbers of midges and flying ants to wile away the days. House Martins are generally considered closely related to Swifts, but in fact this is not the case; they simply share the same dining table! However, the Martins have not been doing well in recent years and indeed I went as far as saying recently that I could find none nesting in the Cookhams this summer. But then the messages started coming in so at least we now know of 2 nests! Still a very poor result – there used to several dozen around a decade or two back.
One bird I have missed over the Cookhams this summer has been the Hobby. I suspect they came back in typical numbers (I saw 6 in one afternoon in May) but it has actually been a poor year for insects after the weather of 2007 disrupting insect breeding cycles. As they spend most of the first few weeks feeding almost entirely on flying insects, I think they may have decided against mass breeding. This in turn will have reduced the murder rate of House Martins, the Hobby's favourite snack for their youngsters in the nesting season.
Further evidence of a poor start to the insect season comes from the few of us locally who operate moth traps in the evenings. Catches were extremely small in the first few weeks, and emergence dates for many species were up to a month later than usual. But nice finds in the village have included Poplar Hawk Moths, lots of Swallowtail moths, a beautiful Buff Arches and a stunning Black Arches. With some 2000 moth species in the UK it is not surprising that many of them are equally, if not more striking to the eye than our butterflies.
| | | |
| --- | --- | --- |
| | | |
| | Black Arches (Nick Greatorex-Davies) | |
Dragonflies too were slow getting going this year following many larva and eggs getting washed away in last years floods and swollen rivers. Nature has a way of balancing herself. With all other insects in low numbers, a normal population of Dragonflies would decimate the insect population for years to come, so perhaps we will just have to tolerate seeing fewer of these dramatic aerial predators in the interests of the greater good.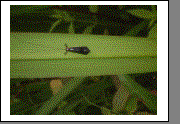 A new find nearby this summer has been a few members of the Caddis Fly 'hit squad'. Those familiar with this water-side nymph of the reeds and garden ponds will know its benign appearance and gentle behaviour. Then you see one of the Mystacides members of the family, as I did this week, and one has a completely new appreciation of what life on the wild-side is all about. As can be seen from the image, this black assassin is well equipped to poke a few eyes out!

With long antennae to detect prey long before it gets in pincer range, this caped killer will make short work of any passing small items of prey.

Our bigger birds of prey have also been busy this summer. At least one pair of Buzzards seem to have bred in the middle of the village and will have been creating mayhem amongst the small mammals and birds of our farmland to keep the fridge full in the nest. 'Our' Red Kites may also have bred here, but the most prominent feature of their on-going presence in the three villages has been the large group of non-breeding youngsters that have taken to one or two feeding stations established around. The highest count I have had recently at one of these 'take-away fests' has been 33!

Probably the rarest bird for our area this year has been a Quail which sang many an evening in fields to the south of Long Lane, with it's well-known 'wet-my-lips' call going on well after dusk. (not too far away, in Hurst, there was even a singing Corn Crake for a few weeks!). Another really exciting find this month has been Firecrests breeding just across the river in the Cliveden Estate. This is the rarer, and even more striking relative of our smallest UK bird, the Goldcrest. When the last national Bird Breeding Atlas was done a decade ago, there were only 8 ten-kilometre squares in the whole UK with records of breeding Firecrests. It's 9 now! And who knows, it is a short flop across Grandfather Thames for this year's offspring to find their own breeding site here next year?
| | | |
| --- | --- | --- |
| | | |
| Goldcrest (Jerry O'brien | | Firecrest (Jerry O'brien) |
Thank you to all who sent in e-mails from our wildlife page on Cookham.com, from which we have had a healthy list of breeding garden birds, including Wren, Robin, Blackbird, House Sparrows, Starlings, Collared Doves, Greenfinches and even Goldfinches (which normally breed on farmland). There have also been visits to gardens from family groups of both Green and Great Spotted Woodpeckers, and one in Cookham Dean also had a Swift nest and another a pair of scarce Marsh Tits.
There is still time to register your garden successes, and also to let us know of any other House Martin nests, to help us with a national survey of this species.
A final tip for this update; many folk I see out and about in our beautiful surrounding countryside do not have any binoculars with them. A simple pocket-sized pair with 8 to 10 times magnification can make all the difference to an outing, with far more to be seen than would have been possible with the naked eye. And if you would like to appreciate your garden insects at closer quarters, a new model recently put on the market by Pentax of Slough (and marketed in Maidenhead) is the Papilio 8.5 x 21 'close focus' binocular, which gets you down to 18 inches. It can transform one's appreciation of our bugs and beasties and enables kiddies too to see far more of these fascinating creatures.
By the time these very kiddies are back at school, many of our summer migrants will be winging their way south, whilst passage waders will have been streaming through the country to their wintering grounds. But that's another story for next time.
Cookham Birdman