MOTH DIARY
Moths are reducing in numbers so some late night activities have been happening in Cookham to track the moth population. Trapping and releasing of moths in different locations around the Cookhams by Les and Martin Finch, Dr Bernard Clark and Brian Clews has resulted in new knowledge about the types of moth present here. "
Britain's Moths are amongst the least appreciated of our insects, primarily because the vast majority of our 2000 or so species are nocturnal. But in fact, many of them are more highly decorated than our familiar butterflies, and their sheer number and variety make their study a fascinating past time.
Whilst moths can be found in every month of the year, they are mainly active between March and September. As part of our Biodiversity data gathering, a small number of folk have been trapping moths in light boxes just to find out what species we have in the Cookhams and the results have been fascinating. All of course are released after identification.
Early in 2007, the Mallett's kindly invited two of us into their garden to see what we could find. Without doubt, the highlight was an Elephant Hawk Moth (see picture) which was striking both by virtue of its size and colouration. The full list of species is included in the Dossier Page. In the garden was an example of Dark Mullein, a distinctive plant but also the sole food-plant of the Striped Lychnis Moth larva. Our botanical surveys this year have found several other examples of this plant in The Lea, on Cockmarsh and along The Greenway, so hopefully, the future of this moth is assured in the area.
Other sites have been covered more regularly, with Cookham Rise checked on 58 evenings this year, and several evenings work in Beechingrove Wood. These accounts too are included in the Dossier Page.
If anyone is interested in this fascinating study, do get in touch with us. For those who would like to be able to identify moths found in and around the house, the best guide by far is 'Field Guide to the Moths of Great Britain and Ireland' (£22.95) by Paul Waring and Martin Townsend (in fact, it was ecologist Martin Townsend who conducted the Phase 1 survey of the Cookhams earlier in 2007).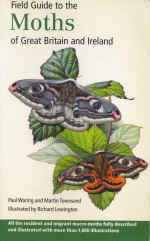 E-Mail: wildlife@cookham.com