Hear ye Hear ye! The Crier is always looking for things to shout about! Feel free to submit your Thoughts, Poems, Photos, Requests or anything you like to thecrier@cookham.com
---
A CHILDREN'S EASTER

11 April 2004
---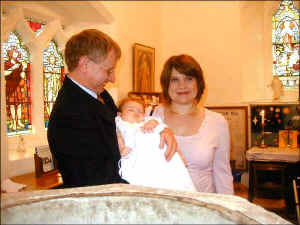 The Easter Service at St John the Baptist had children in mind this Easter. There was the Baptism of Isabel Saunders, daughter of Michael John and Jane Saunders who live in Cookham Dean.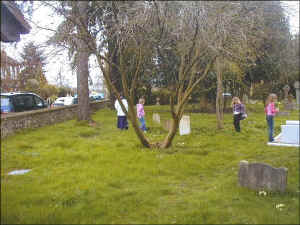 After the Service there was an Easter egg hunt in churchyard which proved immensely popular with the children. While down the hill at Holy Trinity the Confirmation took place of several young Cookham residents, who were confirmed by Bishop John Bone.
---
TRAIDCRAFT NEWS

10 April 2004
---
The Diocese of Oxford is hoping to be the second in the country to be a Fairtrade Diocese. Already many churches in the Diocese hold regular sales of Fairtrade products, and parishes are being encouraged to extend their involvement. In Cookham Dean church, Traidcraft and Fairtrade products are sold on the third Sunday of the month after the 9.30am Family Service. If anyone would like to purchase their favourite good between the sales,
please contact Shirley Kay 01628 527604 with your order.
The Royal Borough of Windsor and Maidenhead are also hoping to promote Fairtrade products in their Council meetings, and join Reading Borough as a Fairtrade authority.
---
POETRY & SUPPER EVENING FUNDRAISER

8 April 2004
---
At the poetry and Supper Evening held at Bagsters on March 27th organised by Marie Therese Ind, thirty five people enjoyed the poetry and had a magnificent three course gourmet dinner, not only that they made £465 profit for St John the Baptist.
---
PARISH COUNCIL LIB DEB WIN

19 March 2004
---
The Parish Council elections took place yesterday 18 March when four candidates stood for two vacancies on Cookham Parish Council. Mike Barnes and Simon Sinclair-Abbott stood for the Lib Dems and Jean Stretton and Jean's son in law John Hewitt stood as Independents. The voting was quite close, with John Barnes and Simon Sinclair-Abbott being the successful candidates.
| | | |
| --- | --- | --- |
| | Mike Barnes (Lib Dem) | 425 |
| | Simon Sinclair-Abbott (Lib Dem) | 369 |
| | Jean Stretton (Independent) | 305 |
| | John Hewitt (Independent) | 287 |
---
SUPPORT THE AIR AMBULANCE

17 March 2004
---
Have you thought about support the Thames Valley Air Ambulance Service? It costs £1 million a year to run and they have NO government or NHS support. They can do up to ten pickups a day often saving lives at the coal face. If you are holding an event and want to give to a deserving cause, just think about the Air Ambulance.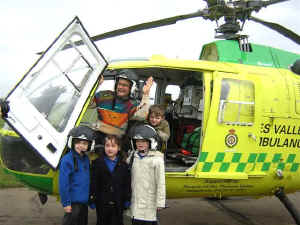 ---
RHONDA AND SAM SAY THANK YOU

9 March 2004
---
Thank You Thank You Thank You
Many people know that we were recently the victims of an armed raid. We know you know because so many of you came to us with kind words, gifts to cheer us up and offers of practical help of all kinds.
Sam was not hurt and is fine. He is, though, still recovering from all the hugs he received in the following week!
To ALL of you who gave us your kind thoughts and good wishes we offer you our thanks from the bottom of our hearts. It's what village life is all about and we're delighted to be part of such a community of kind friends and good neighbours.
Thanks to EVERYONE in the village and beyond.
Rhonda & Sam
---
In Memory of the Boyagis

29 February 2004
---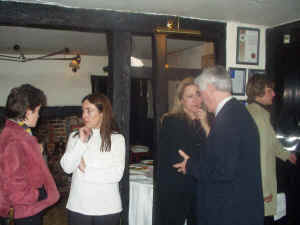 Chantal and Huguette talk to guests
(with thanks to Nick Read for the photograph)
An unusual, but pleasant way of remembering Lawrence and Georgie Boyagis took place today at Malik's Restaurant in Cookham High Street. Lawrence and Georgie's two daughters Chantal and Huguette invited their parents' friends to a lunch in memory of their parents. Both Lawrence and Georgie were well known in the village and used to live at Eastgate in Sutton Road facing the end of the High Street. Their lovely Queen Anne house has now been sold to the John Lewis Partnership.
---
Have you been on holiday with your children, where you went when you were a kid?
23 February 2004
---
Have you ever taken your children on holiday to the same place where you went with your parents when you were a child? If you went on one of those family holidays either in the UK or abroad and have now relived it with your kids, I'm sure you can help out with this fun feature we're putting together for WOMAN magazine. If you have photos from when you went there as child, and now with your own children, I'm sure we can include you if you're able to tell us about what both occasions were like. It will just involve a quick phone interview, sorting out the photos and you even get PAID a small sum for helping out. So if you think you might fit the bill, please do get in touch with me on 01273 777693 or email me at adrian@amonti.freeserve.co.uk
---
FATHER MICHAEL TO PREACH AT WESTMINSTER ABBEY
15 February 2004
---
Father Michael Smith, the vicar of the Benefice of the Cookhams has been invited to preach at Westminster Abbey on 29th February 2004. Several of his congregation will be there in Westminster Abbey to listen to him.
---
COOKHAM LIBRARY ON BBC TODAY PROGRAMME
13 February 2004
---
Cookham Library featured on the BBC 4 Today programme on 13 February. Victoria Law and Alice Bell-Hutchinson were interviewed about the books of Catherine Cookson which apparently are of dying interest, but not to Victoria and Alice, who with many others who use Cookham Library thoroughly enjoy books and the range now available in the new facility.
Another Cookham resident was also on radio this week, Liz Kwantes was speaking on BBC Greater Manchester Radio about the Pensions Bill that was read in the House on Thursday 12 February.
---
BURGLARY AT COOKHAM DEAN POST OFFICE
12 February 2004
---
Cookham.com were distressed to hear about the unwarranted attack on Sam at Cookham Dean Post Office last Saturday and of the theft from the till. Sam and Rhonda do a fantastic job for the community and it is saddening when this sort of mindless violence and greed happens, particularly traumatising someone in the way that the burglars did.
---
VISA AND MASTERCARD SCAM WARNING
12 February 2004
---
Visa and MasterCard Scam
My husband was called on Wednesday by "VISA" and I was called on Thursday by "MasterCard".

It worked like this:
Person calling says, "This is Carl Patterson (any name) and I'm calling from the Security and Fraud department at VISA. My Badge number is 12460. Your card has been flagged for an unusual purchase pattern, and I'm calling to verify. This would be on your VISA card. Did you purchase an Anti-Telemarketing Device / any expensive item for £497.99 from a marketing company based in Anywhere?"

When you say "No". The caller continues with, "Then we will be issuing a credit to your account. This is a company we have been watching and the charges range from £297 to £497, just under the £500 purchase pattern that flags most cards. Before your next statement, the credit will be sent to (gives you your address), is that correct?" You say, "Yes".

The caller continues . . . "I will be starting a fraud investigation. If you have any questions, you should call the 0800 number listed on your card and ask for Security. You will need to refer to this Control #". Then gives you a 6 digit number. "Do you need me try read it again?"

Caller then says he "needs to verify you are in possession of your card. Turn the card over. There are 7 numbers; the first 4 are 1234 whatever, the next 3 are the security numbers that verify you are in possession of the card. These are the numbers you use to make internet purchases, to prove you have the card. Read me the 3 numbers." Then he says "That is correct. I just needed to verify that the card has not been lost or stolen, and that you still have your card. Do you have any other questions? Don't hesitate to call back if you do."

You actually say very little, and they never ask for or tell you the card number. But after we were called on Wednesday, we called back within 20 minutes to ask a question. Are we glad we did! The REAL VISA security department told us it was a scam and in the last 15 minutes a new purchase of £497.99 WAS put on our card.

Long story made short, we made a real fraud report and closed the VISA card and they are issuing a new number. What the scam wants is the 3-digit number and once the charge goes through, they keep charging every few days. By the time you get your statement, you think the credit is coming, and then it's harder to actually file a fraud report.

REMEMBER: THE REAL VISA REINFORCED THAT THEY WILL NEVER ASK FOR ANYTHING ON THE CARD (THEY ALREADY KNOW EVERYTHING ABOUT US)!!!!

What makes this more remarkable is that on Thursday, I got a call from "Jason Richardson of MasterCard" with a word for word repeat of the VISA Scam. This time I didn't let him finish. I hung up. We filed a police report (as instructed by VISA), and they said they are taking several of these reports daily and to tell friends, relatives and co-workers.
---
WATCH OUT FOR THE DOOMSDAY VIRUS
27 January 2004
---
On 26 January a new virus called W32/Mydoom@MM a High-Outbreak mass-mailing worm started flooding email servers worldwide. When run, the worm steals email addresses from the infected machine and also automatically generates random email addresses for propagation. This email generation engine is similar to technologies spammers use to generate addresses for spam email campaigns.

W32/Mydoom@MM generates emails with a spoofed "From: field", so incoming messages may appear to be from people you know. Furthermore, the subject line and message body are both
randomly generated by the worm.
------------------------------------------------------------
Caution: An infected email can come from addresses you
recognize and may contain the following information:

From: randomly generated <spoofed>
Subject: randomly generated
Body: randomly generated - examples:

- The message cannot be represented in 7-bit ASCII encoding and has been sent as a binary attachment.
- The message contains Unicode characters and has been sent as a binary attachment.
- Mail transaction failed. Partial message is available.

Attachment: randomly generated
The icon used by the file tries to make it appear as if the attachment is a text file. The attachment type varies [.exe, .pif, .cmd, .scr] -- often arrives in a ZIP archive, though the attachment size is 22,528 bytes.
Click below for more information:
http://us.mcafee.com/virusInfo/default.asp?id=description&virus_k=100983&cid=9539
---
SUE BECOMES CERTIFIED
24 January 2004
---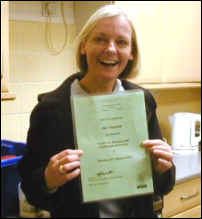 Sue Teasdale, one of the Cookham Youth Leaders who helps run the Youth Club on Monday nights at Cookham Dean Cricket Club, shows off her certificate which she received for the course she has been attending on ' Dealing with Challenging Behaviour'.
Well done Sue.
For more information on the Youth Club click here
---
A CHRISTMAS BABY
10 January 2004
---
Julian Bell, Cookham's Honorary Webmaster, has sent us a photo of his new baby daughter Cara, dressed up for Christmas. (Click for larger image)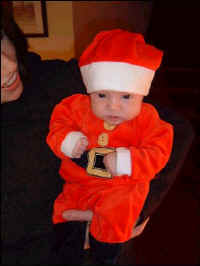 ---
---
Hear ye Hear ye! The Crier is always looking for things to shout about! Feel free to submit your Thoughts, Poems, Requests or anything you like to thecrier@cookham.com