---
HARLEY STREET COMES TO COOKHAM
27 July 2015
---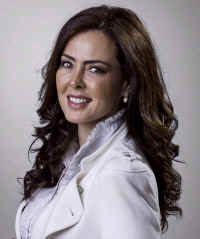 Dr Mariette Grant has joined forces with a new laser clinic in Cookham to offer private medical consultations and cosmetic procedures. Dr Grant, who lives in Marlow, offers aesthetic treatments including Botox, filler injections and thread facelifts as well as private GP appointments, joint injections, travel vaccinations, mole checks and skin tag removal. She offers the treatments at The Laser Clinic Cookham, in Cookham High Street. The clinic opened in May and also offers the following laser treatments: tattoo removal, hair removal, age spot and thread vein removal and carbon skin rejuvenation. The laser treatments are performed by Wendy Lynch, who owns The Laser Clinic Cookham. Dr Grant says "I had been working as a GP in Henley for 5 years when I decided to do more freelance ophthalmology work at Harley Street as well as cosmetic procedures and private GP consults. I came across the Laser Clinic in Cookham firstly to have treatment for my thread veins. Wendy and I got talking and we decided that our different treatments would really complement each other and we also have the same approach to bespoke client care."

Wendy adds "Mariette and I really believe in the one-on-one client-based approach. We won't be hiring staff – clients will either be seen by myself for laser treatments or by Dr Mariette for her cosmetic and medical treatments. We also believe in charging affordable prices for highly professional treatments. Local residents will no longer have to travel into London to get their moles checked or for laser or cosmetic treatments."

The clinic has recently been awarded accreditation by Save Face – an independent national register of safe cosmetic practitioners.
More information about treatments and prices can be found on the clinic's website: www.lasercookham.com
---
GIVE US YOUR FAVOURITE RECIPE
19 July 2015
---
Hazel Powell and Christine Taylor would love to receive favourite recipes from Cookham Cooks for a cook book to be published in time for Christmas. The book will be sold locally to help raise funds for Holy Trinity Church activities. The recipes can be for starters, mains, sides,desserts,cakes, biscuits, dips and drinks can be emailed to hazel.powell@live.co.uk or sent to the Parish Office, Church Gate, Cookham SL6 9SP. A snap shot of the cook would also be welcome to include in a photo montage inside the book.
---
ELIZABETH HOUSE VOTED SAINSBURY CHARITY OF THE YEAR
15 July 2015
---
Supporters of Cookham's much-loved centre for the over 60s voted in store and online to make Elizabeth House their preferred charity of the three shortlisted candidates.
To the delight of centre manager Lynne Hatch, Sainsbury's Maidenhead announced that their customers had chosen Elizabeth House as their local charity of the year. "I'd like to thank everyone who took the time to make their vote count", she said.
"We are now working together with Sainsbury's on fundraising activities for the year ahead."
---
VOTE FOR STAN OUR LOCAL MAN
11 July 2015
---
The Bank of England are looking for depth and breadth of contribution to British values and the visual arts. Stanley Spencer's contribution was truly astonishing - from British landscapes, gardens and architecture, to much-loved depictions of human joy and anguish, to magnificent and renowned religious scenes, to iconic paintings from two World Wars. He was truly one of the greatest painters of the 20th Century.
Click here to Vote and some more information
CLOSING DATE SUNDAY 19TH JULY.
BUT IT'S A LOCAL THING TOO. IMAGINE THE PRIDE IN OUR COMMUNITY AND BENEFIT TO THE LOCAL ECONOMY IF STANLEY WERE TO BE CHOSEN.
Please don't think, 'OK but someone else will do the voting'. YOUR VOTE IS NEEDED. CLICK LEFT AND IT'S ALMOST DONE.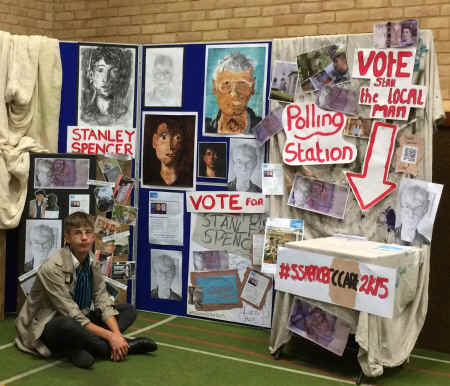 Enterprising Year 10 boys from Claire's Court School, Maidenhead, visited the Stanley Spencer Gallery on Tuesday 7th July and immediately set up this wonderful polling station to support the choice of Stanley Spencer on the new £20 banknote.
---
HOLY TRINITY SCHOOL SEND SIGN TO ETHIOPIA
9 July 2015
---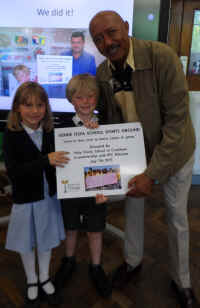 Sarah Parfitt who visited the community of Gende Tesfa in Ethiopia to set up a community journalism project for Partners For Change Ethiopia, and as a result forged a link with Holy Trinity School in Cookham has picked up the sign from Damar Signs to send to Ethiopia.
Holy Trinity School had a special assembly yesterday because Mulugeta Gebru, the head of the charity is visiting from Ethiopia. He will take the sign back to Ethiopia.
Mulugeta Gebru - head of the charity in Ethiopia, Pete Jones - the man with the beard and the moustache; Mrs Nicol - teacher with short hair; Sarah Parfitt - lady with blonde hair
With thanks to Emmy Costa for the photographs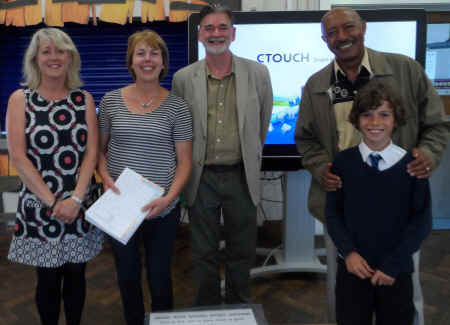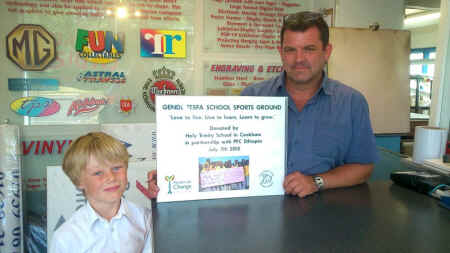 Afterwards a Brain Storming session was held on Gende Tesfa and Holy Trinity link at Costa.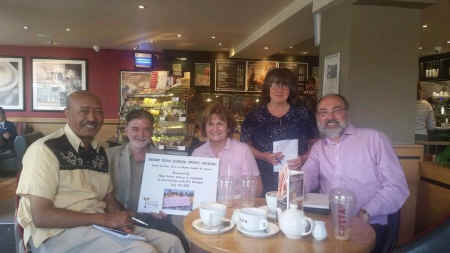 ---
TWENTY YEAR SERVICE AWARD FOR ANTHEA
6 July 2015
---
From 1 to 7 June was National Volunteer Week and Thames Hospice held a tea at Dorney Lake to celebrate the contribution that many volunteers have made to their organisation. One person to receive an award was Anthea Webb, who lives in Cookham Dean and is Chairman of the Cookhams Fundraising Group. Anthea received a 20 year award for a number of roles she has undertaken over that time, including serving as Chairman of the Trustees at Thames Hospice. This was very well deserved.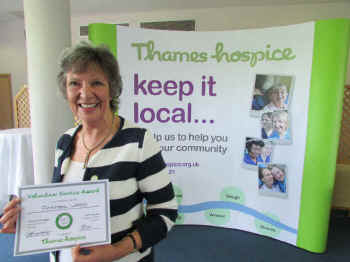 Thames Hospice is looking for volunteers to join the support group. At present they are holding three events a year as well as a few committee meetings to organise these events. They would welcome anyone who loves cooking or just getting involved. If you are interested please telephone Anthea 01628 482569.'
The Cookhams Fundraising Group hold several fund raising events during the year, the latest being a talk and lunch in May. The speaker was Frances Noble, Head of Jewellery for Bonhams Oxford who gave a fascinating talk and advised those attending about the historical background and value of their jewellery. Over £1500 was raised which will help Thames Hospice provide invaluable services to those with life limiting-illnesses in our area.
---
FISH AND CHIPPY NOW OPEN
6 July 2015
---
After a very long wait the fish and chip shop in the Parade opened today. It was originally the Butchers owned by Roy Gigg and shared with Deliciously French who have now moved to next door to the Cookham Surgery. Welcome to My Cod.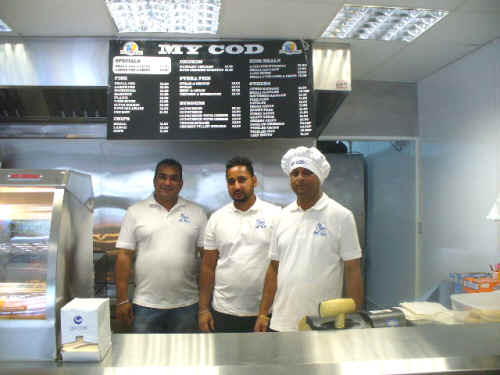 ---
WELL DONE SARAH
3 July 2015
---
In March Sarah Parfitt visited the community of Gende Tesfa in Ethiopia to set up a community journalism project for Partners For Change Ethiopia, and as a result of that visit a link was forged between Holy Trinity School in Cookham (which her two children attend) and Gende Tesfa School. Not only are the children from Gende Tesfa School from poor families, many of them have parents or grandparents who have been affected by leprosy:
When Sarah was given a London Marathon press-place - and having been told that due to an injury it would be her last marathon (she has done 14) - she decided to raise money for Gende Tesfa School. Some of the children don't have enough to eat, and so funding the Breakfast Club seemed an important project. she also took part in a PE class, and the facilities were very poor, so she also decided to raise money for a sports ground (for basketball, handball, volleyball and soccer facilities).
https://diaryofamarathonmum.wordpress.com/
As of today, Sarah has now raised £5,100. The money has come from friends and family and from fundraising at Holy Trinity school who have done several events to help me (the proceeds from the Christmas performance and a Swimathon). Sarah says " I am really ecstatic!".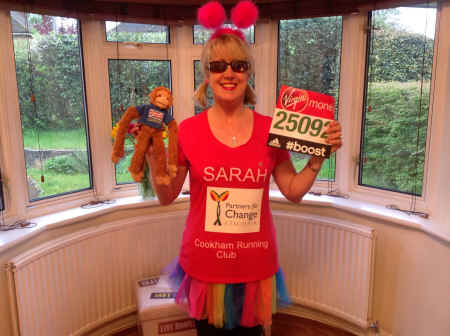 On Tuesday, July 7th Mulugeta Gebru, the head of PFC Ethiopia in Ethiopia, will be visiting Holy Trinity School in Cookham at 2.30pm.
Damar Signs in Wooburn Green have very kindly agreed to make a sign from Holy Trinity School to Gende Tesfa School which will be transported to Ethiopia and proudy displayed in the sports ground at Gende Tesfa School.The Church Social Action Group in Cookham has decided to support PFC Ethiopia.
Well done Sarah.
---
A RETROSPECTIVE OF WATERCOLOURS
23 June 2015
---
July at the Gallery at Elizabeth House

Don Currell - 1936 - 2011
A Retrospective of Watercolours

We are delighted to host an exhibition of the work of Don Currell who died in 2011. Don was born in West Wycombe and had no formal art training, other than his time at the Royal Grammar School in High Wycombe. He inherited (along with his brother Richard) the gift of drawing from his father. He experimented with oils and pen and ink, but much preferred watercolour, which suited his more pastoral style. For the last thirty years of his life, he worked exclusively in watercolours. Landscapes, flowers, things that caught his eye and imagination - including aeroplanes - make up the Elizabeth House exhibition.
The exhibition is open 9am to 3pm weekdays from 29th June to 31st July. The Gallery is on Station Hill, Cookham, SL6 9BS.
---
GOODBYE MATTHEW, HALLO KATIE
22 June 2015
---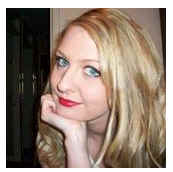 Luke Matthews who has been the Cookham page journalist of the Maidenhead Advertiser for quite a while now is moving on to a new role at the Advertiser. He is being replaced by Katie Mercer KatieM@baylismedia.co.uk

Katie says "I'm very excited to start covering Cookham for the Maidenhead Advertiser and I am looking forward to getting to know all of you. Please do drop me a line any time at all with any news, events or issues big or small. Feel free to pass on my contact details to anyone who might be interested in getting in touch."

Welcome Katie.
---
ANOTHER VICTORY STORY
18 June 2015
---
A triumphant weekend for Cookham Running Club culminated with an outstanding win for the club in the Purple Patch 10-person Marathon '26.2 Team Challenge' in Maidenhead on Sunday, Ellie Gauld reports. Held at Braywick, the marathon relay featured some outstanding performances with the A team, the Cookham Chargers, finishing first – convincingly ahead of last year's winners, the 'BA Flyers'. After the first leg, James Cotter brought the team home in 3rd place to hand over to junior member Sonny Lewis, 14, who had a tremendous leg and handed over the baton to Louise Ferriman in first place. Gary Knight brought the team home on the final leg in an impressive 2:53.2 with 12-year-old Sammy March's time of 16:01 among the fastest leg times of the day. 'Cookham Running Club's B team, 'The Also Rans' finished in 03:59.53.
Cookham's A Team collect their winners' shields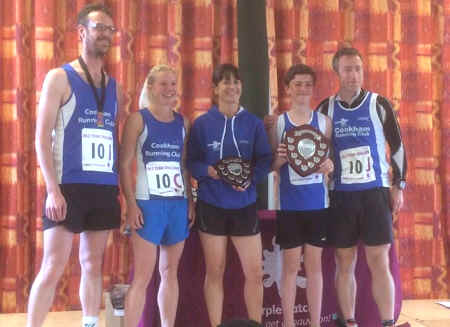 ---
ELIZABETH HOUSE NOMINATED AS SAINSBURY'S CHARITY OF THE YEAR
16 June 2015
---
Elizabeth House is one of three charities that have been nominated to become Maidenhead Sainsbury's charity of the year for 2015/2016. If chosen, Sainsbury will help Elizabeth House to raise money and awareness in the local area.

They are launching a customer vote in-store and online; https://www.sainsburyslocalcharity.co.uk during 15th – 28th June. Customers will have the chance to vote for their preferred charity of the three shortlisted. If you want to help Elizabeth House, Cookham's Day Centre for the over 60's, please vote for it at Sainsbury and also get your friends and family to do the same.
---
REV HELEN BLESSES THE GLORIANA
15 June 2015
---
The Royal Barge Gloriana lead 200 boats from Hurley in Berkshire to Runnymede in Surrey over the weekend of 13 and 14 June to celebrate the eight hundred year anniversary of the signing of the Magna Carta.

Magna Carta was granted by King John on 15 June 1215, establishing that the king was subject to the law rather than being above it.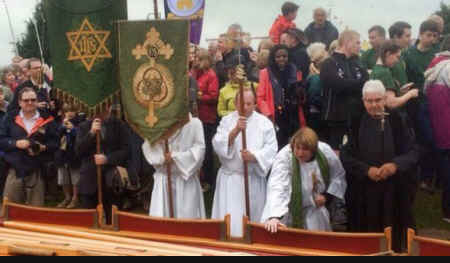 The Gloriana passed through Cookham on Saturday 14th June and stopped at Bellrope Meadow by the Sailing Club where Reverend Helen from Holy Trinity blessed the Queen's Barge.
Twenty three local people were chosen to relay the document including Mrs Claire Pearce. who is General Manager of Moor Hall.
As the copy of Magna Carta was transported downstream, actors recounted its story.
The event culminated with the unveiling of a 4m (13ft) bronze statue of the Queen at Runnymede Pleasure Grounds.
---
THE SUBJECT OF BANKSY
8 June 2015
---
Few would think of Cookham's Stanley Spencer Gallery as a place to encounter the work of Banksy, that most secretive and controversial of public artists, a modern art phenomenon, both painter and prankster, who prefers personal mystique and invisibility over the trappings of celebrity. Banksy has been described as 'the missing face from the gossip magazines' and 'the empty seat at the chat show'.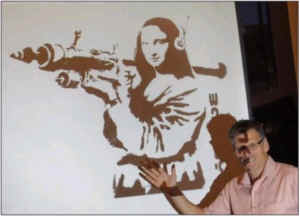 However, it was no surprise to the staff of the Stanley Spencer Gallery to be in the happy position of offering an evening on Banksy last Thursday. The key to this sold-out and much enjoyed evening was the distinguished Professor Paul Gough*, who has not only edited a recent book on Banksy**, but is well-known to the Gallery and a frequent speaker there, being also the author of several books on Stanley Spencer. These include 'A Terrible Beauty' an extensive study of British art of the Great War, and 'Stanley Spencer: Journey to Burghclere', tracing the experiences and inspirations for Spencer's unique vision of peace and resurrection depicted on the walls of the Sandham Memorial Chapel, Burghclere.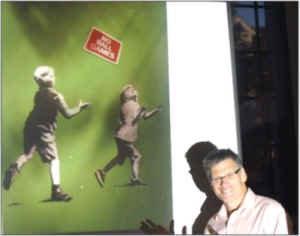 Despite the extreme differences in the character of Banksy's work and that of Stanley Spencer, several parallels were drawn between the two painters in the course of the evening. Professor Gough pointed particularly to the controversial nature of both artists in their own time and their determination to function 'by their own rules', even when this brought them into conflict with the authorities. For Banksy, this has perhaps been a lifetime experience - as street art and the creation of graffiti are usually 'not legitimate' and consequently the perpetrator must be especially skilled at evading personal detection. Spencer, equally determined to do things 'his own way', regularly raised eyebrows with the extraordinary nature of his work, but actual conflict with the authorities came intermittently. There are, for example, well-known instances of dispute beween Stanley Spencer and the Royal Academy, one involving the rejection of two of his paintings and another, a brush with the police for alleged obscenity.

Another remarkable parallel between the two artists is the way that both attracted astonishing numbers to exhibitions in their own localities. In 1958, despite his international repute (towards the end of 1955, a large retrospective of Spencer's work had been held at the Tate), Spencer chose to mount a very 'local' exhibition, simply to raise money for church funds. The exhibition soon, however, became a national attraction, drawing visitors and press from far and wide. Similarly in an extraordinary retrospective exhibition of Banksy's work held in Bristol in 2009, over 300,000 people queued day and night for six weeks, often in the pouring rain, to view the work of this fascinating artist.

Professor Gough told us of two questions that everybody asks in relationship to his book. "Have you actually met Banksy?" and "Does he know you are writing this book?" The answers to the first is "Possibly, but how would I know?" and to the second "Probably but why do you think it's important?" These and other frequently asked questions, he says, reveal a grudging respect for Banksy's role as a satirical spokesman on contemporary matters, and also the British fascination with the 'whodunnit'.

Professor Gough regaled an intrigued audience with a series of displayed Banksy works (see photos on page 3) amid the Spencer Gallery's own much visited current exhibition, 'The Creative Genius of Stanley Spencer'.