---
SWAN UPPING
20 July 2014
---
(With thanks to Stuart Conlin for the photos)
Swan Upping took place this last week when there is a census of mute swans on the Thames. The Worshipful Company of Vintners and the Worshipful Company of Dyers, were granted rights of ownership by the Crown in the fifteenth century.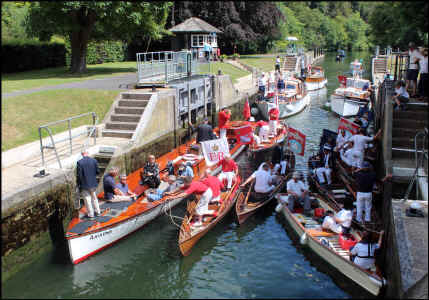 The boats arrived in Cookham on Tuesday and there was a gathering of locals by the lock and also at the Ferry. Actor Martin Clunes was also there and can be seen talking to David Barber the Queen's Royal Swan Marker. A man not behaving badly!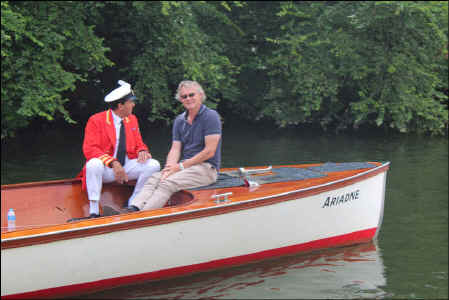 ---
COOKHAM WILDLIFE
18 July 2014
---
A new group has been formed in Cookham called Cookham Wildlife Supporters. It will be for local people taking care of wildlife and sharing their passion and knowledge in a practical and fun way.

They plan to have local events and activities such as guided walks and talks, run practical campaigns and initiatives to enrich habitats and to offer wildlife advice and build a community of interest through a dedicated wildlife forum on cookham.com.

They are being supported by both the National Trust and the Woodland Trust.

Click on article blow to read what the Maidenhead Advertiser says.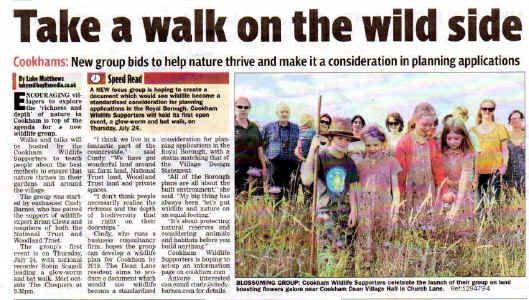 ---
JUNIORS COMPLETE THEIR FIRST SESSION
12 July 2014
---
THIRTY JUNIOR members of Cookham Running Club completed their first session on the fantastic new track at Little Marlow on Tuesday. Around 25 club members (and several newcomers) turned up to test the impressive-looking green surface that is part of a £40 million sports re-development plan by Bucks County Council. Club chairman, Gerald Cooper, confirmed this week that he has successfully negotiated an ongoing agreement for the club to use the venue exclusively on Tuesdays 5-7pm. Club coaches Paddy McGrath and Peta Bee will be there during those times and both junior and senior members of the thriving club will train there. "It's a brilliant facility," says Paddy. "We are very lucky to have it on our doorstep." Anyone interested in joining should visit www.cookhamrunningclub.com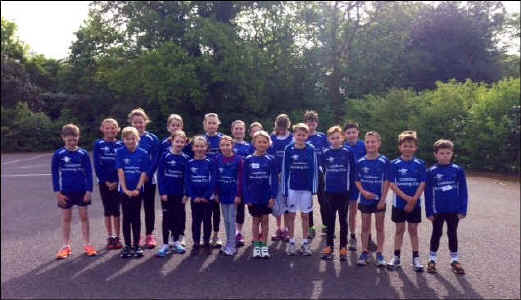 ---
COOKHAM COPAS TURKEY TROT
11 July 2014
---
Are you up for the most exciting challenge ever faced by villagers on October 12th 2014? Then come and join 100s of others in the UK's most authentic Turkey Trot race, organised by Cookham Running Club and hosted by Copas Turkeys and the Copas Partnership on their beautiful private farmland and trails in Cookham. Open to runners of all abilities, the undulating course takes in our stunning local views across the Chilterns towards Windsor Castle as runners wind their way through fields and along trails.
There are free-range turkey hamper prizes for first man and woman home in the 5mile race and commemorative 'buffs' for all finishers.
Senior 5 mile race open to all runners aged 16 and over. Entry limit 400.
Junior 1 mile race has prizes for the first 3 in the 8-11 category and first 3 in the 12-15 category. Entry limit 100 per age group.
For online and postal entry details visit www.cookhamrunningclub.com and don't forget to 'like' our Facebook page: https://www.facebook.com/cookhamturkeytrot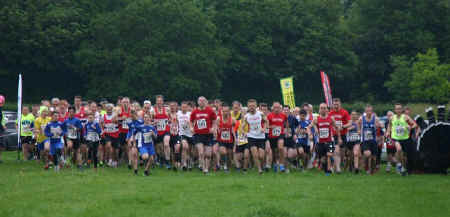 ---
WOW, What a Night!
2 July 2014
---
From the organisers of the Cookham Media Hub's First Anniversary
Wow! What a night! My colleague Sarah Parfitt and I hosted the Media Hub's first birthday last week and we had a fantastic evening.

We just wanted to say a huge thank you to everyone who helped to make the evening a success - our members, our sponsors and the Mayor and Mayoress of the Royal Borough of Windsor and Maidenhead, Richard and Mary Kellaway. As always, James Molier and his team at the Bel and the Dragon did us all proud!

A big thank you to Claire Pearce and her colleagues at Moor Hall for the superb technical support, to Angela Robson, Mike Golding and Pete Jones from PFC Ethiopia for such a moving presentation, to Nelmarie Rennison for the stunning cake, to Renee Cullen and Oier for the exquisite music, to Neil Mellon from Purinto for your attention to detail and professionalism with the flyers and the agenda, and to Mohammad Sabahi from Mah Images for the photos.

If you work in the media, we look forward to welcoming you to our next events on September 11th and November 27th. We will be posting more information about those events on our Facebook page in the next few weeks: https://www.facebook.com/groups/MediaHub/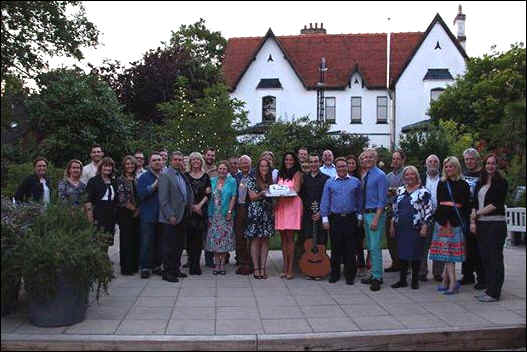 ---
COOKHAM LOCATION IN NEW FILM
19 June 2014
---
The debut of the feature film Echo Restless is being released on Monday 23 June. One of the film's locations was Cookham at Barnside Motors petrol station.
£950 has been raised through a successful crowd-funding campaign on indiegogo. The film was shot over two weeks with a minimal crew

---
LOVELY BOATING WEATHER AT THE SAILING CLUB
15 June 2014
---
The Cookham Reach Sailing Club said "We had a fabulous Open Day on June 7th. After a really wet start to the day the sun came out and everything went according to plan in the afternoon. We had a record number of people attending and we think as far as we can tell a record number of people joining the Club as a result. A number of our guests said that they had spotted the event on the Cookham.com web site so a big thank you to you from the Club.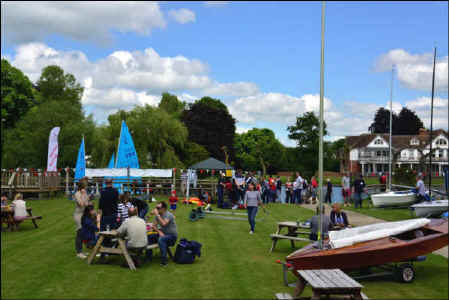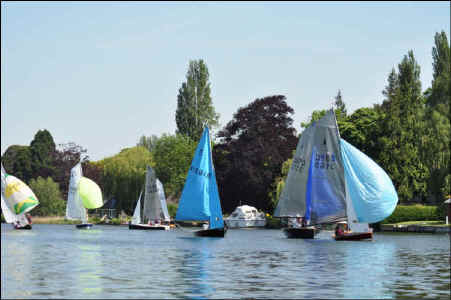 ---
IS THAT A BABY OWL?
10 June 2014
---
A Cookham resident in the Maidenhead Road area of Cookham says that "My husband built an owl box a few years ago, it is high in the trees in our garden This year we have had a Tawny owl nesting and a baby, not sure if there is more than one. We thought they had flown as we did not see them in the box for the last couple of nights. The parent tended to sit at the front, but last night the baby was sitting at the front while the birds around were causing merry hell. We are so pleased that they nested but the question is, will they come back to the box at night and treat it like home or will they disappear??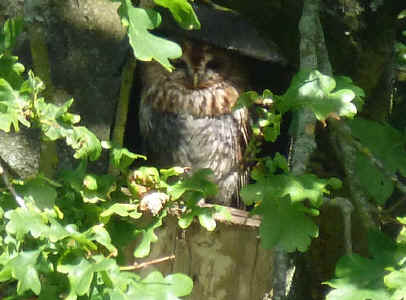 ---
GRANTS FOR FLOOD VICTIMS
7 June 2014
---
Many Royal Borough residents and businesses affected by the winter floods have taken advantage of the Council continues its commitment to help flood victimsfunding available to help them recover from the worst flooding the borough has experienced since 1947 – and the council is reminding those who haven't that there is still time to apply.

Two funds in particular have attracted high levels of applications:

Business Support Grant – 23 applications received, total awarded £59,000
Repair and Renew Grant – 112 applications received from 28 March to date, of which 14 have been referred for approval to the next stage.

Cllr Simon Dudley, cabinet member for finance and deputy leader, said: "We want to encourage residents and businesses affected by the floods to submit their applications for funding. Claims can be submitted until the end of September so there is still plenty of time.

"We want to do all we can to ensure that residents and businesses have all the help and support they need in order to get back on track. The repair and renew fund can help residents make their property more robust in case of future flooding so I would urge people to submit their applications. I would also encourage residents to talk to their friends and neighbours affected by the flooding about the support available to them."

The online form is available at www.rbwm.gov.uk/web/news_flood_update.htm and the closing date for submission of all applications is Tuesday 30 September to ensure sufficient time for the works to be carried out before winter; applications submitted after this date may be considered depending on circumstances.

The council's flooding page also contains information on what other support is available.

If anyone has applied online and not yet received a response, they should contact the council's customer contact centre on 01628 683800.