---
SPENCER EXHIBITION HAS INTERNATIONAL REACH
14 April 2014
---
New Stanley Spencer 'Paradise Regained' Exhibition HAS INTERNATIONAL REACH
Volunteers at the Stanley Spencer Gallery have been delighted at the level of interest shown in the new Summer Exhibition, Paradise Regained, which explores Spencer's struggle on returning from the Great War to regain his artistic vision.
Paintings set in Spencer's beloved Cookham are displayed alongside depictions of poignant wartime memories. Wonderful, monumental Spencer works, loaned by the Tate, are included with paintings loaned by private owners and others selected from the Gallery's own major collection.
Local newspapers have given excellent coverage to the Exhibition, which has also been featured in the Wall Street International magazine. Visitors in the first two weeks of the Exhibition have included travellers from Europe and as far afield as USA and Australia.
In a current Visitor Survey, the Gallery has been variously described as an 'intimate gem of a gallery' and a 'national treasure'. Chairman of the Trustees, Stuart Conlin, said, "It is fantastic that our new Summer Exhibition has had such a positive reception. We are also proud to be contributing to the local economy by bringing visitors to Cookham".
The Gallery's website www.stanleyspencer.org.uk includes an informative video covering some of the thinking behind the exhibition and previewing certain of the exhibits.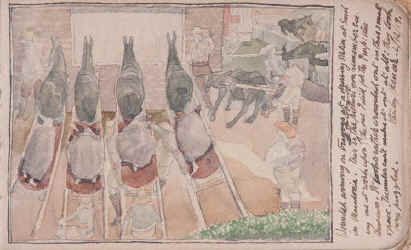 One of the most remarkable stories told within this Exhibition concerns this tiny copy of Travoys with Wounded Soldiers Arriving at a Dressing Station at Smol, Macedonia, 1919. The original painting was Spencer's officially commissioned war picture, his largest work to date at that time. It is currently on display in the Imperial War Museum.
The 9.5 x 15.5cm copy was created in the autograph album of a small girl, Gwyn Pinder-Brown, who presented it to the Gallery in 1987. The sketch is extraordinary - for its miniaturisation, its accuracy in relation to the original painting, its use of watercolour as opposed to the oils of the original, and its evidence of Spencer's sheer kindness, in having gone to all this trouble for little Gwyn's autograph album
---
SUPPORT SARAH AND RACHEL IN THE LONDON MARATHON
8 April 2014
---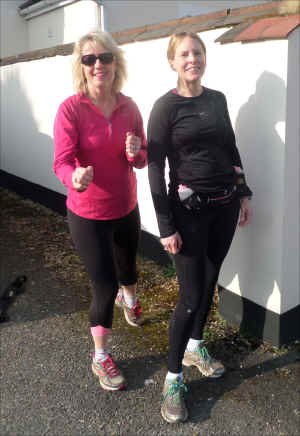 When Cookham mums, Sarah Parfitt and Rachel Harding, attempt their respective marathons at the weekend, they will be fundraising for Holy Trinity C of E School (in Cookham) and Cookham Nursery.
The world's leading independent publisher of children's books, Walker Books has agreed to donate a book for each of the 52.4 miles the two run, and the TTS-group, which provides educational items to schools, will be donating some footballs and other balls if they complete their challenge.
Victoria Philpott, a spokesperson from Walker Books, said that she thought that running a marathon in support of literacy was "a brilliant idea", and added that her company supported any initiative which encouraged children to read, and to foster a love of reading from an early age.
"I am always so impressed with people who have the enthusiasm, dedication and will-power to put in the time and effort to train for marathons, especially people who fit it around having kids! I wish my mum had done something like this when I was little," she said.
Sarah won her London Marathon place in the ballot at the Cookham Running Club Christmas party. Although this will be Sarah's 13th marathon as a "fun runner", her last one was 3 years ago. She has been following a 12 week programme:
"Fitting the training in with my work and family commitments has meant quite a few 5.30am starts, but I am used to that as a mother. I have really loved doing my long training runs with Rachel and other friends, and the track sessions with Paddy McGrath at Braywick on a Thursday night. The support we have received from the Cookham Running Club has been nothing short of amazing," she said.
Milton Keynes (May 5th) will be Rachel's first ever marathon, having been a keen runner for 5 years, and wanted to give herself a huge personal challenge: "I wanted to see whether I could actually do it and to see what running 26.2 miles feels like. I now know that it's going to be painful but I know I will get around, and am looking forward to crossing the finish-line."
If you would like to sponsor Sarah and Rachel, please go to: https://mydonate.bt.com/fundraisers/cookhammarathonmums
---
COOKHAM'S FIRST CHURCH HOLIDAY CAMP
4 April 2014
---
Fantastic response as the details for Cookham's first church holiday camp are released
Kick-boxing, football, drama, Bible-readings, a magic-show and a children's disco are just a few of the activities on the menu at Rocky's Plaice Fish and Chip Shop Holiday Camp in Cookham this summer. It will run daily from 9am to 3pm from Monday, 28th July to Friday, 1st August at Holy Trinity Church Parish Centre.
The fun-filled activities week, which will introduce children aged 5-11 to the Christian faith, is the first of its kind in the village and is being organised by the Benefice of the Cookhams. The camp will be set in an imaginary fish and chip shop and will be interactive and full of surprises.
Volunteers' coordinator Christine Taylor says that the holiday camp is based on other similar projects like Lighthouse which children absolutely love. The former teacher and Sunday School leader explained why she had got involved with the project: "Christianity is important to me as I believe it provides a good foundation in a hectic world - a place of peace and hope."
Organisers have been overwhelmed and delighted by the support they have received so far from the local community. More than 16 businesses and organisations, including Dave the Disco, the Pro-Direct Soccer Academy, Stageworks, Little Samurai, the Bel and the Dragon, Cookham Running Club and Immortal Fitness are donating goods and activity sessions.
Journalists Sarah Parfitt and Sarah Rodi, who founded the Cookham Media Hub, have been coordinating the publicity and sponsorship for the event:
"The response from local businesses has been amazing. As well as introducing children to Christianity, the holiday camp is going to be a celebration of community. It is an inclusive event and open to everyone. So come along and support it and encourage your children to ditch their Xboxes and iPads for the week and get active!" said Ms Parfitt.
Tickets for the event will go on sale on Monday, 14TH April at the Stationery Depot in Cookham, and there are only 60 spaces available. A voluntary donation of £30 per child per week is suggested. However, the organisers don't want to exclude any child whose parents can't afford it, so will accept any donation or none if in some cases this is necessary.
The team is still looking for a few more parents and carers to help out during the week. If you are happy to donate a couple of days of your time, please contact Chris Harris: chris.harris10@btopenworld.com or phone: 01628 533201 or 07786 272 136
For press enquiries, call Sarah Parfitt on 07900 411715, or email sarah_parfitt@mail.com
The organisers wish to thank the following sponsors for their generosity:
Dave the Disco. CSQ Limited Managing Consultants, The Pro-Direct Soccer Academy, The Bel and the Dragon, Stageworks, Immortal Bootcamp, The Samurai, Fitness Group, Country Stores, The Niche Gift Shop, Maceys, The Handmade Cake Company, The Cookham Media Hub, Patrick Ashe, the magician, Cookham Running Club, Africa Turns Green, Mums About Cookham, Parfitt Media
---
RICHARD JAMES IN WORDS APART THEATRE COMPANY
3 April 2014
---
Local actor Richard James is to return to Pinder Hall with Words Apart Theatre Company on Friday 2nd May with two of his one act plays, 'Bill & Ben' and 'The Dreaming'. The first play concerns writer Ben Jonson being jailed for the murder of an actor, only to be visited by a rather famous playwright who you might just recognise. The second concerns two men who wake up in a room they don't recognise with no idea how they got there or even who they are!

As Richard and his fellow actor Dean Laccohee live some distance apart, they learn all their words apart (hence the company name), only coming together for a couple of days' intensive rehearsal as the performance dates approach. Pinder Hall is one of three venues the theatre company are playing in the first week of May. When they last played Cookham they sold out, so book early to avoid disappointment! Tickets are £10 and now on sale at the Stationery Depot, Cookham, or by emailing richard@richardjamesonline.com
---
GRAVITY GRAND PRIX ORGANISERS ACCLAIM COURT RULING
1 April 2014
---
The Kaffirs of Cookham Dean were celebrating last night after a court granted an interim injunction which they hope will reduce the danger of 'flashmobs' of visitors swamping the village this summer.
The ruling will prevent social media including Facebook and Twitter from directing responses to the online search term "Gravity Grand Prix" to websites hosted outside Cookham.
"The Gravity Grand Prix is an open event and we have no control over numbers, despite our very reasonable suggestion that the Parish Council sets up checkpoints." said Mr Bartlett, one of the event organisers.
"We are concerned that the event could be overwhelmed with outsiders once it gets out on Twitter and Facebook. We want to keep it local, and our advice was that the only way we could legally stop them was through trade mark law. We have now successfully restricted the use of the Gravity Grand Prix trade mark outside of Cookham," he added.
The ruling was delivered by Mr Justice Thumbs QC in the London City and Mercantile Court.
The court accepted the "Infinitus est numerus stultorum" argument (Rigby vs Rigby1934), accepting that the Kaffirs own the unregistered intellectual property rights in the phrase "Gravity Grand Prix".
The court accepted that the term should be given full trade mark status because the Kaffirs have used the phrase as a 'trade mark in display' for over seven years. The term is also recognised by the OED, in the same way as 'Formula One'.
The new status gives the Kaffirs, as owners of the trade mark, rights to how, when, where and who can use it. With immediate effect, any online search for the term 'Gravity Grand Prix' originating outside Cookham will receive a message saying '316 Error. Page not available Intellectual property withheld'.
"The Gravity Grand Prix is a free family day out with its own special atmosphere, and we want to keep it that way" explained Mr Austen, another member of the organising committee. "We have limited parking and toilet facilities, so we want to encourage people who live nearby to walk here. We are also asking locals to use their own toilet facilities.
"To put it bluntly, we don't want people from Marlow to drive up to the Dean, park their car, enjoy the day and contribute nothing more than their effluent." A visibly emotional Mr Austen continued: "I have this need to control the crowd and the interlopers don't listen, Most of them don't realise how strict I am, because they have never been to the Boxing Day Games. They're just too lazy to get up."
Committee chair Mr Webb said: "We are pleased that the law has recognised that these social networks need reining in. We did consider issuing new advantage cards to all residents in Silver, Gold and Black - one for each of the Cookhams. This would have allowed us to identify undesirables very easily, but the plan was rejected on the grounds of cost".
Spokespersons for Twitter and Facebook were unavailable for comment. The judge declined to shake hands at the end of the case.
A full transcript of the ruling can be seen on www.gravitygrandprix.co.uk
This is almost believable Infinitus est numerus stultorum = infinite are the number of fools. Justice Thumbs declined to shake hands at the end of the case.
---
SWAN SONG SHOW
27 March 2014
---
The April exhibition at the Gallery at Elizabeth House features a well-known local artist who is sadly moving away from the area. So this will be Gail Dorrington's 'Swan Song' show, opening on Monday 31st March and continuing till Friday 2nd May.

In line with the theme of the show, the works comprise many of Gail's local paintings on and around the river. Gail brings a great sense of colour and movement to her work, in particular picking up the water reflections on the Thames. She has been one of the most successful exhibitors at the Gallery so this is a great opportunity to see (and buy) one of her works before she moves to Devon.

The Gallery at Elizabeth House is at Station Hill, Cookham SL6 9BS. Normal opening times are 9am to 3pm weekdays. More information at www.thegalleryatelizabethhouse.org.uk.
---
NICK PLANT TO BE NEW VICAR OF THE COOKHAMS
23 March 2014
---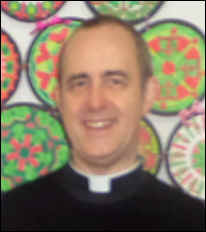 On Thursday 20 March 2014 the four Benefice Church Wardens the Patron, the Bishop of Reading and two representatives of the Maidenhead and Windsor Deanery spent ten hours interviewing and assessing three outstanding candidates for the position of the new Vicar of the Cookhams. The decision was to offer the position to Nick Plant the current Associate Priest, A search to fill Nick's current role will begin soon.
All the best to Nick for his future as the new Vicar of the Cookhams.
---
COOKHAM DEAN FOOTBALL CLUB LOTTERY
16 March 2014
---
Cookham Dean Football Club are raising much needed club funds but with a difference - the CDFC 200 Lottery gives any one who enters the chance to win the Holiday of a lifetime courtesy of Club Chairman Jimmy Bennett - a two week holiday in Marco Island Florida is up for grabs and another £2000 for flights

click on the link for more details http://www.cookhamdeanfc.co.uk/club/News/view/822835

If you or a friend would like to enter there are several ways to pay - you might chose to pay on-line or by visiting the clubhouse on a match day
please contact Vice Chairman Martyn Sid Newell sidneynewell@aol.com for more information, you will be helping our 135 year old club to carry on.
---
RUN OFF THE POUNDS
4 March 2014
---
SPRING HAS sprung and what better time to put on your trainers and take up running? The next of Cookham Running Club's hugely popular Couch to 5km courses, lead by top coach and former international athlete Paddy McGrath (www.paddymcgrathrunning.com), kicks off on March 12. Over the 6-week course, particpants are guided from walking/slow jogging to running 5km. Cost is £40 for the course which includes entry to the 5km, discount at Runner's Retreat shop in Marlow and free trial membership of Cookham Running Club. Contact Paddy on 07714 950748 or paddymcrun@btinternet.com to reserve a place. But hurry, as each course fills up faster than you can tie your shoe laces!
---
SIMA'S ACTION KIDS MIXING WITH THE STARS
4 March 2014
---
SIMA'S ACTION KIDS MIXING WITH THE STARS AT THE UK'S BIGGEST DANCE FESTIVAL IN LONDON THIS SUNDAY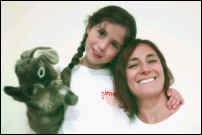 One of Berkshire's leading children's entertainment companies, Sima's Action Kids will join the likes of dance icon, Darcey Bussell and take part in the Move It dance festival at Earl's Court this Sunday. The event, which is in its ninth year, is expected to attract more than 20,000 avid dance-fans from all over the country.
Company founder, Sima Stannage took her children, Natasha and Chloe to Move It as a Mothering Day present for herself last year, and is delighted to be donning her dancing shoes and performing on stage this year: "I was overwhelmed by the buzz and energy at the event last year. I am thrilled to have been asked to share the Sima's Action Kids experience with other dance fans. It's going to be fantastic which is why I am taking my whole family with me!"
Sima says that her daughters, Chloe and Natasha are going to be her "special helpers" on the day. She will also be joined by her niece Sarah Chakaveh who performed in Olympic Opening ceremony in 2012: "My children, like me, love dance and enjoy the way you can express yourself through dance. It's such a portable skill and you require very little equipment – just some music which inspires you and a suitable space. We just want to share this passion with others!"
Move It organiser, Nathalie Flaxington says the team has introduced special classes for the under 16 market and Sima's Action Kids is perfect for that category: "Sima's class will be a lively and dynamic session for the under 12s, focussing on fitness in a fun and enjoyable way. Here at Move It, we feel that it's really important for kids to learn how to stay fit at an early age."
According to the event organisers, there will be something to suit everyone's dancing taste at the festival. Visitors will be able to choose from a staggering 240 classes from all genres of dance and for all abilities during the 3 day dance event which runs from Friday, 7th March until Sunday, 10th March.
The Move It festival will mark the start of Sima's Action Kids' 2014 tour: "It's the first time I have taken on such a mission but I am very excited. I just need to work hard to ensure that all my events are fun and dynamic."
For interviews please phone Sima Stannage on: 07956 993 439. For more information about Move It, please go to: http://www.moveitdance.co.uk/
---
WIN A VIP PACKAGE FOR LET'S ROCK THE MOOR
1 March 2014
---
Win an amazing VIP package to Lets Rock The Moor 2014 - The Ultimate 80s Festival - with Absolute Radio and Sanctum Hotels.

Tune into Absolute Radio running next Friday on Absolute Radio March 7th 7pm the offer is:

2 x Pairs of VIP Tickets to the event.
PLUS a room for two at the luxurious Sanctum on the Green Hotel in Cookham Dean - winner of "Best Country House" - World Luxury Hotel Awards 2012 & 2013. PLUS you'll also get a Meet & Greet with ABC - meet Martin Fry in person, have your photo taken with him, a glass of bubbly and a Let's Rock! 2014 goody bag which will include a Lets Rock 80s Volume 1 CD signed by Martin, a Let's Rock! 2014 tee-shirt and a souvenir programme.

This event is almost sold out, so don't miss the opportunity to see our biggest line up yet! Buy your tickets today by clicking on the BOOK TICKETS http://letsrock.gigantic.com/lets-rock-the-moor/marsh-meadow/2014-05-17-12-00

Let's Rock The Moor! returns for its 6th year on Saturday 17th May 2014 in Cookham, Berkshire. With a fabulous line-up of artists to bring you the very best of the 80s, and an action packed day of general 80s madness, there is plenty to do for everyone at this Family Friendly Festival!

New for 2014 is our Changeover Party which includes an array of entertainment during those dull band changeovers, including our new "BigScreen Sing", DJ's from Absolute 80s, other Entertainers and TV legends to keep the party going for the whole day!

Tons of attractions to keep the children happy, such as our new free Bigtopmania circus, a super funfair including water rides and soft play areas, as well as children's entertainers from BBC/ITV, Let's Rock The Moor! offers the perfect day out for all the family. Multiple bars and a wide range of quality food outlets, selling everything from hotdogs to Maliks' award-winning Tandoori, means every taste is catered for. Luxury toilets will also be available for those that like a little bit of festival luxury plus a new, fantastic VIP package.

Don't miss out on this ultimate retro blast!
---
NEW EXHIBITION AT THE GALLERY
1 March 2014
---
The March exhibition at the Gallery at Elizabeth House features local artist Satu Vartiainen.
The show opens on 3
rd
March and continues through to 28th March.
A Finnish-born Maidonian , Satu lived many years in Paris where she started to learn about art, drawing and painting. She attended
Ecole
d'Art
Martenot art school for a couple of years before moving to England.
Satu loves modern semi-abstract paintings but also enjoys old Masters and all kinds of artworks. Her own style is somewhere between figurative and abstract and the media used is mainly acrylic on canvas or MDF board.
She writes, "When starting a new project I think of a subject and draw a couple of lines on canvas, choose colours and painting tools and then it just happens.
I paint until I'm satisfied with the composition , the balance, the colour combination and most of all, until the painting is a pleasure to look at".
Satu is an active member of Cookham Arts Club.
She has taken part in several exhibitions locally and in France and has had four of her paintings published in art magazines. This is her third solo exhibition.
---
THE FLOODS GO ON
18 February 2014
---
Thanks to Steve Clark for some photos of the floods taken on 16 February.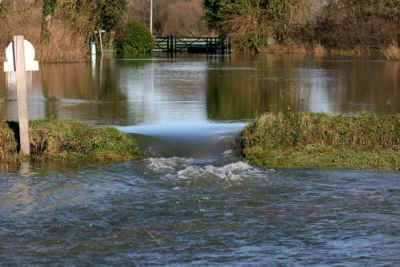 ---
FLOOD EMERGENCY
8 February 2014
---
In the event that Cookham Village is again totally cut off by road, Holy Trinity Church will run an emergency service to help people who are stranded and unable to reach the outside world.
If you need any shopping doing, or a prescription collecting from the pharmacy, please get in touch with the church and ask for help. You can do this in one of three ways:
1. E-mail your name, address and the things you need to the following special e-mail address: pefc@tapestryoflife.co.uk.
2. Drop off a note with your details and a list to the Parish Office at the Parish Centre, Church Gate, Cookham.
3. Phone the Parish Office (01628 529661) and leave your name address and phone number. The office will not take any details of your needs, but will pass on your message for a volunteer helper to contact you.
Whilst the church obviously cannot help with any problems related to actual flood defences, road closures or safety issues, if you do have a concern arising from the floods and would like to speak to someone, 'phone the Parish Office and leave a message. We cannot guarantee to resolve every issue but we can try.
You are reminded that Cookham Voluntary Services (01628 523839), based at Elizabeth House, provides a transport service for all patients of the Cookham Medical Centre who, for whatever reason, do not have access to their own transport to reach appointment at the Medical Centre or at hospitals or clinics.
---
HOST NEEDED FOR CRICKET CLUB VISITOR
8 February 2014
---
'Cookham Dean Cricket Club are currently looking for accommodation in the village for a Zimbabwean overseas player , during Summer 2014 (early May until early September)

We are very much a community cricket club, playing on Whyteladyes Lane near the intersection with High Road

We cater for all abilities, with three sides on Saturday playing league cricket, along with friendly sides on Sundays and even an over-45s side. We also have hundreds of colts playing and training throughout the week

A lot of sides in our league import one player from overseas to boost their side, and last season we brought over a 21 year old Zimbabwean from Bulawayao, which was a resounding success. Not only did his performances on the pitch help , but he was also constantly on hand to coach youngsters and help our groundsman around the club.

If anybody would be prepared to open up their home to another young (under 23) lad from Zimbabwe, then the club would be delighted to hear from you, and of course offer cash in exchange.

Please contact Ben Millar on 07854 218194, if you feel you may be able to help, or offer any suggestions
---
HERRIES LAUNCHES LUNCH TIME LATIN CLUB
29 January 2014
---
All roads lead to Rome for pupils at a Cookham Dean school as they don togas for their new lunchtime Latin club.

Herries School is keen to get children interested in the classical language and has set up the Latin club which is open to Herries pupils in Years 4,5 and 6 and runs on a Monday lunchtime. The

children will learn the basics of the Latin language and culture.

Headmistress Sophie Green said,

"It's a fantastic opportunity for our pupils. As well as gaining an understanding of an ancient civilisation, knowledge of the Latin language can improve a child's literacy and help them to decipher tricky English words. Pupils in the group are also already starting to make connections between French and Latin and they are so pleased with themselves when they spot a connection. The children are really enjoying the classes, particularly the ones that involve dressing up in Roman togas!"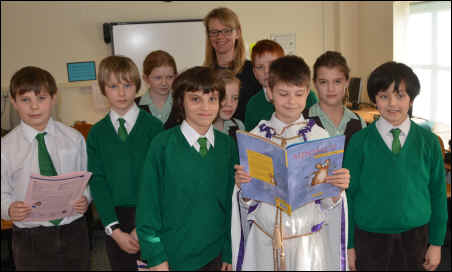 ---
HOLY TRINITY HELPS HOSPICE
29 January 2014
---
The Advent, Christmas Day and Epiphany Carol Services at Holy Trinity Church raised a total of £1526.87 for Helen & Douglas House (providing hospice and palliative care for children and young adults in Oxfordshire and surrounding counties). Thank you to all who gave so generously.