Hear ye Hear ye! The Crier is always looking for things to shout about! Feel free to submit your Thoughts, Poems, Photos, Requests or anything you like to thecrier@cookham.com
---
MAGNOLIA
18 April 2019
---
Some beautiful magnolia flowers photoed by a cookham.com reader.

Wild about Cookham in April it calls to mind that the Magnolia blossom was one of Sir Stanley Spencer favourite subjects in Berries Road, The High Street and the grounds of The Odney Club.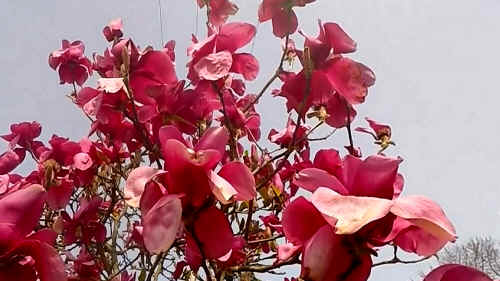 ---
YELLOW VEST SHORTAGE THREATENS GRAVITY GRAND PRIX
1 April 2019
---
A shortage of high-visibility yellow vests could mean the cancellation of this year's Cookham Dean Gravity Grand Prix.
The organisers of the popular annual charity event have been left without supplies of the essential health & safety wear due to the high demand from French 'Gilet Jaune' protesters.
GGP committee member Peter Bartlett said: "Our old vests were looking a bit tatty, so we threw them away after last year's event, and planned to kit our stewards out with brand new health & safety gear this year.
"However, it turns out that there are no yellow vests available. The French have been stockpiling supplies from right across Europe for months in order to enjoy a long, hot summer of rioting.
"We quite understand that civil disturbance is as much a part of the French way of life as family events such as the GGP are over here, but it seems a bit much that they've cornered the market.
"We're having urgent talks with our health & safety advisers to see if we can kit out our stewards with different colour hi-vis vests, and they're checking the regulations carefully.
"For the time being, we're urging entrants to keep planning their Karts for this year's event, and we'll issue updates when we can."
This year's event is due to take place on 2nd September. The GGP has raised more than £140,000 for the Thames Valley Air Ambulance and other local causes over the past decade. For more information and register a Kart, go to www.GravityGrandPrix.co.uk
---
STANLEY AND ELSIE
12 March 2019
---
Stanley and Elsie', a historical novel by acclaimed author Nicola Upson, is to be published by Duckworth Press in May of this year. The story of the Sandham Memorial Chapel and Spencer's subsequent colourful private life is told through the character of Elsie – the family's loyal and efficient maid. It makes very enjoyable reading.

Whilst essentially a fictional account of this period of Stanley Spencer's life, it is based on meticulous research (including long sessions in our own archives at the Stanley Spencer Gallery)

through which the author gained real understanding and insight into the artist's life and work. The characters in the book are portrayed with true sensitivity and those with knowledge of Spencer's paintings and drawings will see them skillfully evoked in descriptions of scenes and events.
The book will be available to buy in the Gallery shop and Nicola Upson will be coming to Cookham in the summer to give a talk and book- signing (date to be confirmed).

Spencer often looked back on the time Elsie worked for the family with fondness. His lively pencil sketch, Me Drawing Elsie, produced during the 1940s, is on show in our present exhibition and will continue to hang in the Gallery throughout the summer.
---
COOKHAM SOCIETY DESIGN AWARDS 2019
8 March 2019
---
At its Annual General Meeting on Thursday 7th March the President of the Cookham Society, Mr John Bowley, announced that the winner of the Society's Annual Design Award for 2019 was Chapman's Orchard, a recently redesigned and renovated house in Dean Lane, Cookham Dean. The Award consists of a certificate which would be followed later in the year by a blue ceramic plaque bearing the Society's logo

Mr Bowley stated that the Award had been granted for the imaginative redesign and renovation of what had been a fairly unremarkable structure. The house has been recreated in a modern idiom, with great care devoted to maximising the advantages of the location by providing access to views of the nearby countryside. It integrates well with the unique green setting and rural character of Cookham Dean (see Cookham Village Design Statement, p.58), and provides an excellent example of the potential for improvement for many properties in the Parish.

Mr Bowley presented the Certificate to the Owner of the property, the novelist Karina Mellinger, and noted that the architect was Bowen Evans Architects, Marlow.
---
WILD ABOUT GARDENS SCHEME
5 March 2019
---
Last year WildCookham launched a Wild About Gardens scheme whereby Cookham residents could win prizes by making small changes in their gardens to make them Wildlife friendly. Many households entered. Many used no chemicals or planted more bee friendly flowering plants, but some actually built ponds! The scheme was so successful it is going to be run again this year. On Wednesday evening there will be a launch event held at Lea Barn to show how easy it is to get involved. It starts at 7.30pm and more details can be found at
https://www.meetup.com/WildCookham/events/259302905/
---
WILDCOOKHAM POND WORK
25 February 2019
---
The pond was created a few years ago but never finished. With no plants growing in the water, there was very little else able to live in it. Also the pond liner was still very visible around the sides, neither attractive nor useful for wildlife. Maidenhead Aquatics and Flowerland in Bourne End had kindly donated most of the materials required to get the pond into shape. First the leaf litter was gently removed from the water, then the sides were covered in a soft capillary matting. Hessian sacks that had been made by WildCookham volunteer Clare Padmore, were filled with a mix of sharp sand and aquatic compost and laid over the matting. Irises were then placed around the edge of the water and held in place with shingle. Turf was then laid over the Hessian sacks. On top of all that, buddleias and brambles were cut back. Project leader, Mike Day said "We certainly got a lot done today especially the pond that I didn't think we would nearly finish". The next working party day at the reserve will be in March. For more WildCookham events visit
www.meetup.com/wildcookham
Click here for a film of the Reserve.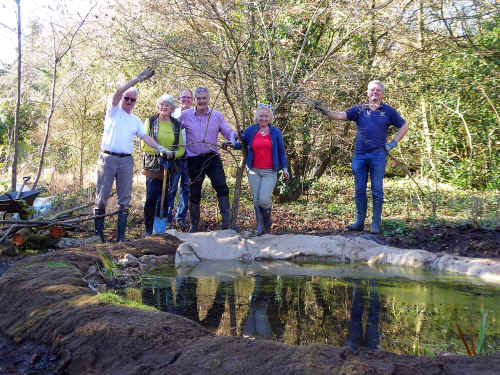 ---
WILDCOOKHAM TALK ON BUMBLEBEES
22 February 2019
---
WildCookham supporters were treated to a fascinating evening all about bumblebees on Wednesday. Adrian Doble, a zoologist who has represented the Bumblebee Conservation Trust at the BBC's Countryfile Live! and at the Ministry of Justice, gave a fact-filled presentation.

Starting with comparisons between bumblebees and honey bees and solitary bees, he moved onto the life cycle of bumblebees and threats to them - including farming practices, habitat loss and insecticides. Finally he covered the ways we can all help them out with the plants we should choose for our gardens and window boxes.

So what should we be planting? Mahonia, Daphne, lavender, borage, aquilegia - all sorts of fantastic things that flower at different times of year.
What's not worth bothering with? Begonias, petunias and geraniums!
Here's a comprehensive guide to gardening for bumblebees.
---
BOMB DISPOSAL IN COOKHAM
17 February 2019
---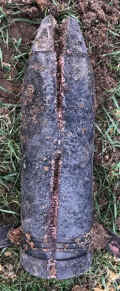 Yesterday bomb disposal police were called out to Mill Lane where it was thought that an unexploded tank round had been found. The road was closed during the afternoon.
This morning the Royal Logistical Corps, who are based at Northolt, x-rayed the "bomb round" and removed it to Maidenhead golf course where it was placed in a bunker and blown up, It was found not to be live.
---
GREAT BRITISH RAILWAY JOURNEYS
16 February 2019
---
Holy Trinity Church will feature in the episode of Great British Railway Journeys on Tuesday 19th February on BBC2 at 6.30pm. This is a documentary series in which Michael Portillo travels the length and breadth of the country by train. The journey will be Reading to Taplow.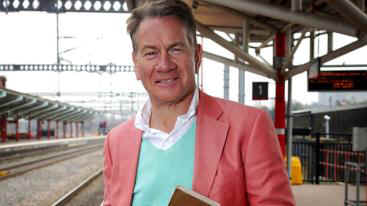 ---
BOOK SIGNING AT THE LITTLE BOOKSHOP
9 February 2019
---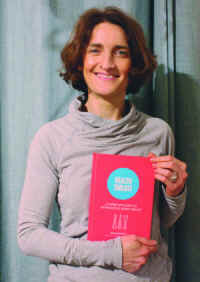 Anna Bennett an Olympic athlete in hockey has released a book called Health Kit which she hopes will contain the recipe for success when it comes to living life to the full.
She will be at The Little Bookshop in Cookham Village on 2 March to sign her new book, so just drop in.
Anna hopes the guide will be a useful assistant to people who are pursing a New Year's resolution about getting fitter, losing weight or practicing what she calls 'mental clarity'.
---
THE MOLE AND BADGER
1 February 2019
---
The Mole and Badger cordially invite you to attend their launch night and official opening of The Mole & Badger Restaurant, Bar & Wine Emporium on 1 February, 18.30 onwards. They are also holding an Open Day on 2 February 2019, 11.00am onwards.

They say "This midwinter shindig at Karma Sanctum on the Green will feature complimentary canapés showcasing the culinary creativity of our new head chef and his team. Enjoy welcome cocktails, wine, craft ales and expertly mixed drinks to stave off the winter chill. All in the most conducive of company - including perhaps one Toad of Toad Hall. Provided he leaves his motorcar at home!"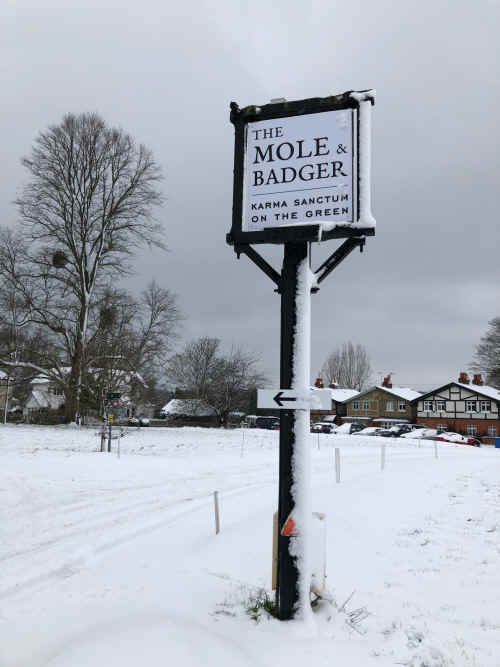 ---
CAROL SERVICE COLLECTIONS
25 January 2019
---
The three Carols by Candlelight services (Advent, Christmas Day & Epiphany) at Holy Trinity Church raised a total of
£2,226.94
for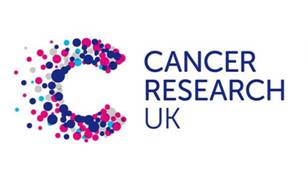 Thank you to all those involved in these services and to everyone who supported these services and who gave so generously. We are delighted to have raised our biggest ever sum from these three services for such a wonderful charity - giving help and hope to us all.
---
NITROUS OXIDE CANISTERS
22 January 2019
---
Cookham Parish Council would like to know of any further sightings of the canisters so the police can be informed. So please let them know by emailing office@cookhamp arishcouncil.or g.uk with a rough location and they will pass the info on. Thanks!
The most silver canisters I have ever seen at the Alfred Major. All around the bench at the end of the school playing field. About 55, have reported to TVP via email.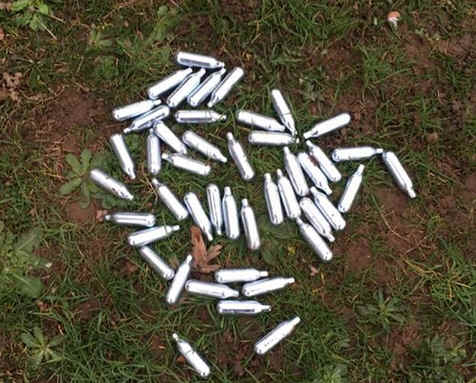 ---
HARRIS WOODBRIDGE NATURE RESERVE
21 January 2019
---
The Parish Council has recently given WildCookham the go ahead to look after the Harris Woodbridge nature reserve in Cookham Dean. It's a beautiful plot of land just off Dean Lane. Here's a short film about it.
On Sunday January 27th a group of volunteers are heading up there to help tame the landscape. If you would like to be involved click here for more details:
---
BIG GARDEN BIRDWATCH
5 January 2019
---
With the Big Garden Birdwatch coming up at the end of January, what better way to prepare than to create your own bird house! Every home needs a bird box and here's an opportunity to make a perfect bird house guided by experts! WildCookham's next event is their now annual, popular nest box making session and it's suitable for adults and children.
Box kits together with tools will be provided (for a small fee) and boxes suitable for robins or blue tits can be made at this workshop. Bob Keene and others from the Bisham bird box group will be on hand to help and also advise on the best place to site them. The workshop is taking place at Lea Barn on Saturday 19th January. For more details and to register your interest please visit the WildCookham Meetup page here.
---
---
Hear ye Hear ye! The Crier is always looking for things to shout about! Feel free to submit your Thoughts, Poems, Requests or anything you like to thecrier@cookham.com