---
RUN OFF THE POUNDS
4 March 2014
---
SPRING HAS sprung and what better time to put on your trainers and take up running? The next of Cookham Running Club's hugely popular Couch to 5km courses, lead by top coach and former international athlete Paddy McGrath (www.paddymcgrathrunning.com), kicks off on March 12. Over the 6-week course, particpants are guided from walking/slow jogging to running 5km. Cost is £40 for the course which includes entry to the 5km, discount at Runner's Retreat shop in Marlow and free trial membership of Cookham Running Club. Contact Paddy on 07714 950748 or paddymcrun@btinternet.com to reserve a place. But hurry, as each course fills up faster than you can tie your shoe laces!
---
SIMA'S ACTION KIDS MIXING WITH THE STARS
4 March 2014
---
SIMA'S ACTION KIDS MIXING WITH THE STARS AT THE UK'S BIGGEST DANCE FESTIVAL IN LONDON THIS SUNDAY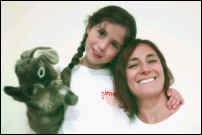 One of Berkshire's leading children's entertainment companies, Sima's Action Kids will join the likes of dance icon, Darcey Bussell and take part in the Move It dance festival at Earl's Court this Sunday. The event, which is in its ninth year, is expected to attract more than 20,000 avid dance-fans from all over the country.
Company founder, Sima Stannage took her children, Natasha and Chloe to Move It as a Mothering Day present for herself last year, and is delighted to be donning her dancing shoes and performing on stage this year: "I was overwhelmed by the buzz and energy at the event last year. I am thrilled to have been asked to share the Sima's Action Kids experience with other dance fans. It's going to be fantastic which is why I am taking my whole family with me!"
Sima says that her daughters, Chloe and Natasha are going to be her "special helpers" on the day. She will also be joined by her niece Sarah Chakaveh who performed in Olympic Opening ceremony in 2012: "My children, like me, love dance and enjoy the way you can express yourself through dance. It's such a portable skill and you require very little equipment – just some music which inspires you and a suitable space. We just want to share this passion with others!"
Move It organiser, Nathalie Flaxington says the team has introduced special classes for the under 16 market and Sima's Action Kids is perfect for that category: "Sima's class will be a lively and dynamic session for the under 12s, focussing on fitness in a fun and enjoyable way. Here at Move It, we feel that it's really important for kids to learn how to stay fit at an early age."
According to the event organisers, there will be something to suit everyone's dancing taste at the festival. Visitors will be able to choose from a staggering 240 classes from all genres of dance and for all abilities during the 3 day dance event which runs from Friday, 7th March until Sunday, 10th March.
The Move It festival will mark the start of Sima's Action Kids' 2014 tour: "It's the first time I have taken on such a mission but I am very excited. I just need to work hard to ensure that all my events are fun and dynamic."
For interviews please phone Sima Stannage on: 07956 993 439. For more information about Move It, please go to: http://www.moveitdance.co.uk/
---
WIN A VIP PACKAGE FOR LET'S ROCK THE MOOR
1 March 2014
---
Win an amazing VIP package to Lets Rock The Moor 2014 - The Ultimate 80s Festival - with Absolute Radio and Sanctum Hotels.

Tune into Absolute Radio running next Friday on Absolute Radio March 7th 7pm the offer is:

2 x Pairs of VIP Tickets to the event.
PLUS a room for two at the luxurious Sanctum on the Green Hotel in Cookham Dean - winner of "Best Country House" - World Luxury Hotel Awards 2012 & 2013. PLUS you'll also get a Meet & Greet with ABC - meet Martin Fry in person, have your photo taken with him, a glass of bubbly and a Let's Rock! 2014 goody bag which will include a Lets Rock 80s Volume 1 CD signed by Martin, a Let's Rock! 2014 tee-shirt and a souvenir programme.

This event is almost sold out, so don't miss the opportunity to see our biggest line up yet! Buy your tickets today by clicking on the BOOK TICKETS http://letsrock.gigantic.com/lets-rock-the-moor/marsh-meadow/2014-05-17-12-00

Let's Rock The Moor! returns for its 6th year on Saturday 17th May 2014 in Cookham, Berkshire. With a fabulous line-up of artists to bring you the very best of the 80s, and an action packed day of general 80s madness, there is plenty to do for everyone at this Family Friendly Festival!

New for 2014 is our Changeover Party which includes an array of entertainment during those dull band changeovers, including our new "BigScreen Sing", DJ's from Absolute 80s, other Entertainers and TV legends to keep the party going for the whole day!

Tons of attractions to keep the children happy, such as our new free Bigtopmania circus, a super funfair including water rides and soft play areas, as well as children's entertainers from BBC/ITV, Let's Rock The Moor! offers the perfect day out for all the family. Multiple bars and a wide range of quality food outlets, selling everything from hotdogs to Maliks' award-winning Tandoori, means every taste is catered for. Luxury toilets will also be available for those that like a little bit of festival luxury plus a new, fantastic VIP package.

Don't miss out on this ultimate retro blast!
---
NEW EXHIBITION AT THE GALLERY
1 March 2014
---
The March exhibition at the Gallery at Elizabeth House features local artist Satu Vartiainen.
The show opens on 3
rd
March and continues through to 28th March.
A Finnish-born Maidonian , Satu lived many years in Paris where she started to learn about art, drawing and painting. She attended
Ecole
d'Art
Martenot art school for a couple of years before moving to England.
Satu loves modern semi-abstract paintings but also enjoys old Masters and all kinds of artworks. Her own style is somewhere between figurative and abstract and the media used is mainly acrylic on canvas or MDF board.
She writes, "When starting a new project I think of a subject and draw a couple of lines on canvas, choose colours and painting tools and then it just happens.
I paint until I'm satisfied with the composition , the balance, the colour combination and most of all, until the painting is a pleasure to look at".
Satu is an active member of Cookham Arts Club.
She has taken part in several exhibitions locally and in France and has had four of her paintings published in art magazines. This is her third solo exhibition.
---
THE FLOODS GO ON
18 February 2014
---
Thanks to Steve Clark for some photos of the floods taken on 16 February.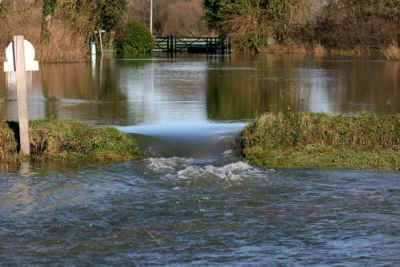 ---
FLOOD EMERGENCY
8 February 2014
---
In the event that Cookham Village is again totally cut off by road, Holy Trinity Church will run an emergency service to help people who are stranded and unable to reach the outside world.
If you need any shopping doing, or a prescription collecting from the pharmacy, please get in touch with the church and ask for help. You can do this in one of three ways:
1. E-mail your name, address and the things you need to the following special e-mail address: pefc@tapestryoflife.co.uk.
2. Drop off a note with your details and a list to the Parish Office at the Parish Centre, Church Gate, Cookham.
3. Phone the Parish Office (01628 529661) and leave your name address and phone number. The office will not take any details of your needs, but will pass on your message for a volunteer helper to contact you.
Whilst the church obviously cannot help with any problems related to actual flood defences, road closures or safety issues, if you do have a concern arising from the floods and would like to speak to someone, 'phone the Parish Office and leave a message. We cannot guarantee to resolve every issue but we can try.
You are reminded that Cookham Voluntary Services (01628 523839), based at Elizabeth House, provides a transport service for all patients of the Cookham Medical Centre who, for whatever reason, do not have access to their own transport to reach appointment at the Medical Centre or at hospitals or clinics.
---
HOST NEEDED FOR CRICKET CLUB VISITOR
8 February 2014
---
'Cookham Dean Cricket Club are currently looking for accommodation in the village for a Zimbabwean overseas player , during Summer 2014 (early May until early September)

We are very much a community cricket club, playing on Whyteladyes Lane near the intersection with High Road

We cater for all abilities, with three sides on Saturday playing league cricket, along with friendly sides on Sundays and even an over-45s side. We also have hundreds of colts playing and training throughout the week

A lot of sides in our league import one player from overseas to boost their side, and last season we brought over a 21 year old Zimbabwean from Bulawayao, which was a resounding success. Not only did his performances on the pitch help , but he was also constantly on hand to coach youngsters and help our groundsman around the club.

If anybody would be prepared to open up their home to another young (under 23) lad from Zimbabwe, then the club would be delighted to hear from you, and of course offer cash in exchange.

Please contact Ben Millar on 07854 218194, if you feel you may be able to help, or offer any suggestions
---
HERRIES LAUNCHES LUNCH TIME LATIN CLUB
29 January 2014
---
All roads lead to Rome for pupils at a Cookham Dean school as they don togas for their new lunchtime Latin club.

Herries School is keen to get children interested in the classical language and has set up the Latin club which is open to Herries pupils in Years 4,5 and 6 and runs on a Monday lunchtime. The

children will learn the basics of the Latin language and culture.

Headmistress Sophie Green said,

"It's a fantastic opportunity for our pupils. As well as gaining an understanding of an ancient civilisation, knowledge of the Latin language can improve a child's literacy and help them to decipher tricky English words. Pupils in the group are also already starting to make connections between French and Latin and they are so pleased with themselves when they spot a connection. The children are really enjoying the classes, particularly the ones that involve dressing up in Roman togas!"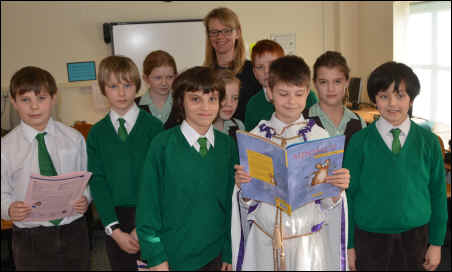 ---
HOLY TRINITY HELPS HOSPICE
29 January 2014
---
The Advent, Christmas Day and Epiphany Carol Services at Holy Trinity Church raised a total of £1526.87 for Helen & Douglas House (providing hospice and palliative care for children and young adults in Oxfordshire and surrounding counties). Thank you to all who gave so generously.