---
WINNERS OF COOKHAM ON CANVAS
17 May 2013
---
The stunning setting of the new John Lewis Heritage Centre at the bottom of Odney Lane was the backdrop for the Cookham on Canvas exhibition opening night on 16 May. Artists were to be found out and about Cookham painting furiously all last weekend despite the very unkind weather and the result is a display of over 30 works of art ranging from pencil drawings to oil paintings.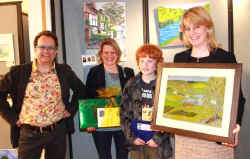 The judging began in the morning to find one outstanding piece and the panel of Timmy Mallett, Ann Danks and Chrissy Rosenthall from the Spencer Gallery, Marie-Ann Leonard from Bovilles art shops and Gail Dorrington the event organiser had a very difficult task indeed.
She explains "Our main difficulty was that there were so many beautifully executed paintings, from experienced artists right through to complete beginners so we were not looking for the best painting but the painting that expressed most clearly the "Spirit of Stanley Spencer" " Chrissy Rosenthall explained this to the artists and their guests before Timmy took the crowded room through every single painting pointing out all the good bits and how the panel felt about the works during the judging process.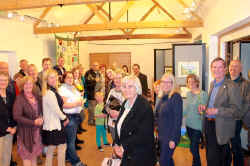 And so to the winners…
Prizes of art materials generously donated by Bovilles art shops were presented by Marie Ann Leonard to:
Junior prize in the youth category went to 13 year old John Conacher for his drawing of the war memorial. The detail in the drawing was fantastic and he had been observed over the weekend out there in the cold working all day on it.
Junior prize for our younger artists went to 8 year old Mollie Thorne for her water colour pencil painting of the Cookham bridge and toll house. The judges loved her use of colour which shows real promise for the future.
Over all winner was Stephanie Gay who miraculously managed to produce a silk painting over the weekend of the view from Winter hill capturing the light over the reservoirs.You can see the weather rolling in across the sky- an outstanding piece of work and a unanimous decision by the panel.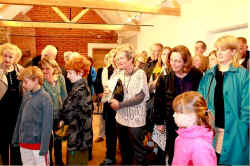 Second place went to Michelle Jackson for a water colour pencil painting of Cookham bridge.The panel picked this out because of the way the artists had chosen her viewpoint from an unusual angle. The details of the wrought iron work and the flower pots in the foreground were very much in step with the spirit of a Spencer.
Third prize awarded to Sarah Luton for her acrylic and oil painting of a view looking directly down Cookham High street. Sarah was to be found outside both days over the weekend under an umbrella to produce this painting which included the kinds of details Spencer would have painted; the bus stop, the cars and people standing in their garden It is a painting of a moment in the here and now.
Runners up prizes went to Nancy Ovstedal, a view for the end of Mill lane in the gardens of formosa court and to Ruth Daniel for a water colour of a tree stump with a nest of moor hens.
Honourable mention also went to Valerie Ann Benham for a view of Holy Trinity churchyard.
The exhibition is open to the public as part of the Cookham Festival Open Studios Trail.
---
BREAST FEEDING IN THE HIGH STREET
9 May 2013
---
A Cookham.com reader sent in this photo of Cookham High Street, with thoughts of Ovey's Farm one hundred years ago.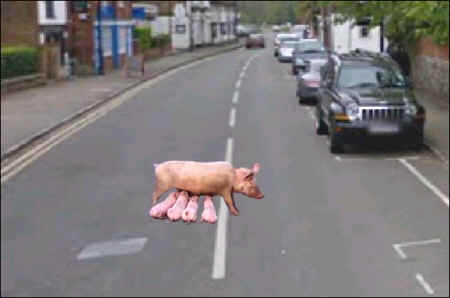 ---
8 May 2013
---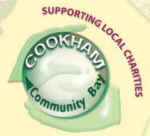 After five years of running Cookham Community Bay, Chris Harris is having to call it a day. CCB offered to photograph items people wanted to sell and put them on eBay. A percentage of the sales was kept by CCB and the profits were shared between Holy Trinity and Elizabeth House. If anyone wants to run it, Chris Harris would be happy to tell them what to do.
---
2 May 2013
---
The Rainbow Pre-school Barn Dance on Saturday, 27 April was a big success. We'd like to thank our sponsors: The Handmade Cake Company, Bradburys of Buxton, Countrystore Cookham, Sanctum on the Green, The Vanity Lounge, Fairmont Hotels & Resorts, Peaseblossom, The Pretty Pantry, Firstfruits Celebrations and Mucky Monsters. We raised £450 and a great night was had by all.
---
30 April 2013
---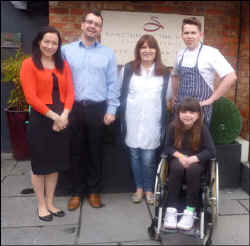 There's a lovely event happening at Sanctum on the Green on May 19th which celebrity chef Luke Thomas is supporting.
It's in aid of a wonderful little girl called Vivi who has undergone a big operation recently. She is brave beyond words and a real delight:
The Taste of Summer event on the 19th May is going to be a truly memorable experience. It will include a cooking masterclass with award-winning chef, Luke Thomas - Britain's youngest head chef, and Peter Dickson will be hosting an auction.
Tickets are £10 each and are available from Sanctum on the Green.
---
28 April 2013
---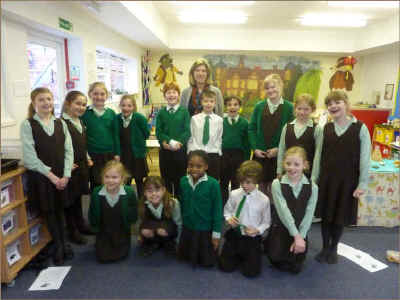 Once again, Herries pupils have achieved fantastic results in their LAMDA
exams (London Academy of Music and Dramatic Art). All of the individual entries passed and many achieved merit and even distinction! All of the group entries were also successful, again passing with either merit or distinction. Head teacher, Sophie Green said:"Much hard work went into the performances which the pupils gave during their exams and I remain convinced that this is very much a confidence and self esteem building experience for the children, as well as being lots of fun!"
---
22 April 2013
---
Penny Bysshe sent this to cookham.com. (Click on photo for larger image.)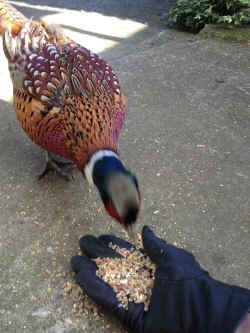 Here is a photo of the pheasant I took this morning. It has taken about 10 days for him to peck bird seed from my hand. At first I threw the food down for him at some distance, squatted down holding out my hand out with some bird seed on it and watched while he pecked away, keeping a careful eye on me all the time. I kept very still until he finished eating. He would not let me get near him. Every day he would come a little closer. He seemed to like it when I coo-cood at him. He coo-cood back happily but would not come close. I was putting bird seed on my bare palm but when I noticed how hard he pecked at the seed on the ground I put a glove on. It took a couple of days for him to get used to the glove. Every day he came a little closer and eventually he came close enough to peck the corn on the ground around my hand but would not take the corn from my hand. Then the day before yesterday he was very brave and took a few tentative pecks from my hand before backing off. Yesterday he was very confident, strutted up to me purposefully, greeted me with a happy squawk and straight away started to peck the corn from my gloved hand, his stabbing pecks sending the feed flying everywhere! I was very glad I was wearing a glove! I know that he "does the rounds" locally and presumably gets food from several homes - I can hear his loud squawks echoing round the neighbourhood - and wondered if anyone else had succeeded in getting him to peck bird seed from their hand?
Lou wrote in reply: "I'm in Cookham Rise and we have a pheasant who I have called Frank (Spencer) because I rather uncharitably decided that even for a bird with a brain the size of a pea, he must be particularly silly to try and take up residence here with us and a road full of cats! Sometimes he roosts on the tree outside my living room window, which you'd think would be quite charming but he screams VERY loudly at any one who has the cheek to drive past or worse still, walk their dog past him!"
---
20 April 2013
---
John Lloyd-Parry, who is well known in Cookham for his bird photography, spied some birds at the famous (or is it infamous?) swimming pool at Cliveden. It looks like the ducks were taking a rest after their swim.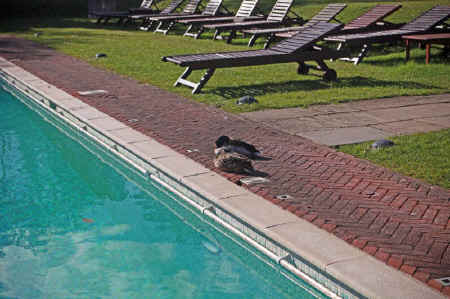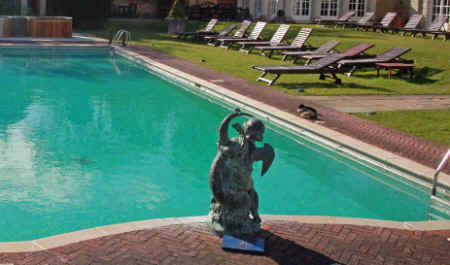 ---
LUXURIOUS BEDROOMS NOW AT BEL & THE DRAGON
19 April 2013
---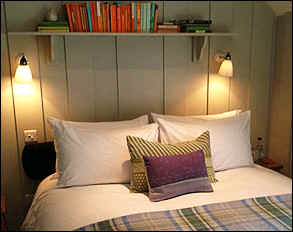 Bel & the Dragon in Cookham Village has been sensitively restored to provide five superbly luxurious bedrooms for their guests.

There are period features throughout this 15th century building that lend all rooms their exquisite charm.

All the rooms are individualised, incorporating their own unique features.

The

rooms are made comfortable by great big beds, using White Company linen and towels. The rainfall showers are the highlight of the magnificent bathrooms, many of which have underfloor heating installed as well.
---
18 April 2013
---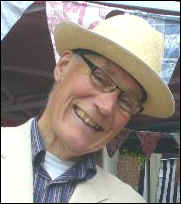 Cookham residents who knew Charles Benson who lived in Cookham Dean will be saddened to hear that he died on Wednesday 17th April 2013. Charles was well known in the Cookhams and was the titular head for the jazz group the Fabulous Shirtlifters. He was very active in Cookham Bridge Rotary and was often to be heard as the MC at the Cookham Regatta and Cookham Dean Village Fete. Charles had previously lived in Bradcutts Lane with his family where they had a B&B, although Charles was actually an engineer and had travelled the world working for multi national electronic companies.

Thoughts go out to Charles' wife Diana and his children and grandchildren.
---
16 April 2013
---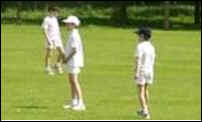 Jon Stewart, a resident of Cookham Dean, has set up a new and exciting cricket academy for budding young cricketers in and around Cookham.
Jon says "It is called the Thames Valley Cricket Academy and is based at Cookham Dean Cricket Club on Monday evenings. We offer specialist cricket coaching for talented young players from all clubs in the area."
You can find more information on their website www.tvca.co.uk
There is a free coaching session / trial on Mon April 29th and the full academy starts on Mon 13th May.
---
SPECIAL RECOGNITION AWARD FOR BARBARA
13 April 2013
---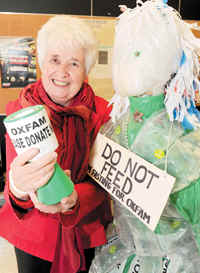 On the 11th April 2013 at the JustGiving awards dinner, Barbara Walmsley from High Road, Cookham received a Special Recognition Award.

The citation reads 'This award recognises your incredible 27 years of tenacious and dedicated fundraising for Oxfam'

The only complaint Barbara has is that it is now about 60 years since she first collected for Oxfam!
---
8 April 2013
---
A diary note! It's time to don your dancing shoes and do-si-do your partner for the annual Rainbow Pre-School barn-dance at Pinder Hall on Saturday, April 27th. Whether you are seven or seventy, single or married, an award-winning dancer or have two left feet, we would love to see you there to help raise much needed funds for our beautiful pre-school.
For those Cookhamites who have never ventured to a barn-dance before, they are tremendously energetic and social affairs and no previous experience is required because a caller will guide you through the dances. While most dances are danced in 3/4/5 couple sets, many others are "mixer dances", where you and your partner get to dance with lots of different people.
Mid-way thought the evening, we will be pausing for a ploughman's platter, guaranteed to tantalise your taste buds - a dish recently voted one of England's most important cultural icons. There will also be bar, and a raffle. If you would like to purchase tickets for this very special evening, which are £12.50 per person including dinner, please phone Kathy Rickman: 01628 522 797. Be quick to avoid disappointment!
---
3 April 2013
---
It is not too late to sign up for the Cookham on Canvas event and take your place at an exclusive talk in the Stanley Spencer Gallery on April 17th.

The event is part of the Cookham Festival 2013 arts programme.
The talk will give participants an idea of how the event will happen and link the painting locations to works created by Spencer. Not to be missed!

More details and for an entry form call in to the Stationery depot or follow this link to the Festival web site where you can download it on line.

http://www.cookham.com/cookhamfestival/programme/programme.htm#arts

The event takes place over the weekend of 11th and 12th May. Prizes of art materials donated by Bovilles with an exhibition in the beautiful new John Lewis Heritage Centre from 17th to 19th May.
Open to all including youth and children's categories.
---
FORMER INTERNATIONAL RUNNER OFFERS COACHING
3 April 2013
---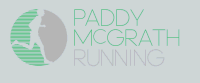 A former international athlete from Cookham is launching a unique coaching service for runners of all levels. Paddy McGrath of Cookham Dean Bottom once ran for Ireland and Northern Ireland recording times that placed him among the UK's best runners. At the peak of his career, Paddy ran 1500 metres in 3:44 minutes and covered the half marathon distance in 64 minutes. Since his focus switched to coaching he has guided runners of all levels from complete beginners to those competing internationally. He holds UK Athletics coaching qualifications and will offer both bespoke one-to-one or group coaching and workshops for keen runners in the Cookham area.
"I have an expert back up team of sport psychologists and sport nutritionists who have worked with Olympians, so I hope to offer people the complete package to boost their running whether they are starting out or wanting to get faster," says Paddy who also coaches the Cookham Dean Under 8 football team in his spare time. "We'll be holding a workshop on 'how to run a half marathon' in June."
For details, email paddymcrun@btinternet.com or call 07714 950748. Check out Paddy's website www.paddymcgrathrunning.com, facebook page paddy.mcgrath.running or follow him on twitter @paddymcgrathrun
---
3 April 2013
---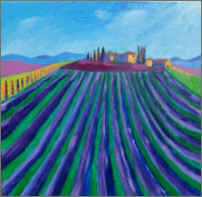 Local artist Nick Kennedy is returning to the Gallery at Elizabeth House with a new set of paintings under the title " Land & Sea". It's an exhibition bringing together his most recent paintings from travels abroad to Greece and France. Harbours, sunsets, fishing boats all feature strongly, with a focus on balancing light and colour.
Nick studied Art and Design at Amersham College and Bristol University, then taught Art at secondary schools before moving on to his current vocation as Art Lecturer for East Berkshire College.

Past Exhibitions include Wolfson College, Oxford; Windsor and Norden Farm Arts Centres; Maidenhead Art on the Street; Cookham Festivals and South Bucks Art Week.

The exhibition opens on Saturday 6th April and continues to Friday 3rd May. The Gallery - on Station Hill, Cookham Rise, SL6 9BS - is open weekdays 9.30 to 11.30pm and Saturdays 10am to 4pm. Elizabeth House benefits from a commission on all works sold. More gallery details, including past exhibitors, are at www.thegalleryatelizabethhouse.org.uk
---
1 April 2013
---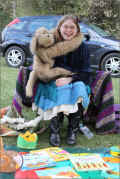 The Maidenhead Bridge Rotary Club organised a family fun day on Easter Saturday. Sima from Sima's Action Kids was one of the many performers giving their time for free. More than 700 local people supported the event.
(Click on photo for larger image)
---
COOKHAM DEAN FOOTBALL CLUB IN CUP FINAL
1 April 2013
---
Cookham Dean Football Club are in the Cup Final of the Norfolkian Senior Cup Final on Thursday April 11. The Norfolkian is Maidenhead's oldest Footbal Club competition. On Thursday they will be playing Wraysbury Village FC at Maidenhead United FC York Road Ground with a kick off at 7.30pm
Cookham Dean normally wear Red/ Black but for the Cup Final but this time they will be wearing the change strip of all Green.
Please come along and cheer your local side on as they try to bring the Trophy back home to Cookham.
---
EU FUNDS SECURE NEW GRANDSTAND FOR COOKHAM DEAN
1 April 2013
---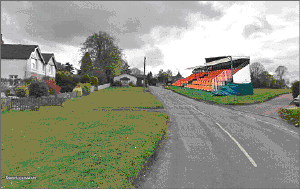 Sport for Europe has confirmed full funding for a spectacular new grandstand to be built on the old cricket common in Cookham Dean.
The state-of-the-art structure will be prefabricated in Germany, shipped to the UK and erected by a crack squad of German workers in less than a British worker's lunchtime.
"We are thrilled with the announcement, and delighted with the size of the cheque." said Peter Bartlett, one of the supporters of the scheme. "We applied for a grant for a temporary structure to cover the Gravity Grand Prix, but to our surprise they have given us full funding for a permanent erection.
"We did point out to them that a mistake may have been made, but nobody in Brussels wants to know. Apparently, there is no mechanism for returning overpayments back to Europe because no member country has ever tried to do it before. They said it would be much cheaper for us just to keep the Grandstand than it would be to pass the legislation needed to set up a refund system."
However, some in The Dean are outraged. One resident said "Before retirement I was a very important person and although I fully support the idea, I am angry that nobody has asked for my opinion. It would seem that because the structure is prefabricated in Germany, it is governed by German planning regulations not English ones. What is this country coming to? I didn't fight in the war just so these faceless Eurocrats could give us a well-made, useful structure that will benefit the village for generations to come, without even giving me a chance to rant about it in the local pub."
A spokesperson for The Kaffers of Cookham Dean said "We welcome any help, from whatever quarter. The Gravity Grand Prix is becoming a bigger event every year, and last year some spectators couldn't see properly. The Grandstand will come in very handy, and we are currently looking for volunteers to help turn the thing round for the Boxing Day Games."
The Gravity Grand Prix will be held on Sunday 1st September. Further details including entry packs are available at www.cookham.com.
---
---