---
ELIZABETH HOUSE RECEIVES QUEEN'S AWARD FOR VOLUNTARY SERVICES
25 November 2014
---
A ceremony to honour those organisations awarded the Queen's Award for Voluntary Service (the equivalent of an MBE for an organisation) took place on Tuesday, 18 November at Newbury College.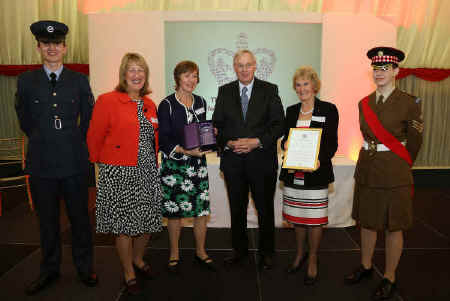 Liz Dye, long serving volunteer and former manager at Elizabeth House, accepted the award from the Duke of Gloucester on behalf of the Elizabeth House volunteers. She was accompanied on the platform (pictured) by assistant manager Jill Morris and volunteer and trustee Val Eckett.
"We will display with pride the domed glass crystal and the certificate signed by HM The Queen at Elizabeth House in recognition of all our wonderful volunteers" said Lynne Hatch, manager.
A further eight volunteers from Elizabeth House attended the ceremony: Linda Addis; Sally Adamson; Olive Carmody; Joan Dean; Jenny Elton; Margaret Mellon; Pat Middleton (former manager and chairman) and Mary Purdie.
---
A VERY SPECIAL SPENCER SOIRÉE
22 November 2014
---
On Friday 21st November a very special Spencer Soirée was held at Cliveden House to celebrate Spencer's love of music. It started with a champagne reception followed by a concert with Alexandra Wood playing the violin and Hugh Watkins on the piano. The concert included a specially commissioned piece for violin and piano by the composer John Woolrich who was there to present his composition which was being played for the first time. Hugh Watkins also played a solo piece for piano which h had composed based on the series of paintings by Spencer, 'Shipbuilding on the Clyde'.

The concert was followed by dinner, with over one hundred people in Cliveden's Terrace dining room. Lord Astor who is President of the Trustees of the Stanley Spencer Gallery gave a short talk. Lord Astor had known Cliveden well as a child as his family had owned the property. The evening had been organised by Chris Smyth from Cookham Dean who is the Treasurer for the Gallery.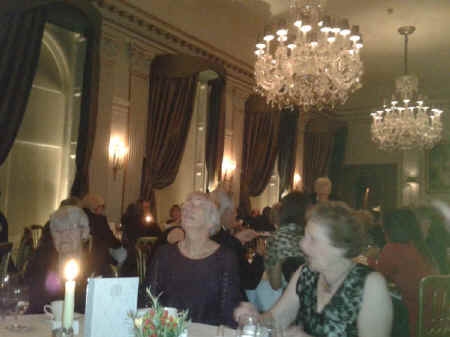 ---
COMING SHORTLY STANLEY SPENCER WINTER EXHIBITION
1 November 2014
---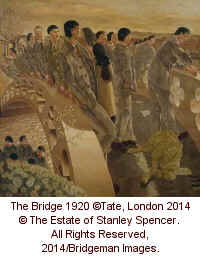 The Stanley Spencer Gallery's Winter Exhibition continues the theme of Spencer's recovery from his traumatic First World War experiences to produce some of his finest and most hauntingly memorable works. The exhibition includes wonderful, monumental works on loan from the Tate, such as the disturbing painting, The Bridge, 1920, with its fan-like arrangements of identically-clothed young men gazing from Cookham Bridge, and the mystical Christ Carrying the Cross, set in front of Spencer's home in Cookham High Street.
The Stanley Spencer Gallery was named by ArtFund this year as one of the five most 'unmissable' small Art Galleries in the UK. It is also the proud possessor of a Michelin Star in the Great Britain Michelin Green Guide.
Thursday November 6th until Sunday 29th March
Winter Exhibition, Stanley Spencer Gallery, Cookham High Street
Opening hours: Thursday to Sunday 11.00 am to 4.30pm
---
OWL NESTING BOXES
25 October 2014
---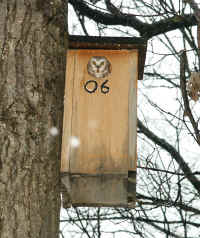 A wonderful team in Bisham are making owl and kestrel nesting boxes and are looking for places to put them up in time for the winter. If you have a suitable garden or some land, please contact Michael on 01628 483 803. Tawny owls like woods and copses and Barn owls like rough grassland and fields.
---
VILLAGE LEAGUE FOR COOKHAM SCHOOLS
15 October 2014
---
VILLAGE school children are set to take part in the first stage of the inaugural Cookham Primary Schools Cross Country League on Wednesday October 22. Pupils from Holy Trinity C of E Primary, Cookham Dean School, Cookham Rise and Herries are participating in the League which will take place in the Alfred Major Recreation Ground.
A joint venture between Holy Trinity C of E Primary, Cookham Running Club and the RBWM Sports Development team, each of the events will feature 8 races, one for boys and girls in years 3-6. Points will be allocated to each runner and prizes for the winning individuals and winning school teams will be awarded after the third event in February.
---
COOKHAM COPAS TURKEY TROT
13 October 2014
---
COOKHAM Running Club's inaugural Copas Turkey Trot 5 mile cross country run over private land belonging to the Copas Partnership at Mount Farm on Sunday 12th October, was a huge success with over 100 runners taking part. Local triathlete Graham Williamson from Marlow took the honours on the tough, undulating course through ploughed fields with Anna Slater winning the women's race. Both received a voucher for an organic Christmas turkey hamper worth £150. Cookham youngsters Harry Turner and Frank McGrath finished second in the junior events.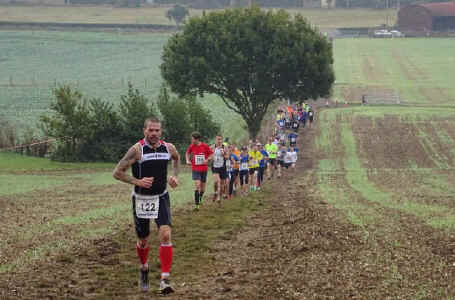 Men:
Graham Williams (Cookham RC) 30.25
Ben Whalley (U/A) 32.22
Gary Knight (Cookham RC) 33.33
Women:
Anna Slater (Cookham RC) 33.33
Under 15 Boys:
Nathan Brammar (Maidnehead) 5.00
Harry Turner (Cookham) 5.10
Finn Bell (Maidenhead) 5.14
Under 12 Boys:
Harvey Bell (Maidenhead) 5.11
Frank McGrath (Cookham) 5.43
Taylor Gibson (Cookham) 6.12
Under 15 Girls:
Abbie Jones (MAC) 5.15
Olivia Lowrie 5.28
Hatty Bell 5.33
---
ACUPUNCTURE CLINIC IN COOKHAM
9 October 2014
---
Three friends and acupuncturists, Inna, Padma and Tess, have opened a multi-bed acupuncture clinic at Elizabeth House in Cookham. The clinic is open every Monday from 3.30 to 8.30pm.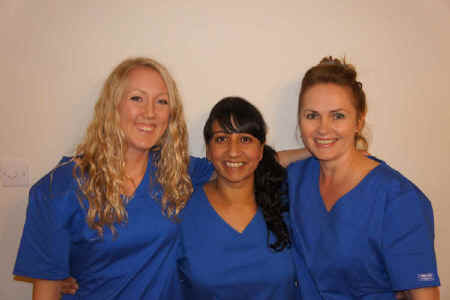 A multi-bed clinic allows several people to receive acupuncture at the same time. The practitioner treats one person, and whilst that person is relaxing with the needles in, the practitioner then moves on to the next patient. By treating more people at the same time, the cost of the treatment is kept low. Each patient chooses how much he wants to pay from £10 upwards.
As well as the reduced costs, another benefit of receiving treatment in a multi-bed environment is the community spirit that emerges when several people are treated together.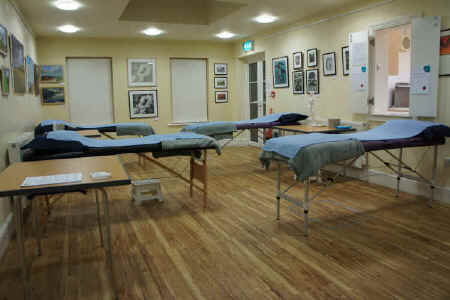 For a informal telephone consultation, any queries or to book an appointment,
call 07756557669, or email info@healthyrootsacupuncture.co.uk.
---
SPENCER GALLERY AND THE JOKER (AFTER PICASSO)
7 October 2014
---
SSG was recently the host, and the prize, for an art competition for schools in Berkshire. The competition was managed by Creative Junction, an arts based educational organisation located in Slough, and involved primary, secondary and special schools. The competition was linked to The Sainsbury's Games for Berkshire Schools.
There were seven regional winners and then one overall winner chosen from these seven works of art. Each winning school was offered an exclusive, free visit to SSG with a gallery talk and guided walk around Cookham.
The judges Andy de Mille, Ann Danks and Paul Grandidge, found their task stimulating, very challenging and thoroughly enjoyable. There were many lively debates about the merits of the entries which totalled well over one hundred. Anna Jones, Director of Creative Junction, was on hand to display the art in SSG and ensure that the judges reached agreement. All the work was of a very high standard and it was wonderful to see that creative activities are still very much alive in our local schools.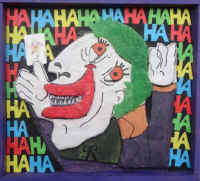 The winning entry was The Joker which was created by children from Lynch Hill Primary School, Slough. The class had worked with their teacher on producing relief work based on some of Picasso's paintings. The judges chose this work from many others of a very high standard as the children had clearly looked closely at Picasso's style and then, rather than copy an existing Picasso, they had created their own image in the style of Picasso.
We were delighted work in partnership with Creative Junction to support this excellent event and we now await the visit of the schools to SSG as they claim their prize.
---
SUCCESS FOR LOCAL ARTISTS
7 October 2014
---
The red dots are going up on the painting and woodcuts at the exhibition of work by Andy de Mille and Karen Goldschmidt at the Gallery at Elizabeth House. At an open event on Saturday, there was a steady stream of visitors (and buyers) and the show will remain open through October. Another Saturday opening will be held on 24th October. The photo shows Karen and Andy with some of the woodcuts on show. The exhibition also includes a series of Andy's recently-completed oil paintings of Winter Hill.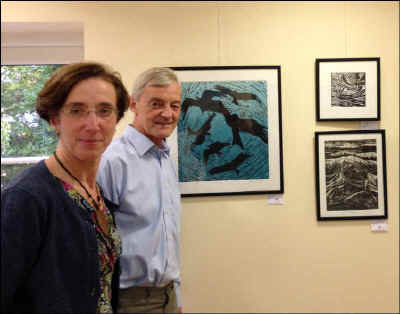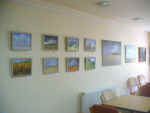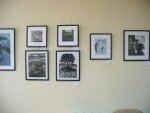 ---
FASHION SHOW RAISES £600 FOR THAMES HOSPICECARE
1 October 2014
---
A fashion show held on Monday September 29th at the Bel & The Dragon in Cookham and presented by The Little Shop, Cookham raised more than £600 for Thames Hospicecare. Nine models featured designer fashion from the autumn winter collections of Basler, Luisa Cerano, Greenstone, Schneiders, Michelle and Airfield.
The show was attended by over 80 supporters of the Hospice who enjoyed champagne and canapés as they watched the show. A raffle was held which included prizes of £250 voucher for The Little Shop, and dinner for two at The Bel & Dragon.
Ronnie Kimbugwe Bel & The Dragon Group Head Chef said "We are delighted to be able to work with The Little Shop again to help raise funds for such a worthy cause."
Photo caption Sarah King, The Little Shop, Lauren Jackson Manager Bel & The Dragon, Ronnie Kimbugwe with five of the models.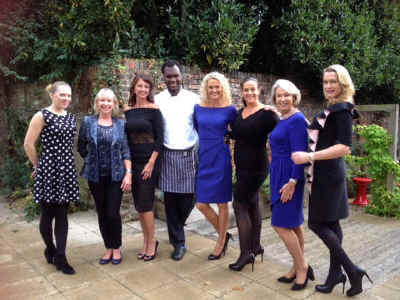 ---
CHESHAM'S SCOPE IN COOKHAM
30 September 2014
---
In September the Stanley Spencer Gallery had a visit from four artists accompanied from a group called 'The Birchwood Painters'. These artists all live at Scope's Chesham residential service. The group is led by Community Artist, Anita Osborne
The group enjoyed a guided tour of the current exhibition followed by a walk along the High Street to see at first hand some of the locations featured in Spencer's work. Some of the artists made preliminary sketches of 'Unveiling the war memorial' whilst others compared how Stanley used local buildings and scenes with their own work.

---
CAN YOU DONATE TO MAIDENHEAD FOOD SHARE?
25 September 2014
---
Please can you donate to Maidenhead Food Share?

tinned meat/fish. tinned vegetables, soup, cooking sauces, herbs/spices, breakfast cereals, tea bags, instant coffee, sugar, UHT milk, rice, instant mash, tinned desserts, biscuits/snack bars, jams, fruit juice

Food donations can be dropped off at the following locations in Cookham:

Holy Trinity Church, Church Gate, Cookham 10 - 4pm, except during services

St. John the Baptist Church, Church Road, Cookham Dean 10 - 4pm, except during services

Cookham Rise Primary School, High Road, Cookham Monday to Friday 9 - 3pm, during school term

You can donate money to Maidenhead Foodbank on the Open Kitchen website at www.foodshare.today
---
COOKHAM FRIENDS SET UP NEW FLORISTRY BUSINESS
16 September 2014
---
Cookham friends Claire Woods and Chantal Williams last week launched a floristry business with a difference. Bloom & More, situated at Spittal Street in Marlow, provides flowers for weddings, special events, hotels, restaurants and vase services for the home. In addition to the flowers, Bloom & More offers interesting plants and one off vintage pieces.
Claire and Chantal, who met through their children at school, have over 25 years' experience in the floral retail industry. They have worked for some of the most highly regarded florists in London as well as creating flowers for weddings and events in Europe, Tokyo, New York, Seoul, Brisbane and Sydney.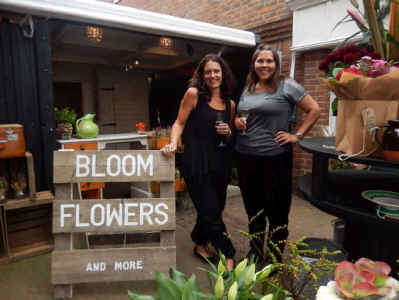 Chantal Williams (left) and Claire Woods (right)
Claire Woods said, "Our first few days of opening were a great success and we've had some good feedback from local residents. As a result, we decided to extend our opening hours to cater for shoppers and visitors to the area on a Sunday."
Having provided flowers for clients all over the world, the pair wanted to bring their international experience to the local area.
Chantal Williams said, "We identified a niche in the market for unique, interesting floral creations, bringing clients beautiful, seasonal flowers combined with a friendly service.
"As part of our initial marketing strategy, we are leaving bouquets in random local locations, then asking recipients to post a photo of the flowers and 'like' on Facebook."
Bloom & More's shop front is open Thursday- Saturday 9.30am-5.30pm, and Sundays 11am-4pm, and other times by appointment.
---
COOKHAM AND MAIDENHEAD ARTS TRAIL
13 September 2014
---
On September 27th and 28th, a group of local artists will launch the first ever Cookham and Maidenhead Arts Trail. Comprising 27 entries in 17 venues across Cookham and Maidenhead, the trail will feature paintings in oil, watercolour and acrylic, drawings, print making, photography, ceramics, architectural glass, installation, sculpture, embroidery, lamp-work glass and silver jewellery.
An arts trail encourages visitors to meet the artists and talk to them about their work, learn about their practise or see them in action. Trail organiser Sarah Luton says "this format gives the artist an opportunity to display their work under their own terms, often in their own working environment rather than in a gallery or shop." For painter Mandy McAllen it's about meeting people and making a personal connection. She believes "it adds value to a piece if the owner knows something about the artist and how they work. It's also important that people who may never consider visiting a gallery should feel comfortable about looking at art in less intimidating and sometimes very interesting venues."
Website: www.camat.org.uk
---
COOKHAM AU PAIRS GET TOGETHER
6 September 2014
---
The Au Pair gathering at the King's Arm on 2nd September was a great success. Around ten au pairs turned up from Spain, France, Estonia and Germany.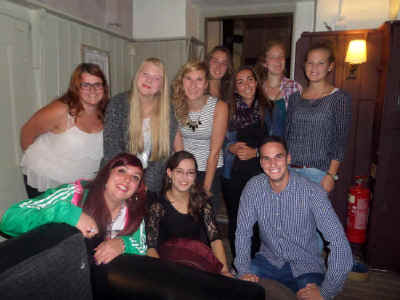 ---
TALKBACK VISIT THE GALLERY
23 August 2014
---
On Wednesday 21 August 2014 the Stanley Spencer Gallery hosted an event for 18 young people and five staff/volunteers from Talkback. Talkback aims to enable people with a learning disability to build and use the skills that will enhance their quality of life and to be as independent as they can and want to be. The theme this year was 'community'. Ann Danks took the visitors on a walk around Cookham to see the locations Stanley incorporated from his community into his paintings. The visitors then were introduced to the paintings in the Gallery for those locations to see how he incorporated residents into those paintings and watched a short video from Chrissy Rosenthal in which local residents described him and his work. They then selected an activity from a range of activities devised by Denise Cottrell which included either completing a sketch based on one of the paintings or making a story about the people in Christ Carrying the Cross, placing themselves and their family and friends in the house and watching what was going on outside in the street. Everyone then had lunch and a discussion in the Parish Center.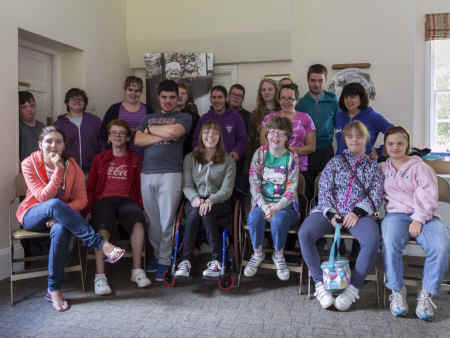 ---
FIRST EVER SUMMER HOLIDAY CHURCH KIDS' CAMP IN COOKHAM
4 August 2014
---
"First Ever Summer Holiday Church Kids Camp in Cookham - it's a week long and it costs £30". If you read that sentence a few times and if you are a working parent you will probably think what I thought - "BONUS" and you might even have done what I did which was hotfoot it down to The Stationery Depot and buy a ticket. Read on and I might be able to convince you that it will be worth it next year when the organiser and her "glamorous assistant" are persuaded that they really do have the stamina to do it all over again. Not only did I buy a ticket for my 6 year old but I also volunteered to be a group leader...This entailed making sure that eleven 6 year olds got safely from the Parish Centre to the Paddock to the Church and back again about 6 times a day for all the planned activities, supervising picnic lunches and generally making sure that none of the littlies had run off or were in tears for longer than thirty seconds.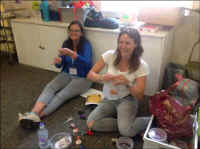 If you read that sentence a few times and if you are a working parent you are probably thinking "That is mad - why did she do that?" Honestly there were two reasons - one was a set of master manipulation tactics from my six year old daughter - and the other was a strong sense of wanting to give something to the church and to the community in terms of time and effort not money.
When we needed the church last year at the time of a family bereavement they were there for us so this was my opportunity to do something in return. Just what a "something" I had no idea. No idea of the sheer exhaustion at the end of every day, no idea of how amazing it was to see children learning how to be part of a team or apologising to each other when they did something wrong or helping each other when they needed each other. And a reminder of how magical it is to see elderly people teaching and helping young children. But I had no idea how to mastermind any sort of group activity - being particularly lacking in arts and crafts skills. I am also particularly lacking in remembering anything about bible themes but was leading a daily 45 minute group session - HELP. But that arrived in the form of a friend who teaches and who did a lesson plan for both of us for the first couple of days with arts and crafts thrown in - my group were thrilled to paint a polystyrene cup blue, glue on their cut out figure of Jesus and colour him in, thread a ribbon through a hole in the bottom of the cup and hey presto there's a cloud on the top with a personalised message about The Ascension written on the back. Job Done. But that was only 45 minutes. The rest of their day was filled with Games Time aka rounders, tag rugby, football, beach volleyball, badminton and a kids Boot Camp in the Paddock; Blue Peteresque arts and crafts in the Briggs room and I mean properly amazing arts and crafts run by ladies who can sew and make bracelets out of beads and help with making an aquarium out of blue card, stick on glittery sea creatures, cut out decorated paper fish, string them into twine fold the paper across, make a couple of neat holes and then stick a straw in between to dangle the fish on. RESPECT to those ladies.
There was quilting for the older ones, daily quizzes, Dave the Disco for everyone (can someone please tell me where he gets his energy?) and donated hotdogs choccie cake and ice lollies for lunch one day. There was the "take a pile of newspaper and some sello and wrap your chosen team member up" competition - very popular. There was junk modelling and painting; designing and painting cloth panels for a display, tag graffiti panels and my group made a large cardboard castle from scratch. There was outdoor drama where the children learned how to make different sounds for the weather, recite tongue twisters and pretend to be goblins giants or witches and chase each other silly. The organiser (who also runs the Sunday school at Holy Trinity) struck just the right note of having fun, keeping things ticking along with no accidents, being authoritative without being bossy and being approachable without being a pushover. Hello, our kids need to see people like this in action! And if there's a stampede for tickets next year I'm going to be in that queue because I don't want kindness and good manners and showing a bit of love to be old fashioned values I want them to be values that kids know about now..."
---
REMEMBERING THE GREAT WAR
2 August 2014
---
Opening to coincide with the centenary of the outbreak of World War One, the Gallery at Elizabeth House is staging an exhibition of the Stations of the Cross paintings created for display in Cookham last Easter. The nine paintings, each the work of a local artist, can be seen together at the Gallery from Monday morning, 4th August and will be on show to mid September.

Each painting takes a theme from the Easter story and imagines it in a First World War context. Several also put the scene in a Cookham location.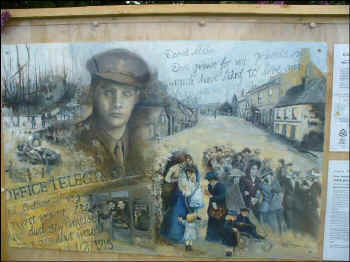 The Gallery will also open specially next Saturday, 9th August, between 10am and 4pm. We shall be serving refreshments (though no bully beef!) so do call in.

The Gallery at Elizabeth House is at Station Hill, Cookham SL6 9BS. Normal opening times are 9am to 3pm weekdays.
---
CHURCH HOLIDAY CAMP STARTS TODAY
28 July 2014
---
click on photo for larger image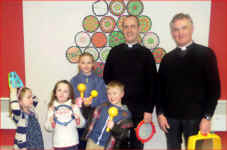 More than 60 primary-aged children will take part in the Church Holiday Camp at the Holy Trinity Parish Centre this week. The event has been organised by Chris Harris and Christine Taylor. The Benefice of the Cookhams and Parfitt Media would like to thank all of the volunteers and the following sponsors for making the event possible: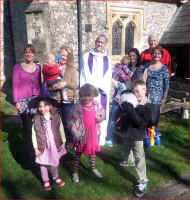 Mums About Cookham
Cookham Running Club
Cookham Rise School
Africa Turns Green
The Bel and the Dragon
Stageworks
Immortal Bootcamp
Dave the Disco
Pro-Direct Soccer Academy
Country Stores
Maceys
The Handmade Cake Company
CSQ Ltd
The Samurai Fitness Group
The Niche Gift Shop
Artist, Nicky Hislop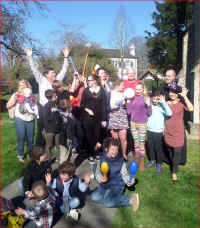 ---
SWAN UPPING
20 July 2014
---
(With thanks to Stuart Conlin for the photos)
Swan Upping took place this last week when there is a census of mute swans on the Thames. The Worshipful Company of Vintners and the Worshipful Company of Dyers, were granted rights of ownership by the Crown in the fifteenth century.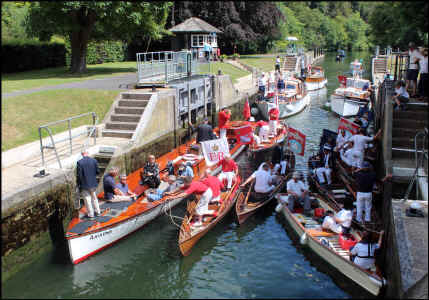 The boats arrived in Cookham on Tuesday and there was a gathering of locals by the lock and also at the Ferry. Actor Martin Clunes was also there and can be seen talking to David Barber the Queen's Royal Swan Marker. A man not behaving badly!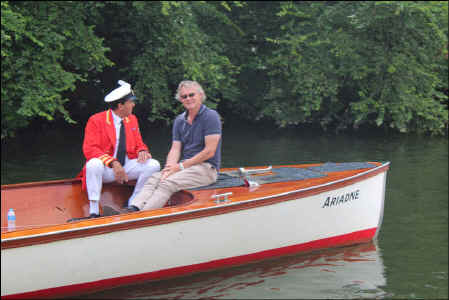 ---
COOKHAM WILDLIFE
18 July 2014
---
A new group has been formed in Cookham called Cookham Wildlife Supporters. It will be for local people taking care of wildlife and sharing their passion and knowledge in a practical and fun way.

They plan to have local events and activities such as guided walks and talks, run practical campaigns and initiatives to enrich habitats and to offer wildlife advice and build a community of interest through a dedicated wildlife forum on cookham.com.

They are being supported by both the National Trust and the Woodland Trust.

Click on article blow to read what the Maidenhead Advertiser says.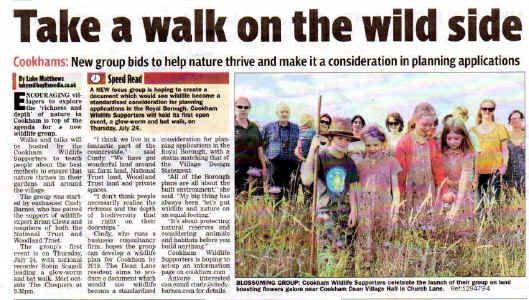 ---
JUNIORS COMPLETE THEIR FIRST SESSION
12 July 2014
---
THIRTY JUNIOR members of Cookham Running Club completed their first session on the fantastic new track at Little Marlow on Tuesday. Around 25 club members (and several newcomers) turned up to test the impressive-looking green surface that is part of a £40 million sports re-development plan by Bucks County Council. Club chairman, Gerald Cooper, confirmed this week that he has successfully negotiated an ongoing agreement for the club to use the venue exclusively on Tuesdays 5-7pm. Club coaches Paddy McGrath and Peta Bee will be there during those times and both junior and senior members of the thriving club will train there. "It's a brilliant facility," says Paddy. "We are very lucky to have it on our doorstep." Anyone interested in joining should visit www.cookhamrunningclub.com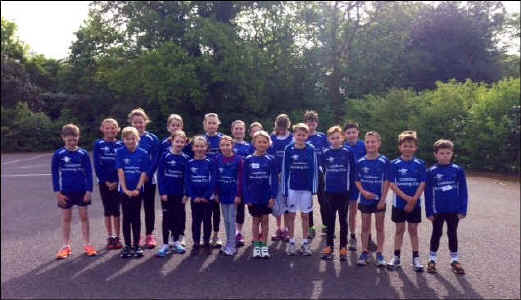 ---
COOKHAM COPAS TURKEY TROT
11 July 2014
---
Are you up for the most exciting challenge ever faced by villagers on October 12th 2014? Then come and join 100s of others in the UK's most authentic Turkey Trot race, organised by Cookham Running Club and hosted by Copas Turkeys and the Copas Partnership on their beautiful private farmland and trails in Cookham. Open to runners of all abilities, the undulating course takes in our stunning local views across the Chilterns towards Windsor Castle as runners wind their way through fields and along trails.
There are free-range turkey hamper prizes for first man and woman home in the 5mile race and commemorative 'buffs' for all finishers.
Senior 5 mile race open to all runners aged 16 and over. Entry limit 400.
Junior 1 mile race has prizes for the first 3 in the 8-11 category and first 3 in the 12-15 category. Entry limit 100 per age group.
For online and postal entry details visit www.cookhamrunningclub.com and don't forget to 'like' our Facebook page: https://www.facebook.com/cookhamturkeytrot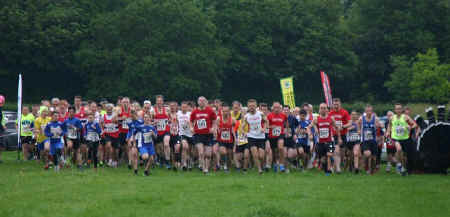 ---
WOW, What a Night!
2 July 2014
---
From the organisers of the Cookham Media Hub's First Anniversary
Wow! What a night! My colleague Sarah Parfitt and I hosted the Media Hub's first birthday last week and we had a fantastic evening.

We just wanted to say a huge thank you to everyone who helped to make the evening a success - our members, our sponsors and the Mayor and Mayoress of the Royal Borough of Windsor and Maidenhead, Richard and Mary Kellaway. As always, James Molier and his team at the Bel and the Dragon did us all proud!

A big thank you to Claire Pearce and her colleagues at Moor Hall for the superb technical support, to Angela Robson, Mike Golding and Pete Jones from PFC Ethiopia for such a moving presentation, to Nelmarie Rennison for the stunning cake, to Renee Cullen and Oier for the exquisite music, to Neil Mellon from Purinto for your attention to detail and professionalism with the flyers and the agenda, and to Mohammad Sabahi from Mah Images for the photos.

If you work in the media, we look forward to welcoming you to our next events on September 11th and November 27th. We will be posting more information about those events on our Facebook page in the next few weeks: https://www.facebook.com/groups/MediaHub/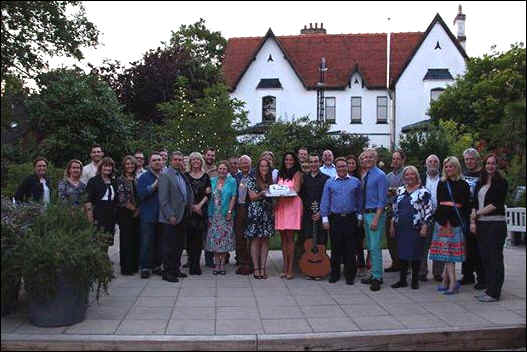 ---
COOKHAM LOCATION IN NEW FILM
19 June 2014
---
The debut of the feature film Echo Restless is being released on Monday 23 June. One of the film's locations was Cookham at Barnside Motors petrol station.
£950 has been raised through a successful crowd-funding campaign on indiegogo. The film was shot over two weeks with a minimal crew

---
LOVELY BOATING WEATHER AT THE SAILING CLUB
15 June 2014
---
The Cookham Reach Sailing Club said "We had a fabulous Open Day on June 7th. After a really wet start to the day the sun came out and everything went according to plan in the afternoon. We had a record number of people attending and we think as far as we can tell a record number of people joining the Club as a result. A number of our guests said that they had spotted the event on the Cookham.com web site so a big thank you to you from the Club.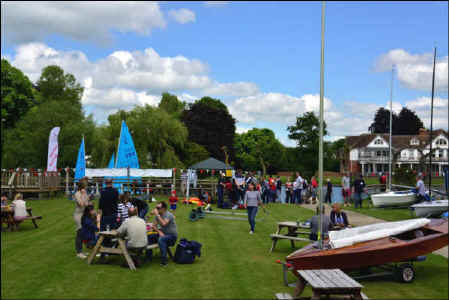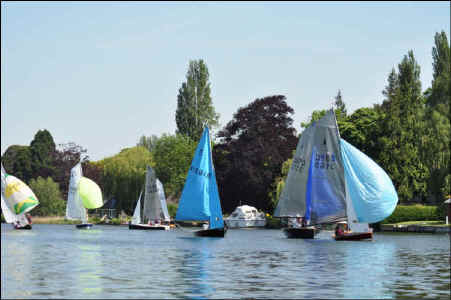 ---
IS THAT A BABY OWL?
10 June 2014
---
A Cookham resident in the Maidenhead Road area of Cookham says that "My husband built an owl box a few years ago, it is high in the trees in our garden This year we have had a Tawny owl nesting and a baby, not sure if there is more than one. We thought they had flown as we did not see them in the box for the last couple of nights. The parent tended to sit at the front, but last night the baby was sitting at the front while the birds around were causing merry hell. We are so pleased that they nested but the question is, will they come back to the box at night and treat it like home or will they disappear??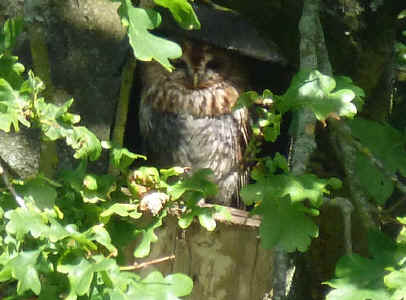 ---
GRANTS FOR FLOOD VICTIMS
7 June 2014
---
Many Royal Borough residents and businesses affected by the winter floods have taken advantage of the Council continues its commitment to help flood victimsfunding available to help them recover from the worst flooding the borough has experienced since 1947 – and the council is reminding those who haven't that there is still time to apply.

Two funds in particular have attracted high levels of applications:

Business Support Grant – 23 applications received, total awarded £59,000
Repair and Renew Grant – 112 applications received from 28 March to date, of which 14 have been referred for approval to the next stage.

Cllr Simon Dudley, cabinet member for finance and deputy leader, said: "We want to encourage residents and businesses affected by the floods to submit their applications for funding. Claims can be submitted until the end of September so there is still plenty of time.

"We want to do all we can to ensure that residents and businesses have all the help and support they need in order to get back on track. The repair and renew fund can help residents make their property more robust in case of future flooding so I would urge people to submit their applications. I would also encourage residents to talk to their friends and neighbours affected by the flooding about the support available to them."

The online form is available at www.rbwm.gov.uk/web/news_flood_update.htm and the closing date for submission of all applications is Tuesday 30 September to ensure sufficient time for the works to be carried out before winter; applications submitted after this date may be considered depending on circumstances.

The council's flooding page also contains information on what other support is available.

If anyone has applied online and not yet received a response, they should contact the council's customer contact centre on 01628 683800.