Hear ye Hear ye! The Crier is always looking for things to shout about! Feel free to submit your Thoughts, Poems, Photos, Requests or anything you like to thecrier@cookham.com
---
The Big Garden Birdwatch 25-26 January 2003
24 January 2003
---
This weekend is Big Garden Birdwatch - hopefully the world's biggest!
Please try and spare an hour watching in your garden on the 25 or 26
January and then send in your results using the form on our website
http://www.rspb.org.uk/birdwatch. We've also produced a printable
checklist to help you with your birdwatch which you may like to use
beforehand: http://www.rspb.org.uk/birdwatch/checklist.asp

Last year, over a quarter of a million people took part in this event but
we are hoping for even more this weekend. We also hope more people will
take part online this year since this saves the RSPB time and resource.

The forecast is for colder weather later this week so don't forget to feed
the birds if you can, because they often come into our gardens looking for
food when the temperature drops.

Good luck with your birdwatch!
---
Have you got a best friend you've had since infants' school?
14 January 2003
---
Have you got a best friend who's been with you from your first days at school and who is still your closest pal now? If you've got a friend who's been with you from infant's school (or nursery!) and has shared most of your highs and lows, maybe you can help. Possibly they've also been your matchmaker, bridesmaid, birthing partner, fellow mum, etc., as you've grown up together. For a fun feature for WOMAN in which you get PAID to appear, we're looking for women who are now in their late20s/30s/40/50s who have lots of old photos and lots of tales about them and their best friend they still see now. If you can help, or know someone who can either email me at adrian@amonti.freeserve.co.uk or call me on 01273 777693.
---
What a Photo!
4 January 2003
---
This photo was sent to us by James Thomson who now lives in Canada, but still thinks of Cookham.
He says "This is awesome!

This came from a Rig Manager for Global Marine Drilling in St.Johns, Newfoundland. They actually have to divert the path of these things away from the rig by towing them with ships!

Anyway, in this particular case the water was calm & the sun was almost directly overhead so that the diver was able to get into the water and click this pic. Clear water huh?! They estimated the weight at 300,000,000 tons.

And now we also know why they say one picture is worth 1000 words....
and we also know why the Titanic sank."
click for larger photo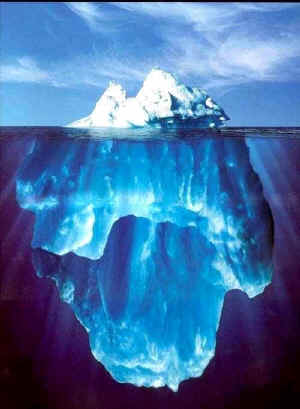 ---
Thames Valley Hospice Xmas Fayre a Great Success
25 November 2002
---
The Xmas Fayre held on the 12th November at Cookham Dean by the Cookhams Fund Raising Group for the Thames Valley Hospice, was a great success. A total of £994.56 was collected from this event. Our grateful thanks to all the people and the stall holders who attended this event on such a terrible day.and made it possible for us to send this amount to the Hospice, to help with its every day running.
---
Jubilee Celebrations in the Warsaw Voice
1 November 2002
---

Barbara Wilsher has been busy writing and also collecting photos of the Jubilee celebrations in Cookham that took place in June this year. She sent the information to a friend in Warsaw and they have now been published in the Warsaw Voice, an English language weekly magazine. Well done Barbara for putting Cookham on the map.
---
A Little Christmas Cheer!!
26 October 2002
---
Intercase Wines had their pre Christmas wine tasting at the Holy Trinity Parish Centre on 26 October. There were seventeen carefully selected and competitively priced wines to try. Eight white, one rosé and eight red. Laurence Boyagis one of the hosts said that 'Red seems to be much more popular than white wines at a tasting'. Perhaps that is why two bottles of red were supplied for every white!!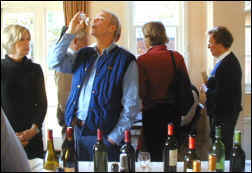 It seemed that people had decided that lunch time was a good opportunity to try out some potential Christmas cheer and the Parish Centre had a general feeling of bonhommie, with suggestions of 'this is superb', 'you must try this one' as complete strangers struck up instant friendships.
---
WHAT MEN REALLY THINK ABOUT CHRISTMAS?
14 October 2002
---
Can you help with a feature for WOMAN magazine' What Men Really Think About Christmas?'
This one is for the men in your life! At WOMAN we do a very popular feature every few weeks of what men think of various topics. For one of our pre-Christmas ones, we are putting together a feature called 'What men really think of Christmas'. It's a very open topic and I only need a very brief chat to the chaps about what they feel about that time of year. It is very light-hearted and just a fun piece. All we need to do is have a quick interview with you on the phone (for about ten minutes), sort out a photo of you (an old snap of you two together will be fine) and you even get paid a small sum for your time and trouble. The sort of things we wanted to look at were: How do you spend your Christmas Day, do you have particular ritual for how you spend it, do you help cook, what do you think about going Christmas shopping- do you get it all done early or is it a last minute dash, is it more fun now if you have your own kids? It's those sorts of questions. If you can help out, please contact me, Adrian Monti, either by email at adrian@amonti.freeserve.co.uk or 01273 777693. It really is fun and it would be great if you could help.
---
---
Hear ye Hear ye! The Crier is always looking for things to shout about! Feel free to submit your Thoughts, Poems, Requests or anything you like to thecrier@cookham.com