Hear ye Hear ye! The Crier is always looking for things to shout about! Feel free to submit your Thoughts, Poems, Photos, Requests or anything you like to thecrier@cookham.com
---
Have you been on holiday without your children recently?
19 May 2003
---
Have you been on your first holiday WITHOUT your children in almost 20 years?
Are you the parents of grown up children? Have you recently (in the last 2-3 years) been on holiday for the first time without your now grown-up children? If so, maybe you can help with a fun feature for WOMAN magazine in which you also get PAID for appearing in the article. Maybe you really missed them while you were away when normally they're with you, or maybe you at last were able to go on your 'trip of a lifetime' of maybe you went to the same resort you go to most years- but this time just you two! If that sounds like you or your parents, please do get in touch and I can explain it in more detail. It is just a light, fun piece about family holidays for the magazine. Please feel free to pass it on to anyone who might be able to help. If you can help, and have photos of some of those holidays, please email me on adrian@amonti.freeserve.co.uk or call me on 01273 777693.
---
Eclipse of the Moon
17 May 2003
---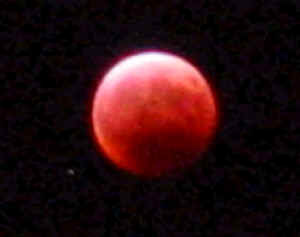 For those of you who missed the eclipse of the moon, James Hatch has sent us a shot of the eclipse which was taken Thursday night / Friday morning. This one was taken 22 minutes after full eclipse -- look at the red!!
Click on photo for a large image
---
Photo of 1897 Floods
11 May 2003
---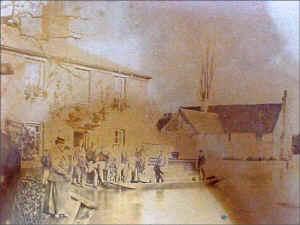 James Hatch who lives in Canada has just come across this photo of the floods in Cookham in 1897. The photo shows the White Hart pub (now Spencer's) surrounded by water. It is interesting to see that the floods actually came up to the Pound.
Click on photo for a large image
---
Death of Ruth Charlton-Brown
7 May 2003
---
It is with great sadness that Cookham.com learnt of the death of Ruth Charlton-Brown who died this morning. Ruth has been a well known and colourful figure in the village for many years and was reknowned for the long earrings that she made herself and her brightly coloured clothes that she always wore. Ruth's husband Tom died just a few months ago. We offer our condolence to Ruth's family.
---
THE SECRET WOOD
1 May 2003
---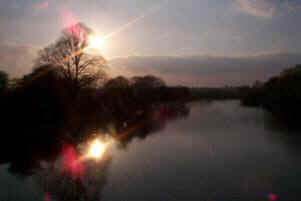 The following poem and photo were sent to Cookham.com by Verna Dobson after a recent visit to Cookham. As we have only just launched the Cookham Festival promoting the Arts, Verna's poem is particularly appropriate.
The sun filtered slowly through the dark wood
Where all kinds of trees for many years had stood
Oak, Ash, Elm and Beech to name but a few
Their leaves wet and shining, touched by morning dew
A rainbow of colours lay at their feet
All kinds of flowers in a patchwork sheet
Slowly the wood woke to another day
All the woodland creatures had plenty to say
In the cool morning air birds began to sing
Sitting in their cosy nests, preening their wings
A bushy-tailed squirrel raced along the ground
Both cheeks were bulging with all the nuts he'd found
Baby rabbits' tails, bobbing up and down
Playful mice darting, bodies sleek and brown
Creamy white mushrooms, pushing through the ground
Where lots of creepy-crawlies were scurrying around
Spiders' lacy webs, delicate and fine
Swaying gently in the air, like clothes on a line
All these little creatures, lived safely in their wood
A secret wood, far away, where man had never stood
---
Bluebells at Cliveden
26 April 2003
---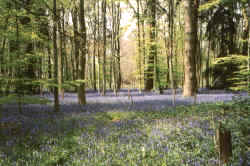 Linda and her Mum came from the North of England to visit Cookham over Easter weekend. Linda has sent us some of the lovely photos she took. She says:
We visited Cliveden last Sunday afternoon, the bluebell woods were out of this world. A photographer's paradise.
I really do NOT want to be back at home but back down in Cookham. We have both really taken it to our hearts. I just need to win the Lottery or meet a millionaire!
---
Sad loss of Uncle Tom's Landlord
16 April 2003
---
It is with sadness that Cookham.com learnt of the death of Nick Ashman, the landlord of Uncle Tom's Cabin, on the morning of 16 April 2003. His funeral will be on Wednesday 29th April at St John the Baptist Church in Cookham Dean. Since working as a frame maker for 'Golden Discs', some of which decorated the walls of Uncle Tom's, Nick, his wife and the cats took over the pub. It kept all the traditions of a true local amidst all the changes that have taken place in Cookham. Uncle Tom's was a haven to visit. Our heartfelt sympathy goes out to Nick's family.
---
Can Anyone Help Suzanne?
11 April 2003
---
Does anyone in the village remember a tea shop/cafe owned or run by a "Mrs Vale", (my Great Grandmother) possibly known as "Cissie", just before the second world war. I believe she died about 1938.

Secondly, can anyone tell me around this time (1938) were people buried in Cookham churchyard or is there a local cemetery? If cremation was a preferred option, where would this have taken place?
---
Calling all frustrated Radio Amateurs in Cookham
10 March 2003
---
If there are any frustrated Radio Amateurs living in the Cookham / Maidenhead area who are unable to raise antennas due to local by-laws. Now you problems are solved by using "Echolink". Echolink enables you to contact the world via your computer with a simple head set. The system is free for you to download from: www.synergenics.com There are quite a few repeaters which now support "Echolink" the closest being in Bracknell. This means that you can now talk to the world while, driving your car, taking a walk, or from a leisure cruise on the Thames.
For those who are housebound or live in a small flat this has now opened up the world for you. At the flick of a switch you can now talk to someone tomorrow, TODAY!
---
Your Local Post Office - Use it or Lose it!!
16 February 2003
---
Did you know that from April 2003 the Government are phasing out payment of pensions and state benefits by order book and giro cheque at the Post Office? 40 per cent of the turnover of Post Office branches currently comes from benefit payments and the Post Office could lose as much as £400 million a year if no one signs up to the card accounts.
Electronic payments of benefits are due to begin in April 2003, but will be phased in until the end of 2004. So, until you receive a letter from the Department for Work and Pensions advising you of your options, you don't need to do anything, even if that takes months. Those applying for child tax credits should hear first.

You can have benefits paid to you in three ways. Either into an existing current account, by opening a 'basic' bank account (one with no credit facilities) or by opening a Post Office Card Account .

The Post Office is working with a number of banks, meaning that if you hold an account with any of the following you can still draw cash from your local Post Office: Alliance & Leicester, Barclays, Co-op, Lloyds TSB, Cahoot, Smile and First Direct (in Scotland)

Twelve institutions are signed up to work with the Post Office in a similar way over the basic bank accounts - ask your Post Office for details.

If you want a Post Office Card Account, the only way of obtaining one is by ringing the DWP's helpline and following its procedure. The number it gives on its website is 0800 107 2000.
---
Join Others from Cookham on Iraq War Rally 15 Feb 2003 London
11 February 2003
---
CND Members will be supporting the March from the Embankment at 12 noon by getting the 10.35am train from Maidenhead to Paddington and then the Bakerloo Line to Charing Cross and then RALLY at Hyde Park in the afternoon. PLEASE JOIN US.
For more information phone Hilary on 522331
---
Themed Ball and Sumptuous Banquet at CIM
4 February 2003
---
Approx.140 residents of Cookham and surrounding areas attended an 007 themed ball on Saturday 1/2/03 at the Chartered Institute of Marketing. A sumptuous banquet was followed by dancing to the sounds of a Live band and DJ. During the evening a silent auction was held which raised funds in excess of £400 for Thames Valley Adventure Playground. (They have plans to buy a "soundbeam", an acoustic trigger for keyboard that enables disabled children create music simply by moving.) The organisers would like to thank the following for their kind support:
Barnside Motors- MOT
Botanica-flowers
Brent de Clippers-hair products
Chartered Institute of Marketing-champagne
The Chocolate Fairy-chocolate and champagne
Cook.-cake voucher
Cookham Cycles-scooter
Roy Gigg-chocolates
Joanna Davis-flowers
Kid2kid-soft toy
Malik's-meal voucher
The Marlow Donkey-train set
Andrew Milsom and Partners-Wine
Panache of Cookham-gift voucher
Simply Hair-beauty products
The Stationery Depot-photograph album
Stratford's Wine Shippers-wine
Village Hardware-fishing stool
Thanks also to everyone who gave of their time to make this a hugely successful and memorable occasion.
---
---
Hear ye Hear ye! The Crier is always looking for things to shout about! Feel free to submit your Thoughts, Poems, Requests or anything you like to thecrier@cookham.com